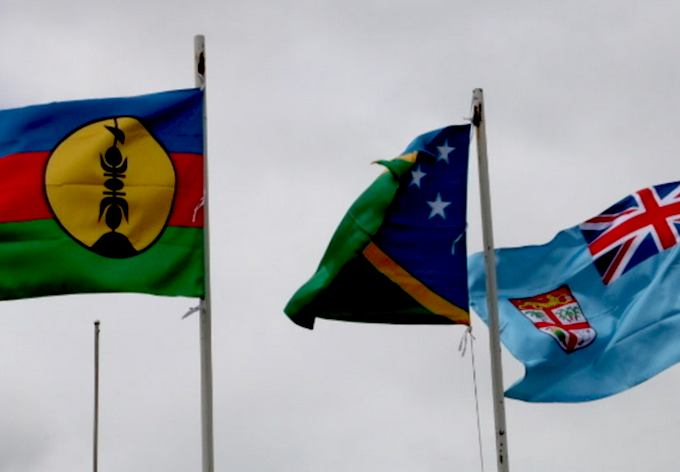 By Kelvin Anthony, RNZ Pacific lead digital and social media journalist
The leaders of five Melanesian nations have agreed to write to French President Emmanuel Macron "expressing their strong opposition" to the results of the third New Caledonia referendum.
In December 2021, more than 96 percent of people voted against full sovereignty, but the pro-independence movement FLNKS (Kanak and Socialist National Liberation Front) has refused to recognise the result because of a boycott by the Kanak population over the impact of the covid pandemic on the referendum campaign.
Since then, the FLNKS has been seeking international support for its view that the referendum result was not a legitimate outcome.
The Melanesian Spearhead Group leaders — Fiji, Solomon Islands, Papua New Guinea, Vanuatu and the FLNKS — met in Port Vila last week for the 22nd edition of the Leader's Summit, where they said "the MSG does not recognise the results of the third referendum on the basis of the PIF's Observer Report".
FLNKS spokesperson Victor Tutugoro told RNZ Pacific the pro-independence group had continued to protest against the outcome of the December 2021 referendum.
"We contest the referendum because it was held during the circumstances that was not healthy for us. For example, we went through covid, we lost many members of our families [because of the pandemic]," Tutugoro said.
"We will continue to protest at the ICJ (International Court of Justice) level and at the national level. We expect the MSG to help us fight to get the United Nations to debate the cause of the Kanaks."
The leaders have agreed that "New Caledonia's inclusion on the UN List of decolonisation territories is protected and maintained".
The MSG leaders have also directed the UN permanent representative to "examine and provide advice" so they can seek an opinion from the ICJ "on the results of the third referendum conducted in December 2021".
They have also requested that the UN provide a report on the "credibility of the election process, and mandated the MSG UN permanent representatives, working with the MSG Secretariat and the FLNKS, "to pursue options on the legality of the 3rd referendum".
Support for West Papua
New Caledonia's pro-independence FLNKS movement also said it would continue to back the United Liberation Movement for West Papua (ULMWP) to become a full member of the Melanesian Spearhead Group.
Tutugoro told the 22nd MSG Leader's Summit in Port Vila that FLNKS had always supported West Papua's move to join the MSG family.
He said by becoming a full member of the sub-regional group, FLNKS was able to benefit from international support to counterbalance the weight of France in its struggle for self-determination.
He said the FLNKS hoped the ULMWP would have the same opportunity and in time it could be included on the UN's list of non-self-governing territories.
This article is republished under a community partnership agreement with RNZ.