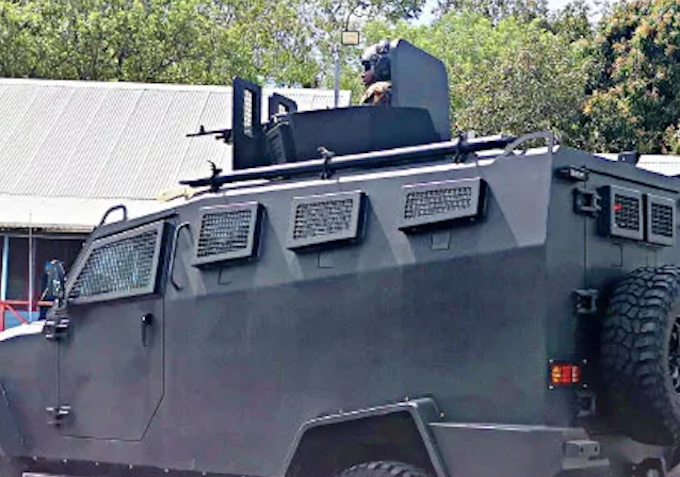 By Theophiles Singh in Port Moresby
Police Commissioner David Manning has warned Papua New Guinea's security force staff and partners not to let their guard down as hostilities remain simmering in the Highlands with a risk of violent confrontations.
He said that a stronger approach was needed by the security forces against troublemakers, and increased engagement between stakeholders was yielding results.
Deputy Commissioner of Police Operations Phillip Mitna has announced that more than 200 security personnel will be deployed with two armoured vehicles to curb a recent spike of killings and tribal fighting in Enga province.
The deployment will consist of more than 120 PNG Defence Force soldiers who are already on the ground, with an additional two Mobile Squad units who are on standby to be deployed soon.
Deputy Commissioner Mitna also announced that the Police Commissioner had given the green light to establish a Special Police Unit, similar to the Airborne Tactical Unit (ATU), which would be dedicated solely towards dealing with domestic terrorism in the country.
"The commissioner has announced the formation of the Kumul 23 Police tactical unit, but further details will be revealed later on," he said.
"They will report directly to the Commissioner of Police.
Rapid deployment unit
"This will be a rapid deployment unit, tasked to respond to violent crimes like domestic terrorism and domestic threats," he said.
"The unit will be spearheaded by the Police but we will have support from the Defence Force as well. "We hope to increase its numbers as high as 1000 personnel."
He said multiple search warrants had also been issued to apprehend several hired gunmen and their accomplices.
This included sponsors and connections who were supplying arms and funding tribal warfare in the province.
"Search warrants have been issued, some have been executed and some are yet to be executed.
"We are taking a proactive and reactive approach to the situation," he said.
"We have information on several leaders 'in general' being involved and are currently working on issuing search warrants.
Pending approval
"Some of these warrants are pending approval from the court magistrates."
Deputy Commissioner Mitna said the police would not stop until these instigators of violence faced justice.
He explained that drastic measures had been taken to promptly and safely ensure law and order was returned to normal as the Lagaip Open byelection was approaching.
The priority areas include Wapenamanda, Lagaip and Porgera.
"As part of our proactive strategy, we will be deploying Engan-based senior Police officers from NCD back to the province so that they can talk to their own people," Deputy Commissioner Mitna said.
But this approach needed the support of the wider community, including business houses, church groups and community leaders who would provide additional support to settle the situation.
Intel officers
"Our reactive approach will include our intel officers, who will move on the ground to conduct investigations into identifying those involved to arrest and prosecute them," he said.
He said the public was advised not to believe everything that had been spread on social media because most of what was shared online was false and inaccurate.
"We have both Wapenamanda and Pogera contained, but we have isolated cases of particularly several hired gunmen being killed," Deputy Commissioner Mitna said.
"Other than that, we are stepping up operations and the entire area is currently under our microscope," he said.
Deputy Commissioner Mitna said that rival factions were using "hit and run" and "guerrilla type" warfare, obstructing police from identifying and arresting perpetrators.
Theophiles Singh is a PNG Post-Courier journalist. Republished with permission.