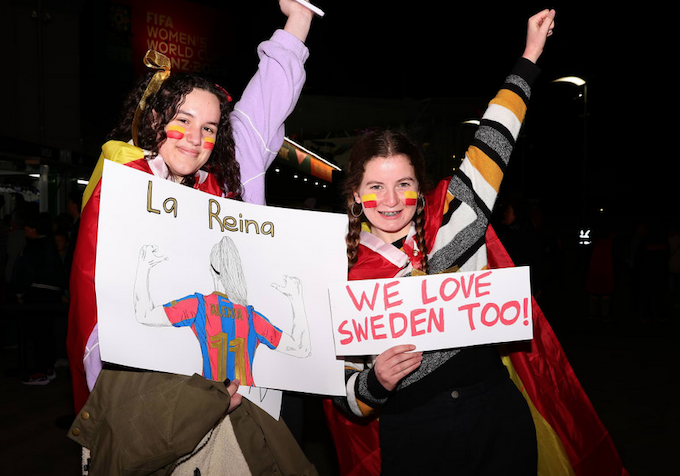 World football's top dog has completed his tour of the Pacific while in the region for the FIFA Women's World Cup co-hosted by New Zealand and Australia.
FIFA president Gianni Infantino travelled in his private jet to New Caledonia on Tuesday, the final nation or territory of the 11-member Oceania Football Confederation.
In Noumea he inaugurated a new headquarters for the New Caledonian Football Association, built with support from the FIFA Forward development programme, and said the proposed Oceania Professional League would give players the chance to follow in the footsteps of Kanak Christian Karembeu who helped France win the 1998 World Cup.
As well as the strongest nations in the region — New Zealand, New Caledonia, Tahiti, Papua New Guinea, Vanuatu, Solomon Islands and Fiji — Infantino has travelled to Tonga, Cook Islands, Samoa and American Samoa, becoming the first-ever FIFA boss to visit those countries.
In Honiara on Monday, Infantino described Solomon Islands as "the Brazil of Oceania" because of its passion for football.
"This is a football crazy country and together with the government and those at the Solomon Islands Football Federation . . . we want to provide an opportunity through football for young girls and boys of this country to fulfil their dreams," he said.
Before flying to Honiara, Infantino was in Port Moresby where he opened the new headquarters of the Papua New Guinea Football Association and met Prime Minister James Marape.
Exhibition matches
As in Vanuatu, Solomon Islands and elsewhere, Infantino was involved in an exhibition match between a FIFA Legends' Select and the local legends' XI.
During his tour of the Pacific, he has opened and named new facilities and met with political and football leaders.
He has highlighted the love of football in the region and praised the new facilities and local officials.
There were no new announcements of money from FIFA but Infantino's visit has somewhat reinforced the importance of Oceania to FIFA, its smallest confederation.
Infantino stressed the FIFA Women's World Cup 2023 was being celebrated in the whole of Oceania.
"The ongoing FIFA Women's World Cup is the most inclusive and greatest ever because it belongs to the entire Pacific region, and it is inspiring people all over the world," he said.
During the World Cup, FIFA high performance specialist April Heinrichs told a workshop held in Wellington, New Zealand, that there was potential in the Pacific.
"I think we can have an OFC country, including New Zealand, that qualifies for the FIFA U-17 World Cup more consistently," the former United States international said.
The World Cup final is on Sunday evening in Sydney with Spain playing the winner of tonight's Australia and England semifinal.
This article is republished under a community partnership agreement with RNZ.