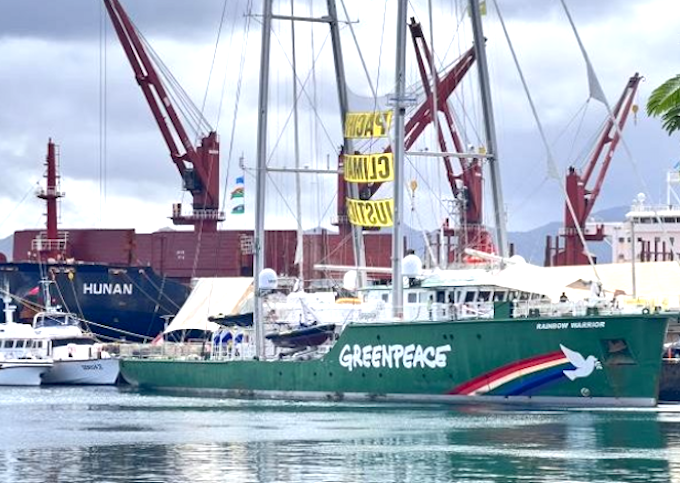 By Sera Sefeti in Suva
International environmental campaign group Greenpeace's flagship Rainbow Warrior is currently sailing across the Pacific, calling at ports and collecting evidence to present to the International Court of Justice (ICJ) — the World Court — during a historic hearing in The Hague next year.
Rainbow Warrior staff and crew will be joined by Pasifika activists sailing across the blue waters of the Pacific, campaigning to take climate change to the globe's highest court.
Their latest six-week campaign voyage started in Cairns, Australia, on July 31 and will call on Vanuatu, Tuvalu, and Fiji. Currently, they are on a port call in Suva.
Greenpeace Australia's Pacific general council member Katrina Bullock told IDN: "Part of what we really wanted to do during the ship tour was to bring together climate leaders from different parts of the world to talk and share their experiences because climate impacts might look different in different parts of the world."
Staff and volunteers at Greenpeace's iconic campaign vessel have been welcoming local people here, especially youth, to speak to their campaign staff about what they do and why climate justice campaigns are important to save the pristine environment in the region that is facing a multitude of problems due to climate crisis.
"Everybody is sharing the same struggles, so we had Uncle Pabai and Uncle Paul (indigenous Torres Straits Islanders from Australia) who came with us to Vanuatu, where they joined up with some terrific activists from the Philippines who are also looking at holding their government accountable," Bullock said.
"If we become climate refugees, we will lose everything — our homes, community, culture, stories, and identity," says Uncle Paul whose ancestors have lived on the land for 65,000 years.
'Our country will disappear'
"We can keep our stories and tell our stories, but we won't be connected to country because country will disappear".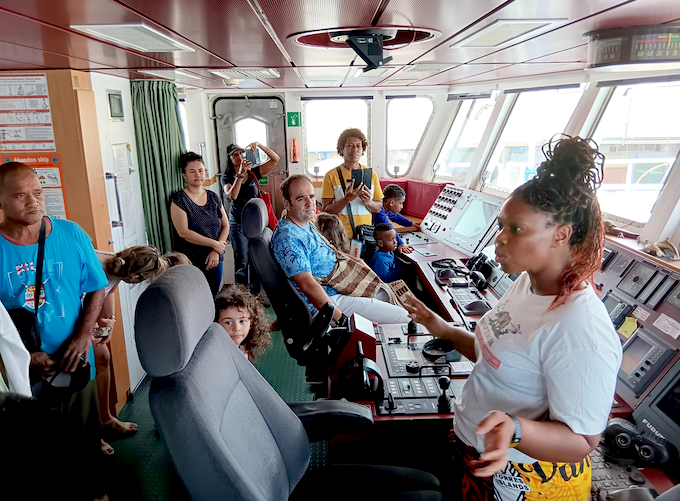 That is why he is taking the government to court, "because I want to protect my community and all Australians before it's too late."
The two indigenous First Nations leaders from the Guda Maluyligal in the Torres Strait are plaintiffs in the Australian Climate Case suing the Australian government for failing to protect their island homes from climate change.
They are training other Pacific islanders on activism to hold their governments to account.
The UN General Assembly on 29 March 2023 adopted by consensus a resolution requesting an advisory opinion from the ICJ on the obligations of states in respect of climate change.
This opinion aims to clarify the legal obligations of states in addressing climate change and its consequences, particularly regarding the rights and interests of vulnerable nations  — and people.
It is the first time the General Assembly has requested an advisory opinion from the ICJ with unanimous state support.
Meet Uncle Paul and Uncle Pabai. They are seeking #climatejustice in the Australian court, for their communities in the Torres Strait who are experiencing severe impacts from climate change.
Rainbow Warrior is on the way to the Pacific, where the ICJAO campaign was born!#Vanuatu pic.twitter.com/1JQYcKYI4k

— Greenpeace International (@Greenpeace) July 8, 2023
Resolution youth-driven
The resolution was youth-driven, and it originated with a law school students' project at the University of the South Pacific's Vanuatu campus and ultimately led to the Vanuatu government tabling it at the UN.
This Pacific-led resolution has been hailed as a "turning point in climate justice" and a victory for the Pacific youth who spearheaded the campaign.
The ICJ is the principal judicial organ of the United Nations, entrusted with settling legal disputes between states. It entertains only two types of cases: contentious cases and requests for advisory opinions.
"We have been collecting evidence from across the Pacific of climate impacts to take to the world's highest court as part of the ICJ initiative," Bullock said.
"We have also had the opportunity to mobilise communities and bring the leaders from all parts of the world together to share their experiences and do some community training."
The Rainbow Warrior has a long history of daring activism and fearless campaigning and has been sailing the world's oceans since 1978, fighting various environment destroyers and polluters.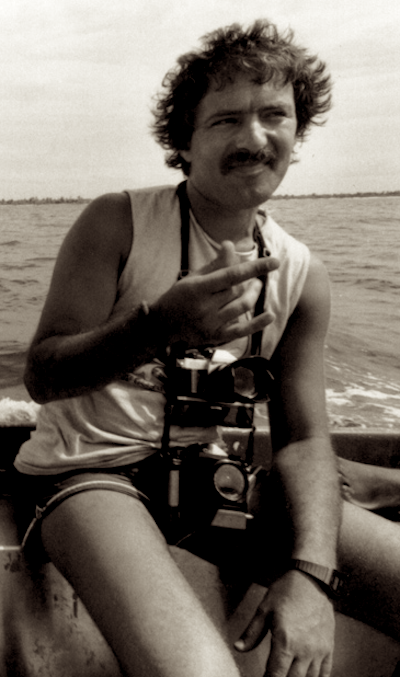 In 1985, the first Rainbow Warrior ship was sunk by a terrorist bombing at New Zealand's Auckland port by French security agents with the death of a Greenpeace photographer, Fernando Pereira, on board because the ship and its crew were fearlessly campaigning against French nuclear testing in the Pacific.
The ship's crew also evacuated the people of Rongelap Atoll in the Marshall Islands who were irradiated by US nuclear testing and moved them to a safer atoll.
Modern sailing ship
Today's Rainbow Warrior is a sophisticated modern sailing ship with a multinational crew that includes Indians, Chileans, South Africans, Australians, Fijians, and many other nationalities.
Last week they were sharing their stories of environmental destruction with local youth and children to take the fight further with the help of stories collected from people in the Pacific.
According to Bullock, the shared stories were filled with trauma and loss as they went from island to island.
"We were in Vanuatu, and some of the women shared their experiences of what it was like after a cyclone to lose lots of herbal medicine and the plants that you rely on as a community, and what that means to them and why Western pharmacies aren't a substitute."
The Rainbow Warrior activists were shown the loss of land and gravesites and collected many stories they believe will make an impact. While they are berthed in Fiji, students and community members were given guided tours on the boat and informed on their work – including how they navigate the high seas.
One such group was the students and teachers from a local primary school, Vashistmuni Primary School in Navua, who were excited and fascinated to learn about the work the Rainbow Warrior does.
Their teacher said that while it is part of their curriculum to learn about climate change and global warming, "it was good to bring the kids out and witness firsthand what a climate warrior looks like and its importance.
'Hopefully, they take action'
"Hopefully, they go back and take action in their local communities."
For Ani Tuisausau, Fijian activist and core focal point of the climate justice working group in Fiji, her choice to take this up was personal.
"I am someone who is constantly going to my dad's island, so compared to how it was then to how it is now, it is different," she told IDN.
"There are some places where I used to swim. They are polluted, and then, of course, the sea level rises. I don't want my kids growing up and missing out on the beauty of our beaches and what I experienced when I was younger.
"For that to happen, there needs to be a change in mindsets," argues Tuisausau, "and this is the best opportunity on board the Rainbow Warrior — they get to hear the stories of what is happening in the Pacific and compare and relate to what is happening in our backyard."
The Rainbow Warrior's stories include intense stories and dignified climate migration but also the loss of culture and land. The team is confident that collecting these stories will give them a fighting chance at the ICJ.
Bullock says that when she started with the Rainbow Warrior five years ago, she thought facts and figures were a way to change mindsets.
"But now I realise that while facts and figures are important, stories are crucial because they touch hearts and move people to action".
Rainbow Warrior leaves Suva tomorrow and heads back to Australia via Tuvalu and Vanuatu.
Sera Sefeti is a Wansolwara journalist at the University of the South Pacific. This article was produced as a part of the joint media project between the non-profit International Press Syndicate Group and Soka Gakkai International in consultation with ECOSOC on 13 August 2023. IDN is the flagship agency of IPS and the article is republished by Asia Pacific Report as part of a collaboration.