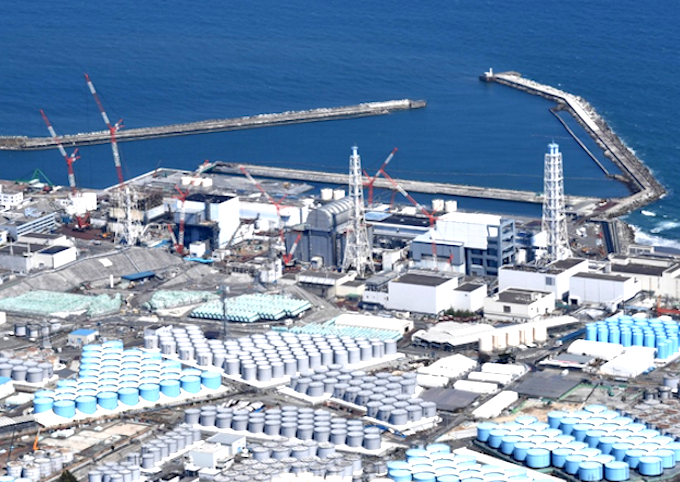 By Aralai Vosayaco in Suva

The Pacific Network on Globalisation (PANG) is disappointed with the Fiji government and Pacific Islands Forum's endorsement of the Japanese government's plans to dump 1.3 million tonnes of nuclear waste into the Pacific Ocean at the end of this month.
Nuclear justice campaigner Epeli Lesuma of PANG said this was a "blatant disregard" of the expert opinion of a panel of scientists commissioned by the Forum.
"It's disappointing because Pacific leaders appointed this panel of experts so ideally our trust should be with them and the recommendations they have provided to us," Lesuma said.
"These are not just random scientists. These are esteemed and respected professionals engaged to provide us with this advice."
Last week, Fiji Prime Minister Sitiveni Rabuka said he was satisfied with the International Atomic Energy Agency's (IAEA) report that stated Japan's plans to release treated wastewater from the Fukushima nuclear plant into the Pacific Ocean had met relevant international standards.
"I have made it my business as a Pacific Island leader to carefully study the information and data on the matter…I am satisfied that Japan has demonstrated commitment to satisfy the wishes of the Pacific Island states, as conveyed to Japan by the Pacific Island Forum chair," Rabuka said in a video on the Fiji government's official Facebook page.
"I am satisfied that the International Atomic Energy Agency (IAEA) report is reassuring enough to dispel any fears of any untoward degradation of the ocean environment that would adversely affect lives and ecosystems in our precious blue Pacific," he said.
'Convinced' of IAEA's seriousness
"I am convinced of the seriousness of the IAEA to continuously monitor this process in Japan."
The controversial plan by Japan continues to spark anger and concern across many communities, environmental activists, non-government and civil society organisations.

Fiji Prime Minister Sitiveni Rabuka's statement. Video: Fiji govt
Sharing Rabuka's sentiments was the PIF chair and Cook Islands Prime Minister, Mark Brown, who said the IAEA was the world's foremost authority on nuclear safety.
"We have received the comments, and the report from our scientific panel and the IAEA and [we are] taking a measured response.
"I'd have to say that as the IAEA is responsible for assessment and for anything to do with the safety of reactors around the world, their findings and credibility need to be upheld."
For Lesuma and other concerned members of Pacific communities, the fight was more than just the Pacific being used as a dumping ground.
He maintains that the two Pacific Island leaders' support for the IAEA report discredited the PIF-commissioned panel's decision and credibility.
"They are contradicting themselves because they have appointed this group of experts to advise them. Yet they do not believe their recommendations.
'Now we are backtracking'
"It's disappointing that this panel was appointed during Fiji's term as Forum chair. Here we were as head of this regional body but now we are backtracking and saying we don't believe you."
Lesuma said civil society groups would continue to back the opinions and recommendations of PIF's independent panel of scientific experts.
"Their opinions were formulated by science and with the Pacific people and the care of the ocean at its centre," he said.
PIF's independent panel of experts remains adamant that there is insufficient data to deem the discharge of nuclear waste safe for release into the Pacific Ocean.
In a June statement this year, PIF General Secretary Henry Puna said the Forum remained committed to addressing strong concerns for the significance of the potential threat of nuclear contamination to the health and security of the Blue Pacific, its people, and prospects.
"Even before Japan announced its decision in April 2021, Pacific states, meeting for the first time in December 2020 as States Parties to the South Pacific Nuclear Free Zone Treaty (Treaty of Rarotonga), recalled concerns about the environmental impact of the Fukushima Daiichi Nuclear Reactor accident in 2011 and urged Japan to take all steps necessary to address any potential harm to the Pacific," he said.
"They 'called on states to take all appropriate measures within their territory, jurisdiction or control to prevent significant transboundary harm to the territory of another state, as required under international law'.
International legal rules
"These important statements stem from key international legal rules and principles, including the unique obligation placed by the Rarotonga Treaty on Pacific states to 'Prevent Dumping' (Article 7), in view of our nuclear testing legacy and its permanent impacts on our peoples' health, environment and human rights."
Puna said Pacific states therefore had a legal obligation "to prevent the dumping of radioactive wastes and other radioactive matter by anyone" and "not to take any action to assist or encourage the dumping by anyone of radioactive wastes and other radioactive matter at sea anywhere within the South Pacific Nuclear Free Zone".
Specific concerns by the Forum on nuclear contamination issues were not new, Puna added, and that for many years, the Forum had to deal with attempts by other states to dump nuclear waste into the Pacific.
"Leaders have urged Japan and other shipping states to store or dump their nuclear waste in their home countries rather than storing or dumping them in the Pacific.
"In 1985, the Forum welcomed the Japan PM's statement that 'Japan had no intention of dumping radioactive waste in the Pacific Ocean in disregard of the concern expressed by the communities of the region'."
Against this regional context, he said the Forum's engagement on the present unprecedented issue signify that for the Blue Pacific, this was not merely a nuclear safety issue.
"It is rather a nuclear legacy issue, an ocean, fisheries, environment, biodiversity, climate change, and health issue with the future of our children and future generations at stake.
Pacific people 'have nothing to gain'
"Our people do not have anything to gain from Japan's plan but have much at risk for generations to come," Puna had said.
The Pacific Ocean contains the greatest biomass of organisms of ecological, economic, and cultural value, including 70 percent of the world's fisheries. It is the largest continuous body of water on the planet.
The health of all the world's ocean ecosystems is in documented decline due to a variety of stressors, including climate change, over-exploitation of resources, and pollution, a Pacific Islands News Association (PINA) report highlighted.
The PINA news report cited a paper by the US National Association of Marine Laboratories (NAML), an organisation of more than 100 member laboratories, that stated the proposed release of the contaminated water was a transboundary and transgenerational issue of concern for the health of marine ecosystems and those whose lives and livelihoods depend on them.
Japan aims to gradually release 1.3 million tonnes of treated nuclear wastewater from the defunct Fukushima power plant over a period of 30-40 years.
Aralai Vosayaco is a final-year student journalist at The University of the South Pacific. She is also the 2023 news editor (national) of Wansolwara, USP Journalism's student training newspaper and online publication. Asia Pacific Report and Wansolwara collaborate.