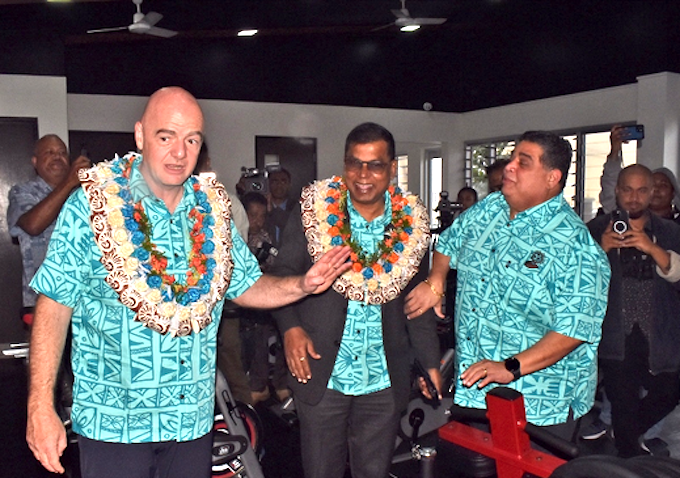 By Rodney Duthie in Suva
Deputy Prime Minister Professor Biman Prasad has called on the Fiji Football Association to address the problem of the decline of the Fiji's men's global football ranking.
He made the request to the national governing body while welcoming FIFA president Gianni Infantino to Fiji at the weekend.
Infantino was in the country as part of his visit to Oceania member countries.
The Fiji men's football team, known as the "Bula Boys", is ranked 168 — seventh out of the 11 teams in the Oceania Football Confederation.
Fiji is ranked below New Zealand (103), Solomon Islands (133), Papua New Guinea (159), New Caledonia (161), Tahiti (162) and Vanuatu (165).
Professor Prasad said that while FIFA's financial support had been invaluable, it was vital to reflect and determine why Fiji's performance was not on par with its glorious past.
'All-time low'
"We all are wondering why our men's football ranking has plummeted to an all-time low despite an abundance of talent and football in our country," he said.
"We were ranked in the 1990s before the turn of the century. We used to defeat every nation in our region. We chalked up two wins over Australia in 1977 and 1988. We either beat or were on par with New Zealand.
"And that was in an era when football wasn't even semi-professional. We are now professional according to our standings of player fees and transfers. But we aren't improving despite what we are told are three football academies, primarily funded by FIFA."
Professor Prasad raised questions about the effectiveness of the football academies established with FIFA's funding and asked whether the talent was being nurtured adequately, and if the infrastructure and guidance provided were enough to support the aspirations of young players.
The Deputy Prime Minister also brought up concerns about the governance within Fiji FA, and stressed the importance of transparent and accountable leadership.
He said decisions should always be made in the best interest of football and the athletes.
'It is the reality'
"What I said isn't about recrimination. It is the reality where football descended to in the last 16 years. But it will change. And change for the better. Our conscience must be clear when dealing with governance issues."
Responding to Professor Prasad's criticism on Fiji's poor ranking, Fiji FA president Rajesh Patel said they were not worried about the rankings as it was something that had declined when the side played more international matches.
He said in Fiji's bid to compete at the 2026 FIFA World Cup, they had been playing quality opposition during FIFA international windows.
Patel said the under-20s participation at the under-20 World Cup in Argentina was proof of progress in the development of the sport in Fiji.
Rodney Duthie is a Fiji Times journalist. Republished with permission.