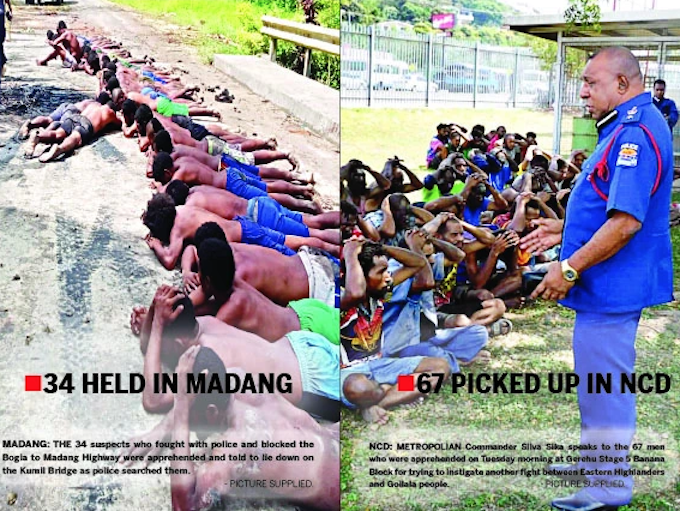 Papua New Guinea police in Madang and the National Capital District have arrested a total of 101 men suspected of being involved in two separate incidents reported in both provinces over the long weekend.
In Madang, 34 villagers were arrested after they clashed with police over the death of a local man from Korak village identified as Joseph Masul.
After the death of Masul was reported, the villagers along the Bogia-Madang Highway were up in arms and retaliated by blocking the main highway.
The blocking of the highway, according to Madang police, hindered services and movement of people into Madang over the long weekend.
Police moved in after Assistant Commissioner of Police-Northern Peter Guinness assisted with police officers from Lae, who removed the roadblock and picked up 34 suspects.
While in NCD, 67 men were rounded up by police at Gerehu Stage 5 over a fight that erupted after the death of a man was reported during the third game of Australia's State of Origin rugby league series two weeks ago.
The 67 men were on their way to instigate another fight when police were informed and moved in swiftly, arresting all 67 men and removing their weapons.
Murder suspect in hiding
NCD Metropolitan Superintendent Silva Sika said the suspect in the initial murder case had been hiding from police, angering the victim's relatives.
The relatives approached a youth who lives at Banana Block who was about to leave for school and questioned him about what had happened a week earlier.
Superintendent Sika said the youth then went to the block, organised his friends who painted their faces black and and marched towards where the deceased's haus krai (house of mourning) was. They were about to attack the mourners when police stopped them.
He said they would be charged for unlawful assembly, armed with offensive weapons and about to cause a fight in public.
Sika said the men were all armed and were moving in a public place that instilled fear in the public.
While speaking to the suspects at Waigani police station, Superintendent Sika told the suspects that people living Port Moresby must try to respect the rule of law.
'Respect rule of law'
"I will not hesitate to demolish the areas where you are residing. Moving around in public places with weapons shows no respect for the rule of law," he said.
"I am happy that the police responded on time to arrest and remove all the weapons from you. If they had not done that it [would] be another disaster in the city where innocent lives and properties will be lost or damaged.
"The weapons that you had in your possession are dangerous and life threatening so you must be charged for that to show others that carrying offensive weapons and moving in groups in public places is against the law."
Republished with permission.