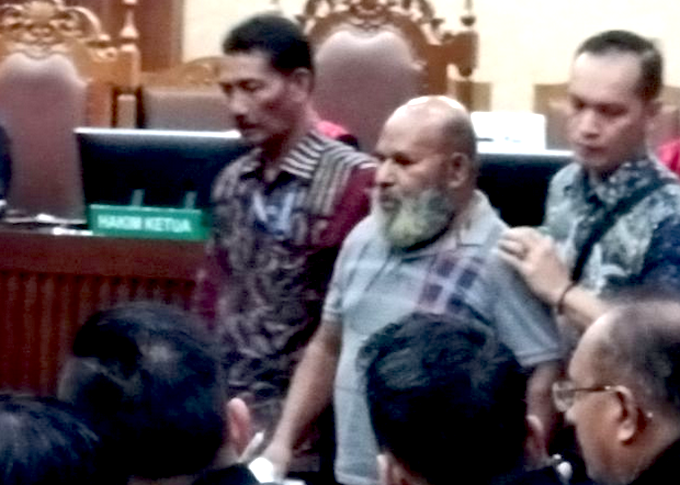 SPECIAL REPORT: By Yamin Kogoya
An Indonesian court hearing was held at Tipikor Court, Jakarta, last week when suspended Papuan Governor Lukas Enembe was arraigned before a panel of judges on allegations of bribery and gratification over the Papua provincial infrastructure project.
The panel of judges refused Enembe's exception, or memorandum of objection, to the charges after finding sufficient evidence to reject the governor's arguments.
However, given the governor's ill health, the judges ruled to prioritise his health and grant his request to suspend proceedings until he is medically fit to stand trial.
The governor's request to have his son's Melbourne-based university student bank account unblocked to continue his studies was not granted, and his legal case is pending.
The following three points were determined by the judges last Monday week (24 June 2023):
1. Granted the access request of the defendant/the defendant's legal advisory team;
2. Ordered the Public Prosecutor at the Corruption Eradication Commission (KPK) to object to the detention of Lukas Enembe from 26 June to 9 July 2023; and
3. Ordered the Public Prosecutor at the commission to report on the progress of the defendant's health to court.
Abandoned in Indonesia's military hospital
Governor Lukas Enembe is now being held in Indonesia's military hospital (Gatot Soebroto Army Hospital) in Jakarta.
The governor repeatedly informed the Indonesian authorities that he was in need of medical treatment and needed to be monitored in Singapore by his regular medical specialists. These requests, however, have been rejected to date.
Psychologically, his treatment in Singapore is completely different from that in Jakarta. The governor is constantly being monitored by KPK, treated by KPK's appointed doctors in military-controlled hospitals.
It is highly unlikely that these environments are ideal for his recovery. The hospital where he is currently being held is named after a national hero of Indonesia, Gatot Soebroto.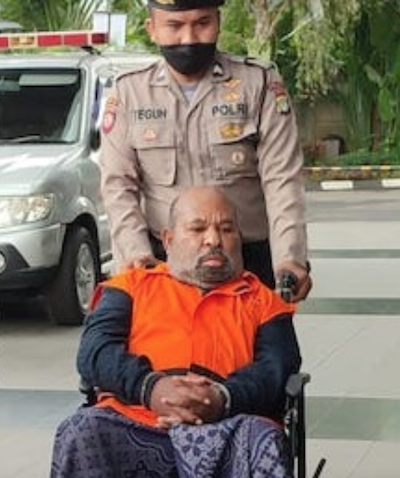 In 1819, the hospital was established as the main hospital for the Indonesian Army. The hospital also provides limited services for civilians. Papua's governor, the head of the Papuan tribes, is now being held in this military hospital.
The governor's family complains about the ongoing inhumane treatment.
The governor's family admits that it was difficult for them to care for him while he was abandoned at Gatot Subroto Army Central Hospital, as determined by a panel of judges from the Jakarta Corruption Court (Tipikor).
Restrictions imposed
Governor Enembe's family said the detention officers imposed restrictions on them.
Elius Enembe, the governor's brother, and family spokesperson, said: "KPK Detention Centre regulations allow us to visit Mr Lukas only on Mondays. It was only for two hours."
According to Elius, the family feels that two hours of treatment a week are not adequate and not optimal for treatment, reports Odiyaiwuu.com.
Governor Enembe is currently under the custody of the judicial system, not KPK. Thus it is the judge, and not the KPK, who has the authority to determine when and how long the family is allowed to visit Enembe.
"But why are we restricted by KPK detention officers now?" Elius said.
Even in the courtroom, the judge explained that Mr Lukas' treatment at the hospital follows standard hospital operating procedures and not KPK detention procedures.
Moreover, the KPK prosecutor was present in the courtroom and was able to hear the judge's statement that Lukas Enembe's delivery followed hospital procedures, not those at the KPK detention facility.
Family objections
Because of this, Elius said, the family strongly objected to the restrictions placed by KPK detention officers on the days and hours of Enembe's visit.
According to Elius, Lukas Enembe's ongoing trial would undoubtedly be a unique legal cases both in Indonesia and internationally.
Lukas Enembe, who suffers from various serious health conditions, such as chronic kidney disease — stage 5, suffered four strokes, and has hepatitis, and is being abandoned at Gatot Soebroto Hospital. His physical condition is very poor, and his legs are swollen.
He is the only defendant who has appeared before the court barefoot and wearing training pants. As well as being the only defendant accompanied by a lawyer in the defendant's seat, he was also the only defendant whose defence memorandum was not read by himself or by a lawyer.
Governor Lukas Enembe has difficulty speaking after suffering the strokes and needs to use the bathroom frequently.
"This will undoubtedly be a historical record in itself, a citizen of this country [with senior official roles] . . .  ranging from the Deputy Regent of Puncak to the two-term Governor of Papua, and yet has been treated as a criminal," said Enembe's younger brother in Jakarta, reports Kompas.com.
KPK continues to issue new accusations and allegations, which are being widely reported by Indonesia's national media.
Case takes new turn
The corruption case against Governor Lukas Enembe, however, took a new turn when allegations of misappropriation of the Papuan Regional Budget (APBD) funds emerged, according to Busnis.com.
The governor's senior lawyer, Professor O C Kaligis, challenged KPK's new allegations as "tendentious and misleading", reports Innews.co.
KPK is now investigating a massive sport, cultural, and recreational complex built under Lukas Enembe's administration and named the Lukas Enembe Stadium.
The governor has only been given until July 6 to get some treatment for his deteriorating health.
There is an element of brutality, savagery, and mercilessness in Jakarta's treatment of this Papuan leader.
The once highly acclaimed Papuan tribal chief, governor, and leader not just of his people, but of Indonesians and Melanesian as well many people, is being locked up and tortured in Jakarta as if he is a "dangerous terrorist'.
As his family, Papuans, lawyers, and he himself have warned, if he dies the KPK would be responsible for his death.
Yamin Kogoya is a West Papuan academic/activist who has a Master of Applied Anthropology and Participatory Development from the Australian National University and who contributes to Asia Pacific Report. From the Lani tribe in the Papuan Highlands, he is currently living in Brisbane, Queensland, Australia.