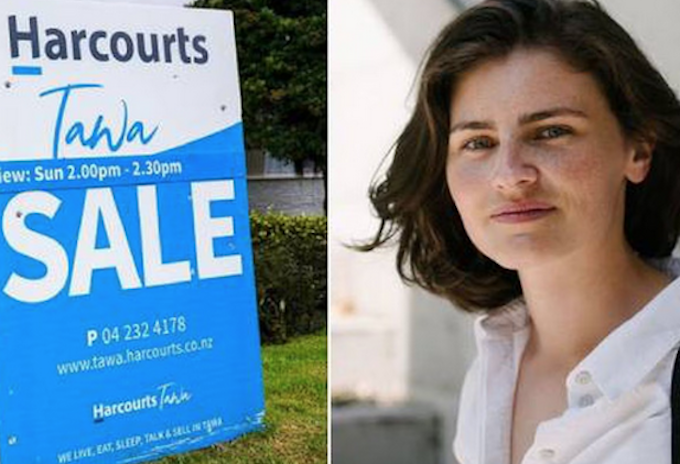 COMMENTARY: By Chlöe Swarbrick
In 1988, our National Housing Commission declared, "New Zealand does not have the huge, insoluble problems of homelessness and substandard housing which confront many other nations."
This was the final report of the then disestablished commission, which to that point had reported detailed data every five years to keep the country and policy-makers informed about what we had once considered the foundation of stable society — a home for New Zealanders to call their own.
I was born six years after that report, and in those years and across my lifetime, deliberate political choices — specifically, political choices by people sitting in Parliament — have shredded that once-guaranteed housing dignity and stability.
They traded it for a game of Monopoly, which, the pecuniary interests register tells us, also happens to disproportionately benefit around half of the "representatives" in there with interests in more than one property (notably, approximately just 2 percent of the general population are landlords).
This dire situation is the direct consequence of political decisions, and it is disproportionately hurting the 1.4 million renters in this country that our Parliament, by majority, and as an overwhelming majority of comfortable homeowners, continues to structurally disempower.
In spite of this, we have made some slow progress. In 2017, the Greens worked with Labour to introduce Healthy Homes Standards and a slate of amendments to the Residential Tenancies Act, removing no-cause evictions and allowing renters to take claims to the Tenancy Tribunal anonymously.
Some standards, we obviously agreed, were better than nothing. A set of rules means it's clear how a game should be played, but those rules become pretty meaningless if there's no consistent referee monitoring and enforcing them.
Compliance not tracked
Unfortunately, that's what the Healthy Homes Standards have become. My parliamentary written questions last year showed the government isn't tracking how many private rentals are compliant.
It doesn't know how many landlords and property managers have decided to self-exclude their properties from compliance. It has no tabs on the cottage industry of companies that have cropped up to verify these standards, let alone the variance in their approaches.
This leaves the third of New Zealanders who rent left to shoulder the burden of enforcing these basic rules which are supposed to protect them.
It's a funny thing that whenever the Greens mention renters, we're immediately shouted down and told that the problem is, somehow, that landlords aren't given enough free rein. That the solution is more commodification of basic human rights.
Ironically, this is exactly what the National Housing Commission warned against back in 1988, that shifting of responsibility from the state to the private sector would, "add little to the total housing supply while allowing private landlords and property speculators to make even higher charges for a non-expanding supply of housing… rais[ing] the purchase price of land and rented property".
We now know, viscerally, how right they were. Whatever metric you choose, we have the most expensive housing in the world.
The Accommodation Supplement, once rationalised in the state-housing sell-off to help support lower income New Zealanders pushed into the private sector, is now paid out to the tune of $2 billion a year with evidence showing it primarily serves to just bid up rental prices and effectively subsidise private landlords.
Special tax preferential
We remain one of the only countries in the developed world that continues to provide special tax treatment and preference to properties, incentivising the flow of capital into unproductive property speculation, or what University of Auckland researchers called, "a politically condoned, finance-fuelled casino".
In less than 40 years, political decisions have not only made housing one of the major drivers of poverty and inequality in this country, but one of the major determinants of both physical and mental health, not to mention education achievement and school attendance.
So, who pays the cost?
Most immediately, it's the 1.4 million renting New Zealanders, who Statistics New Zealand tells us spend more of their income on older, smaller, mouldier, lower quality housing.
Renting is no longer a transient state — unless you're talking about the literal transience which sees renters in this country maintaining their tenancies for, on average, just 16 months at a time.
Almost all of us will know families with children and friends in their 30s and 40s who are flatting. A quarter of retirees don't own their own home.
This didn't happen overnight. It happened within a generation of political decisions that sold our human right to housing to the highest bidder.
As depressing as that may be, it makes clear that the status quo is not an inevitability. It can and must change if we want any hope of a fairer society.
The good news is the Greens have unveiled our plan to fix it all.
Chlöe Swarbrick is the Green Party MP for Auckland Central. This article was originally published in The New Zealand Herald and is republished here with the author's permission.