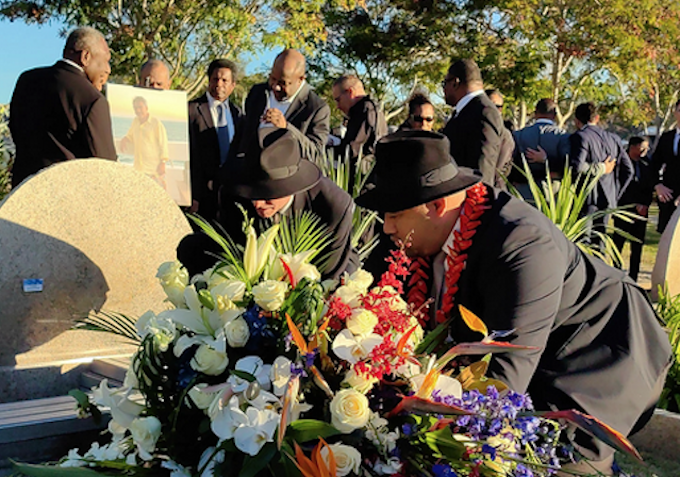 By Gorethy Kenneth in Port Moresby
Samoan Prime Minister Fiame Naomi Mata'afa's tribute to Papua New Guinea's  businessman Sir Kostas Constantinou was very touching as she recapped how his businesses touched the lives of the people of Samoa.
Her message, read out by Samoa's High Commissioner to Australia, Hinari Petana during Sir Kostas' wake in Brisbane where he died from heart complications last month, was a reminder to his children to continue the legacy he had left in Samoa.
High Commissioner Petana and her entourage, including Sir Kostas' Samoan family, were all present throughout his funeral service, the burial and the wake.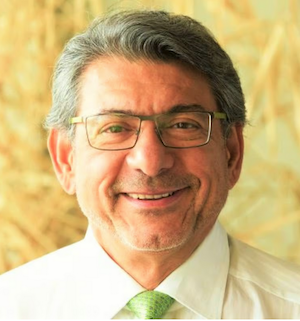 There was also a fitting ceremony where George Jr, son of the late Sir Kostas, was handed Samoa's chiefly red 'ulafala (pandanus key necklace) most often worn by Samoan tulafale (orator chiefs).
His father was adorned with a chiefly title Tulaniu in Samoa — George Jr will take over the reign as the next in line. He was also presented a Samoan ie toga, a fine mat.
"He touched the lives of so many spirits in the Pacific region, in particular in our country, Samoa, and its people through rewarding and inspirational investments," Prime Minister Fiame Naomi Mata'afa said in her message.
"The contribution of Sir Kostas to our country has been hugely significant, especially in our economic growth.
'Passion and influence'
"His passion and influence in our communities will be remembered by everyone that enters the doors of Taumeasina Island Resort, the Bank of South Pacific, as much as he shaped everything, our cultural values, during one of his few visits to Samoa, including his acceptance of his chiefly title.
"To George Jr and the children, may you continue your father's legacy in Samoa and join us as a family in the coming years."
Sir Kostas, 66, was regarded as a visionary businessman who employed thousands of people and developed businesses across the Asia-Pacific region.
He was the founder of Constantinou Group of Companies.
His leadership and commitment to excellence and innovation was a key factor in driving the Constantinou Group, including Airways Hotels and Apartments, Hebou Construction, Lamana Hotel and Lamana Development Ltd, Monier Ltd and Rouna Quarries Ltd in PNG to success.
Sir Kostas served as chair of the Bank South Pacific Financial Group Ltd and Air Niugini for many years.
He was also a director of Oil Search Ltd.
He was the father of Constantia, George, Andrea and Theophilus and grandfather to Imogen, Syliva, Harry, Zoe and George.