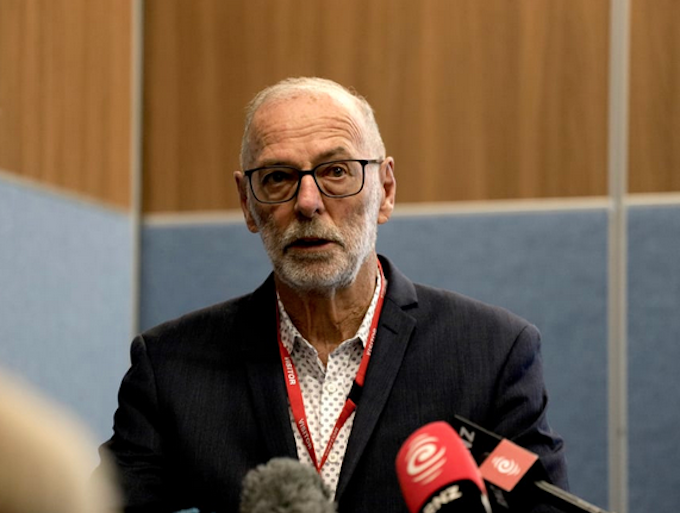 By RNZ News reporters Felix Walton and Finn Blackwell
Auckland Council ended its meeting yesterday without a decision on the annual budget.
The long-debated budget will attempt to close a $325 million deficit, exacerbated by a further $40 million in storm-related costs.
Councillors arrived in good cheer, cracking jokes about the lengthy session ahead of them, which included a debate over the council's sale of its 18 percent stake in Auckland International Airport Ltd.
The mayor said the meeting would take as long as it needed to.
"This is a difficult process. It may take more time than expected, that's fine," Mayor Wayne Brown said. "We may have to come back next week, we're not rushing this process."
Three councillors declared a stake in the airport — in this city with the Pacific's largest Polynesian population — ahead of the meeting.
Airport shares declared
Just a few hours before, Albany Ward councillor Wayne Walker admitted to owning $3 million in shares through a trust. His neighbour at the table, Maurice Williamson, poked fun at Walker on his way into the chamber.
Chris Darby and Julie Fairey also declared airport shares in the days leading up to the meeting, prompting questions of whether they could vote on the sale.
All three said they had received advice from the auditor-general.
"In their view, my situation does not represent a conflict of interest," Fairey said.
"Their advice was that I do not have a financial interest in the share sale," Darby said.
"Same advice, and so I can participate in today's decisions," Walker said.
Backdown from the mayor
The mayor's original budget proposal called for a full sale of the council's 18 percent share in Auckland Airport. But during the meeting, he compromised.
Just three councillors — Andy Baker, Maurice Williamson and Desley Simpson — unambiguously declared their support for a full sale.
After hearing the positions of his fellow councillors, Brown offered a partial sale of 8 percent, meaning the council would hold onto a 10 percent stake.
"I'm now proposing that we sell 8.09 percent of our 18.09 percent shareholding," Brown said as councillors returned from their lunch breaks.
"This means that we have to find another $32 million in operating savings or rates to balance the budget. I'm proposing we fill this gap with a general rates increase of 7.7 percent."
The issue of selling the shares was contentious, leaving councillors divided. Manukau Ward's Lotu Fuli opposed the sale, declaring the shares had value.
"This is a high-performing asset, it is an asset that we ought to keep," she said. "And yes, we should consider our underperforming assets, but that's a discussion to have at the long-term plan."
Council would regret sale
Fuli said the council would regret letting go of the shares.
"Let's not be rash, let's not sell off these shares, $2.3 billion worth of shares, in order to plug a $325 million hole," she said. "Let's not make the mistake that past councils have made."
Waitematā and Gulf Ward councillor Mike Lee agreed the shares had value.
"This is a real asset, folks," he said. "This is an earning asset, just like the Ports of Auckland. Not only does it earn us money, but it earns us capital gains on our balance sheet. Any decent accountant will tell you that."
North Shore Councillor Richard Hills said the months of debate around the budget had soured its culture.
"This has been the hardest six months of my career, it hasn't been nice," he said.
"It hasn't just been about things you've said, mayor, there's been a lot of other discussions around this table that I've been appalled at around staff, each other. It isn't a nice place at the moment and I think the city knows that."
He said the council needed to be careful about repeating the same mistakes next year.
"I want to work with the majority here, because we will break our staff and our city if we make them do this again next year," he said. "I think we need to be really clear about that — we'll do that again if we don't make a hard decision today."
Few in support
Albany Ward councillor Wayne Walker said the council needed to adjust its spending habits if it wanted to fix the issue.
"We're not addressing the underlying financial issues, and that is that we are spending beyond our means. We've been doing it for successive years, and that has to stop," he said.
"Fortunately, we have a mayor that's committed to turning that around."
He said there was time enough to make large decisions like selling the shares.
"We have a very, very good situation to go forward and not have to make decisions immediately in this long term plan that may be counter-productive."
Some councillors, like Maurice Williamson, strongly favoured a full sale. He said the assets were not making enough money.
"I'm very much in favour of selling any asset that's costing us more to keep than it's returning to us. There's a good old Tremeloes song, 'Even The Bad Times Are Good' — well, even the good times are bad."
Williamson warned other councillors against accepting more debt.
"There's so much more coming down the pipe at us," he said. "The CRL, god knows what's coming, I've been told the final figure is going to be $7.25 [billion], we're going to have to borrow debt to fund that, and that debt ratio is already near the ceiling.
"So please, please look at trying to bring that back down."
Auckland Mayor's revised proposals:
Mayor Wayne Brown is now pushing for the sale of 8 percent of the council's shareholding in Auckland Airport, instead of the full 18 percent of shares
Brown has also proposed $4 million of reductions to local board funding, and $5 million of unallocated to chief executive, Jim Stabback
An average general rates increase of 11 percent has been proposed, with adjustments that will result in an overall rates increase of 7.7 percent for average households
Plans to establish a political working group on the council's investments has been set out, which aims to oversee assets like the remaining council shares in Auckland airport, and make recommendations to the governing body on long-term investment in other funds
Even Brown's deputy, Desley Simpson, cautioned members. She said the final form of the budget needed to be balanced.
"We've talked this through so much, and it's going to be a hard task to balance a budget that is fair for Aucklanders and meets the needs and desires of all those around the table."
Brown's new proposal included the establishment of a working group to oversee council investments, as well as a $4 million reduction to local board funding.
Questions about the updated proposal brought the meeting to a close at 5pm, with no time left to debate or cast votes.
Mayor Brown said the council would reconvene at 10am today.
This article is republished under a community partnership agreement with RNZ.