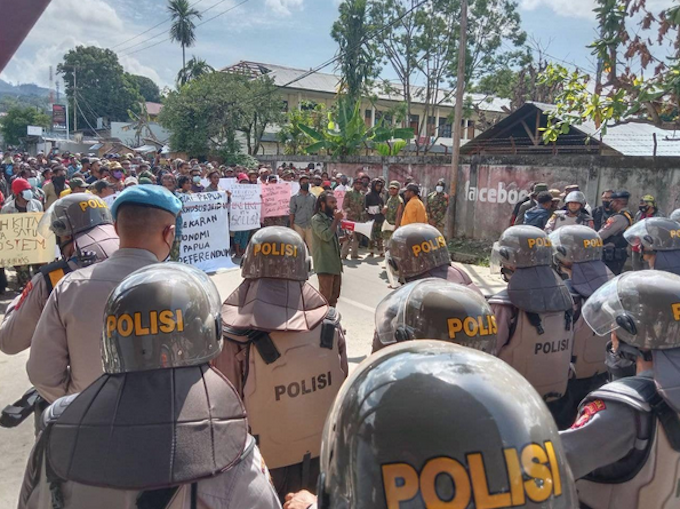 Jubi News in Jayapura
Esther Haluk, a women's rights activist from GARDA Papua, is among West Papuan activists who have condemned a declining state of freedom of speech in the Melanesian region.
Speaking in a recent online discussion on "Status and Trends of Freedom of Expression, Assembly, and Digital Rights in West Papua", she said there was a growing sense of fear among Papuans who wished to openly voice their opinions due to the Indonesian government's response.
Haluk said that the deterioration of freedom of expression in Papua could be traced back to 2019 when large-scale protests erupted in response to instances of racism.
She said individuals from the Papuan community who had participated in those protests were subsequently arrested and imprisoned.
"Some Indonesian people call us monkeys but when we fight against it, we are arrested. We are victims," Haluk told the discussion organised by SAFEnet and TAPOL this week.
According to Haluk, whenever Papuans exercised their freedom of expression to voice the truth, they were consistently met with opposition from the military and police forces.
Haluk shared that she personally experienced being arrested for participating in a peaceful protest in May 2022. However, at the police station she was questioned about her social media posts instead.
Facebook account hacked
"So at that time we were taken to the police station not because of the protest but rather due to our social media posts. My Facebook account was hacked three times after I posted some comments on the news," Haluk explained.
Haluk said the policies implemented by the Indonesian government did not align with the wishes of the Papuan people, particularly over the splitting up of Papua province to  establish new provinces.
However, when Papuans protested against the policy, they were arrested.
"We refuse to accept the policies enforced in Papua because they do not positively impact our lives," she said.
"We are witnessing ecological destruction that poses a threat to our existence, as well as issues of land appropriation.
"It is our fundamental right to express ourselves and engage in peaceful protests, yet the government responds by deploying a significant number of military and police personnel to suppress Papuan voices," Haluk said.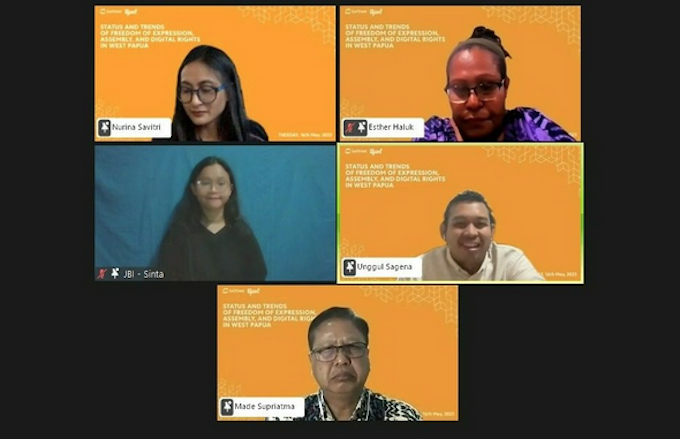 She said Indonesia as a democratic nation should uphold and honour the freedom of expression of Papuans.
Peaceful protests
In Haluk's view, the way the Indonesian government treated Papuans indicated that Papuans were not viewed as a part of Indonesia.
"We intended to conduct a peaceful protest, so why did the government resort to sending in the police and military to forcibly disperse us?
"We were simply exercising our rights, so why the use of such excessive force by the military and police?
"Based on our experiences as Papuans, it feels as though our rights hold no significance and are not acknowledged within Indonesia," Haluk said.
Ian Moore of the human rights campaign TAPOL revealed in the forum that there were 21 instances of arbitrary dispersals that took place in 2022, according to the Tapol West Papua 2022 report "Freedom of Expression and Freedom of Assembly".
Moore highlighted that most of the incidents occurred in Papua province, particularly in the capital Jayapura. However, similar incidents were also reported in other parts of West Papua, especially in Sorong, and Central Papua.
Moore said that various police units were involved in the dispersal of peaceful demonstrations in Papua, ranging from standard units to special task forces such as the Nemangkawi Task Force, the Mobile Brigade Corps, and police intelligence agencies
Papuans 'oppressed'
Made Supriatma, a researcher at the ISEAS-Yusof Ishak Institute, said the state continued to oppress Papuans by deploying military forces to deal with their protests.
This response, Supriatma added, was "excessively brutal" and amounted to repression against Papuans.
Supriatma said that various protests by Papuans indicated a growing sense of nationalism, particularly among the youth in Papua.
The Indonesian government should engage in dialogue with Papuans to address their concerns and listen to their demands.
"Papua has a strong movement, and young Papuans are eager to voice their opinions and participate in protests, even in the face of military repression," Supriatma said.
Republished with permission.