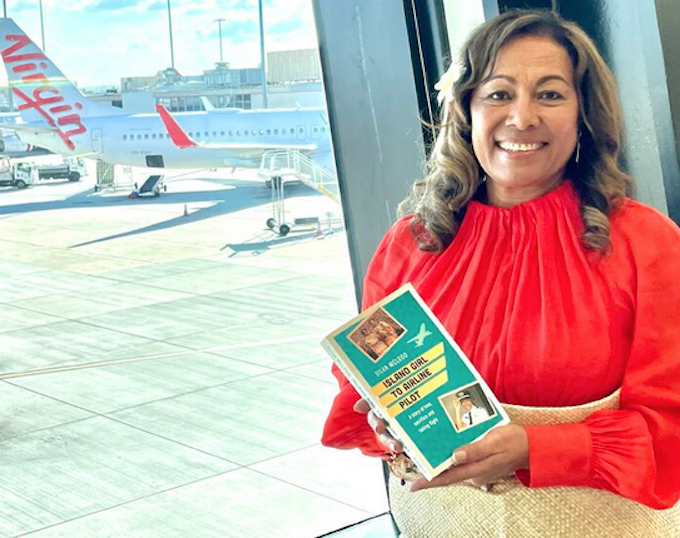 REVIEW: By Sri Krishnamurthi
From Island girl to an airline pilot seems like the Disney fantasy Moana yet nothing could further from the truth when it comes to Silva McLeod who turned fantasy into reality with heartbreak along the way.
Born in the small Tongan village of Vava'u in the days when we watched and marvelled as jets few overhead, Mcleod never dreamed one day that she would be there in the sky flying jet planes to all manner of destinations.
In her recently released memoir,  Island Girl to Airline Pilot: A Story of Love, Sacrifice and Taking Flight, she tells her story.
The book details when and where she meets her Australian husband Ken who went to Tonga to work in building a hospital. She was working as a waitress in a bar when she first met him.
However, unlike other Palagi (white men) visiting the islands and making promises they never intended to keep, Ken — according to her autobiography that initially reads like a Mills & Boon novel — was a perfect gentleman as he slowly courted her.
"At first, it wasn't the done thing to do… Unfortunately, the picture we have that white men come in — it's not a very nice picture, but that's how it was — they impregnate the Tongan girl and then nick off, and mum and dad, nan and pa will have to clean up the mess," she writes.
"So, this is quite rare, a young handsome Pālagi came to our island, and we found a common attraction to each other. My family feared the worst … so it wasn't very well received in the beginning.
Language 'huge barrier'
"Language was a huge barrier at the beginning, because my family couldn't speak a word of English and Ken couldn't speak a word of Tongan.
"So how could Ken make a conversation that might help my family accept the situation? But it didn't take long."
Ken eventually whisked her away to Melbourne in 1980, and while her dreams were put on the backburner while the couple raised a family.
She did ultimately realise her dream to become Tonga and possibly the Pacific female airline pilot, beginning as a flying instructor, then flying for Royal Tonga Airlines, Australian Flying Doctor Service and eventually Virgin International Airlines.
And, at the time of doing this interview, she was waiting to hear about her health results to find out whether she could keep flying.
Becoming a pilot "was never really a dream, because I could never envision reaching it or getting there," Mcleod  says.
"It was more like a fantasy because it was never going to happen.
Both ways to the beach
"Growing up in Vava'u, in a tiny little island of Pangaimotu, 200 people live there: you walk one way you reach the beach; you turn around 180 degrees you reach the beach.
"So, to dream of eventually becoming an airline pilot one day, or even just flying an aeroplane was unreachable — so I kept it as a fantasy.
"I can just visualise myself as a child running outside every time I hear a sound of an aircraft and I was there [looking] at the sky until the aircraft disappeared.
"The curiosity in me … was getting a little bit too much, running away with the thought of 'oh wow, how clever is that, imagine the people that are flying that machine… wouldn't it be amazing to operate such a machine, because it defies gravity?
"The fantasy was right from a young age, but it wasn't a dream because I didn't think that I'd get there."
Mcleod's world while growing up was limited, she says: "like wanting to reach for a piece of coconut but finding your arms are bound".
At the time growing up in the 1970s in Vava'u, television and  newspapers weren't easily accessible, so glimpses of the lives and places outside of the immediate community were limited, she says.
'I can't get out'
"It felt like, 'I can't get out'. It's the same right across the Pacific Islands, it's not just Tonga.
"We have such a rich culture and living in it … it's just part of you and something I will treasure and value for the rest of my life.
"But then on the other hand, it's restrictive because there's nothing else to do.
"You go to school and then after that there was no university, there was no job. What could  you  do on an island? You couldn't see a future.
"We are bound by culture, we bind by family, we bind by religion. It's like you are free but you are bound to something.
"That's just the way it is, and that's just the island life, and you just grow up understanding it and it's part of you."
Now, with internet connectivity many Pasifika children view a more open world, she says.
Done her family duty
Settling in Melbourne and raising two daughters who are happily married with their own kids, she has done her family duty.
Then in a conversation with Ken, Mcleod spoke of her dream of becoming a pilot. However, instead of laughing, her husband told her that she could do it.
"Yes you have to be good at mathematics to be pilot and it takes hard work so no fantasy is ever easy," she said.
Not long after, Ken became sick with cancer, and underwent chemotherapy. Mcleod focused on his recovery until her husband asked her about what it would take to get her started. He bought her a birthday present of vouchers for an introductory flight, and the rest is history.
Six years later, she earned her air transport pilot's licence and became  the first Tongan woman to qualify as a pilot, and later a flight instructor.
The work brought Mcleod satisfaction, though she frequently faced both racism and sexism along the way, such as callers would say they wanted to speak to "Mr McLeod".
Sexism, racism and misogynism, she has experienced it all, but as she said, "my book isn't about that, I just wanted to tell my story through my eyes".
An eye on Boeing 777s
As a pilot, Mcleod was "quite happy just flying 737s all around" but  followed with interest as Boeing 777s were developed and introduced, with automated fly-by-wire technology.
"I was based in New Zealand for nearly 12 months — loved my time there. That was on the 737s, so I did all of the domestic routes in New Zealand as well as all the South Pacific islands.
"At first I was based in Christchurch, then when moved Auckland a group of us pilots pooled our allowance and took an apartment at Auckland's viaduct and we just loved it there, Ken came along and joined us," she said.
Mcleod then  began working for the Virgin stable  and was trained to pilot 777s there — another thing ticked off her bucket list.
When she joined Royal Tongan Airlines and became  the first pilot  to speak fluent Tongan to the largely Tongan passengers over the intercom, it gave her such pride.
Defining her life
Mcleod underlines her story that flying aeroplanes does not define her life. Her journey, family, cultural identity and partnership with Ken determined her life.
Alas Ken died recently from cancer as the covid-19 pandemic swept through the world, and McLeod says that  until the end they remained both close and committed to breaking down barriers of skin colour and culture.
"I was a wife first, a mother, a grandmother, a carer, and I just call myself a worker … whatever field you have it's no different. I just wanted to tell my story," she says.
"And if my story inspires young Pacific women to be who they want to be, then so be it, but that was not my ambition. I just wanted to tell my story," she says heading out the door to a nearby golf course.