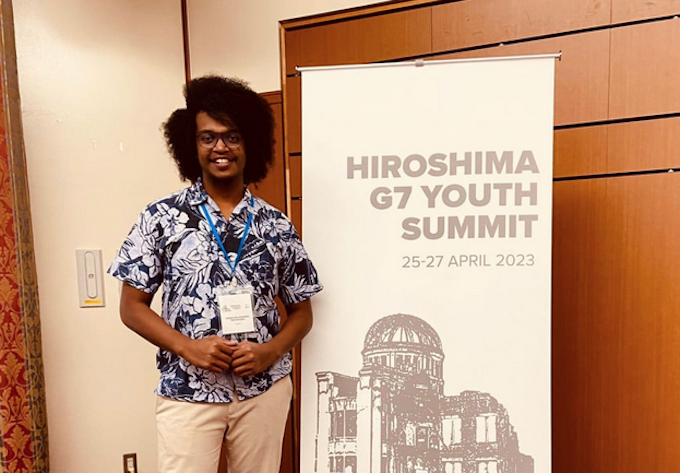 By Lydia Lewis, RNZ Pacific journalist
Pacific Youth are looking at how they can spark positive change following the Hiroshima G7 Youth Summit which has just wrapped up.
Youth from around the world have met in the Japanese city in an effort to find solutions to stop the use of nuclear weapons.
The summit was co-organised by the Centre for Peace at the Hiroshima University and the International Campaign to Abolish Nuclear Weapons (ICAN).
Among the attendees was Māohi — indigenous French Polynesian — youth delegate Tamatoa Tepuhiarii.
"I feel empowered, empowered to contribute for my community," Tepuhiarii said.
He is aiming to do a PhD in anthropology, and said he wants to examine nuclear impacts on Māohi people.
"My Grandpa, he worked on Moruroa [atoll], and he died suddenly; he just fell suddenly and my mum told me that the blood came out from his mouth.
"We know now that his death is related to the nuclear testing period," he said.
From 1966, French Polynesia's Moruroa and Fangataufa tolls were the main French nuclear weapons test sites — that is where Tepuhiarii's grandfather worked, unaware of the devastating consequences to come.
Some of the explosions were 200 times the strength of the bombs dropped by the United States on the Japanese cities of Hiroshima and Nagasaki in 1945.
"We can see the impact of nuclear weapons on our society, on the Māohi society," he said.
"The nuclear testing period, and particularly nuclear testing, has impacted on the whole society now 27 years after the last bomb, which exploded at Fangataufa," Tepuhiarii said.
For Tepuhiarii, learning more about his family's nuclear history is vital, to preserve the knowledge and share the stories of those who have suffered and continue to suffer.
Youth G7 outcomes
The youth summit statement noted the concerns some Pacific nations have on Japan's plans to release more than one million tonnes of ALPS treated radioactive wastewater into the Pacific Ocean.
ALPS (Advanced Liquid Processing System) is a multi-nuclide removal system to strip various radioactive materials from contaminated water.
"[We] support in solidarity with the states who sit on the frontlines of this crisis and see this as an act of trans-boundary harm upon the Pacific," the joint statement said.
Eleven requests have been made for G7 countries to take onboard including, "sincerely committing to steps towards nuclear disarmament".
"We urge you to take bolder and more decisive actions by honouring our recommendations," the G7 youth statement requested.
The official G7 meeting with world leaders starts on May 19.
This article is republished under a community partnership agreement with RNZ.