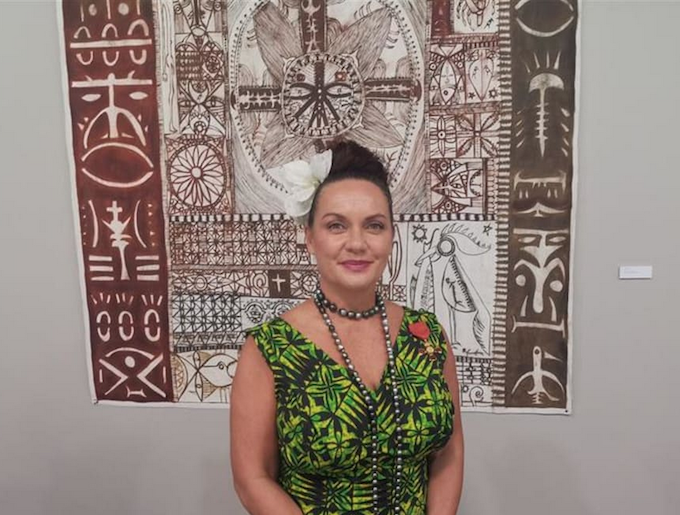 By Finau Fonua, RNZ Pacific journalist
Several Pasifika were among dozens of New Zealanders to receive the Order of Merit this week.
Recipients comprised leading figures across various industries from social work to entertainment.
TV show producer, writer, and director Lisa Taouma received the insignia of a member of the NZ Order of Merit at a ceremony in Auckland.
Taouma said the award represented the efforts of many people.
"I'm really honoured that people from my community nominated me for this," Taouma said.
"As Pacific people, we work collectively. This award has my name on it, but it's an award that should be really for my whole amazing team of Pacific creatives.
"In my aiga of creative people who have put me here really, this is very much theirs' as mine."
Garnered controversy
The Order of Merit was an honorific established in 1902 by Edward VII, and has garnered controversy as it was awarded to many British officers and statesmen involved with the colonial oppression of the British Empire.
But Taouma said the investure of so many Pasifika and Māori indicated a positive change.
Since the end of the British Empire, the honorific system has seen a revision — shifting from recognition of control to recognition of change.
"I was a bit conflicted in taking the award from the Empire and the King, because many Pacific people were victims of colonisation," said Taouma.
"But I think that different people being involved in these investures is important because it shows how things are changing."
Another Pasifika recipient, Ma'a Brian Sagala, said his recognition was the result of generations of duty towards helping one's community and whanau (family).
"The reason I do what I do is to follow in the footsteps of my dad and mum, it's something that has been modelled to me by all those who gave gone before me," said Ma'a who works as a radio presenter and producer for the Pacific Media Network.
'Hard to put into words'
"It's actually hard to put it into words, but I'm very humbled by the recognition, and I'm just so very thankful. I love serving the Pasifika community, it's the greatest honour and privilege.
"This medal shows the impact that Pasifika are having on New Zealand society."
Many Māori have also been invested, such as George Flavell, kaumatua of Ngati Te Ata. The 77-year-old spent much of his life discovering and protecting traditional Māori sites such as pa fortresses.
His push for the protection of the sites resulted in land being reclaimed as part of the Waitangi Tribunal.
"It's 30 years of hard work," said Flavell.
"We worked hard to save our waahi tapu (sacred sites) and pa (traditional fortresses)…all of our land was confiscated, so it was about picking up what we could with the goodwill of the community."
Flavell said changes in school curriculums to teach Māori history and language showed how far New Zealand society had come.
"Things were taught differently back then because there was no understanding of the past, but then all these claims came out and things began to change, people began to understand.
"We were at the bottom of the list of council policies (preserving sites), but now we're on top."
This article is republished under a community partnership agreement with RNZ.