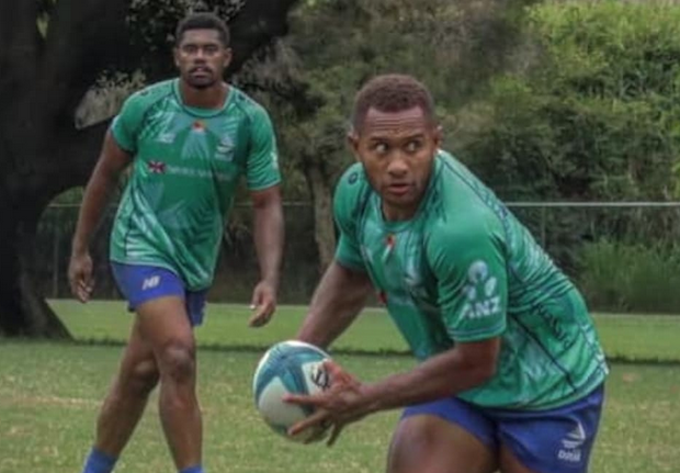 By Iliesa Tora, RNZ Pacific senior sports journalist, and Sri Krishnamurthi, RNZ Pacific journalist
The Fijian Drua will need to start and finish well, while Moana Pasifika's coach wants to see a full 80-minute performance this weekend as the two regional teams continue their Super Rugby Pacific campaigns.
The Drua tackle the Highlanders in Dunedin today and Pasifika face the Hurricanes at Mt Smart Stadium, Auckland, later on in the day.
Both teams are coming off defeats last weekend, albeit in very different ways.
Drua needs focus to win
Keeping the focus and playing basics rugby right are keys to the Drua's campaign if they want to contest the play-offs.
That plus discipline could be the difference of a win or loss against the Highlanders, who are also fighting to keep their hopes alive.
Head coach Mick Byrne lamented the lack of focus in the first half against the Reds in Brisbane last Sunday, where they lost 27-24.
"I am disappointed we did not play 80 minutes in that game," he said.
"We got back to work in the second half. Would have been nice to have been like that for 80 minutes."
He said the players needed to also learn when to keep the ball and set up play, instead of throwing it around too much.
"I think we probably threw the ball away in some close quarters, especially down the sidelines. We just need to carry into those areas, be strong at the ruck and carry hard again," he said.
"We were a little bit loose at times."
Captain Meli Derenalagi said they will need to focus from the start until the final whistle if they are to improve on their two wins from four games so far.
"We lacked focus in the first half and that let us down," he said of last weekend's close loss.
This week he and the players have been working on those areas and more, including first-up defence and making use of possessions that comes their way.
Moana Pasifika coach seeks 'full performance'
Although not disappointed with last week's showing against the Brumbies where Moana Pasifika lost 62-36, head coach Aaron Mauger, like his Drua counterpart, wants to see a full performance against the Hurricanes tomorrow.
"We played good for 60 minutes and obviously dropped away towards the end," Mauger said.
"We highlighted what we are doing well, and we showed we can go toe-to-toe with any other team in the competition.
"We still have gaps around the 80-minute performance but there were lots of positives there."
He doesn't expect it to get any easier against the Hurricanes on their return to Mt Smart, the scene of last year's 24-19 win for Moana Pasifika against the same opposition.
"The Hurricanes are playing good rugby, they are a very physical and abrasive team," Mauger said.
"So that has been the focus this week especially looking at the collision and securing the ball.
"We expect Hurricanes to be good there — Ardie Savea, Du Plessis Kirifi and James Blackwell are all very good over the ball and so we going to have to be sharp."
Mauger said it was nice to return to the scene of last year's win, but they are totally focused on the task in hand.
"It's always a pleasure to play at home especially in front of our home fans. Last year was pretty magical moment for us but they are a quality side and will have respect for us and we will respect them too," he said.
Mauger said he was disappointed Moana Pasifika had not picked up a win in the four rounds to date.
"I have to say I'm concerned that we haven't picked up a win because we had winnable games against the Force and the Drua, and they were two close losses," Mauger lamented.
This article is republished under a community partnership agreement with RNZ.