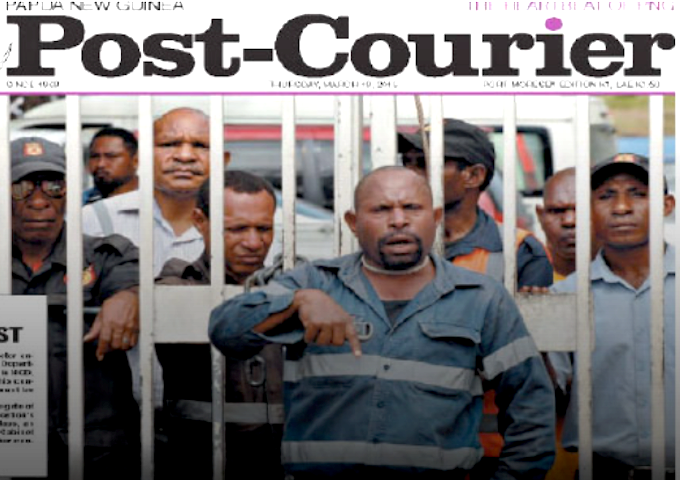 By Todagia Kelola in Port Moresby
A number of small contractors in Papua New Guinea are still waiting for positive feedback for money owed to them by government agencies after 12 years.
A 2015 Post-Courier front page picture showed a man, David Goli, who chained himself at the then headquarters of the Education Department at Fincorp Haus to protest over not being paid for the programme work.
He is still waiting today.
The contractors, who are mostly small businessmen and women who were engaged by the Education Department, NCD Education and the Library and Archives, to carry out work under a pilot project worth K500 million (about NZ$224 million).
The contractors were engaged under the RESI (rehabilitation of education sector infrastructure) programme, NCD Education RESI and the Library and Archives development programme.
They provided the service and also used their own funds to carry out the work with the promise of being paid but to date they are still waiting.
These RESI programme, NCD Education RESI and the Library and Archives development programme, according to the current representatives of the contractors, was during the term of the government of the late Sir Michael Somare and Sir Puka Temu in 2007.
Balance awaited
Three separate payments were made in 2009, 2011 and 2013, but up until now, some 12 years later, they are still waiting for the balance of their payment.
The leaders of the group, chairman Joe Kelta Kombie, deputy chairman Paulus Wembri and James Pijape came in person to the Post-Courier office at Konedobu expressing their concern on the delayed payment.
They said the issue of this payment had gone through various stages, including the Education Department's refusal to pay because of bogus claims.
That resulted in a number of audits to determine genuine contractors which were done by three separate agencies but yet the payments were not forthcoming despite numerous representations to the department.
They also claimed that current Prime Minister James Marape was fully aware of this programme and the plight of the contractors because at that time he was Education Minister before being moved to another ministry.
"The Prime Minister knew our problem at that time. He was the one who took our matter to NEC [National Executive Council] where K96 million [NZ$43 million] was made available in 2015, but the department did not pay," the three representatives said.
"Recently there was an NEC decision made in November 2022 to allocate some monies for this payments, but as contractors and people owed, we don't know how much NEC has approved.
Confidential details
"The submission made to NEC for this outstanding payment has been kept confidential for reasons known only to the department. We don't know the list of contractors, the amount that is going to be available and we are suspicious that we may not be paid at all again."
They are now calling on the Prime Minister, Education Minister and the Secretary to come out and tell them if they will ever be paid.
"We totally agree and support this governments policy on SMEs.
We were once on that path but after spending on these three programmes and hoping to be paid, we are now left with nothing. Please listen to our plight and pay us what is owed to us," the men said.
Todagia Kelola is a PNG Post-Courier reporter. Republished with permission.