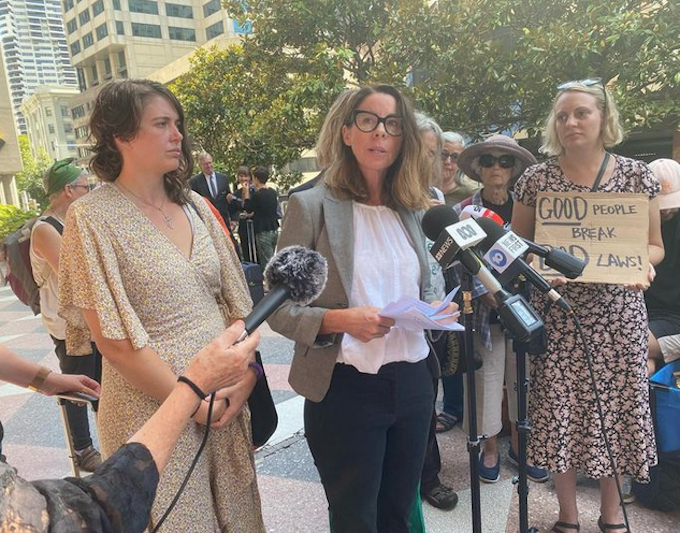 Australian climate emergency protester Deanna "Violet" Coco last week won her appeal ato the delight of supporters. A 15-month jail sentence imposed on her for blocking one lane on the Sydney Harbour Bridge with a truck was quashed. Instead, Coco, 32, was issued with a 12-month conditional release order last Wednesday after district court judge Mark Williams heard she had been initially imprisoned on false information provided by the NSW police. She told reporters she would pursue compensation against the police after spending 13 days in prison. Here investigative journalist Wendy Bacon reports for City Hub on the NSW police withdrawing the false ambulance accusation that led to Coco's jailing.
---
ANALYSIS: By Wendy Bacon in Sydney
New South Wales police withdrew a false allegation that four climate change protesters who had stopped traffic on the Sydney Harbour Bridge last year blocked an ambulance.
Police included this false allegation in a statement of the so-called "facts" that police prepared on the day of the arrests. The false allegation was designed to paint a hostile image of four peaceful protesters and to successfully argue for onerous bail conditions, including severe restrictions on their movements, and tough sentences.
The documents drawn up on the day of the protest stated: "The actions today have not only caused serious disruption to peak-hour traffic, but this imposition to traffic prevented an ambulance responding to an emergency under lights and sirens as it was unable to navigate through the increased heavy traffic as previously mentioned. This imposition to a critical emergency service has the potential to result in fatality."
An unprecedented tough sentence was given to Violet Coco who had already spent 84 days "imprisoned" at home between her arrest in April 2022 and her appearance before Magistrate Alison Hawkins in December.
Hawkins referred to the blocking of the ambulance in her remarks when she sentenced Coco to 15 months in prison and refused bail. After spending 10 days in prison, Coco was released on bail by District Court judge Timothy Gartelmann.
Her appeal against sentence was heard on March 15 when the matter of the false allegations was raised.
The new information emerged during the sentencing hearing against two of Coco's co-defendants Alan Glover and Karen Fitz-Gibbon who appeared for sentencing earlier this month.
They pleaded guilty to charges arising from blocking one lane of the Harbour Bridge for 30 minutes in April last year. Magistrate Daniel Reiss sentenced both to 18 months Community Correction Orders with a fine of $3000 each.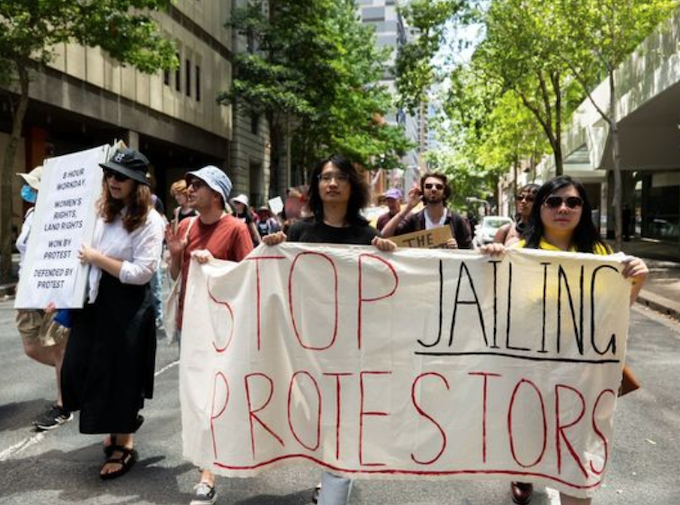 Compared to previous sentences for peaceful protesters, these are harsh sentences. Their lawyer told the court that they regretted causing inconvenience.
Outside the court, Glover, a comedian and actor who has been a firefighter for 40 years, told the media, "I'm very unhappy and angry. I think the judgement is wrong and I'm going to appeal."
Asked whether he thought the tactics were appropriate, he said, "I'm a firefighter and what do I have to do to make sure firefighters have the resources to do the job properly. I want the government to recognise that we are already in the midst of climate change problems…We've got people dying from smoke inhalation from bushfires that are bigger than anything we've ever seen."
Asked by a journalist if he still agreed with his lawyer's statement in court that he recognised the action was "inappropriate", he said, "I do, I thought it was inappropriate at the time but we have to do something to get the government to act now now.. a few minutes delay is nothing compared to the massive disruption that will occur if we do not get action on climate change."
Greens spokesperson and NSW Upper House MP Sue Higginson who has appeared for hundreds of environmental protesters wrote on Facebook: "I nearly fell off my chair when the Magistrate handed down his sentence — a conviction, an 18 month community corrections order and a $3000 fine. I have represented hundreds of environmental protesters and this sentence is just so wrong. He should not be punished this way. I hope he appeals.
"On the upside, the case today put to rest the dangerous false shrill claims that an ambulance was obstructed during the protest. It wasn't! When you have a state government and an opposition in lock step in an anti-protest draconian stance and a legal intolerance to dissent and civil disobedience we fail our democracy, our climate, our environment and our communities."
Greens Senator David Shoebridge agreed and wrote on Facebook: "The police went into court and REPEATEDLY lied that this had blocked an ambulance — all to try to get a harsher penalty for a climate protector!
Magistrate Daniel Reiss noted that Glover's two co-accused "Violet" Deanna Coco and Jay Larbalestier had both been sentenced on the "false ambulance assertion" and that "no emergency vehicles were obstructed".
This could open the way for Larbastier to appeal on his sentence. Police acknowledged that they had taken no steps to inform him that the evidence used against him was partly false.
If it wasn't for the publicity, he would not know about the ambulance lie.
The cases of the Harbour Bridge protesters were among the first to take place after the LNP government's draconian anti-protest laws were passed with NSW Labor's support in April last year.
CCL condemns disproportionate sentences of climate protesters
The NSW Council for Civil Liberties is one of scores of organisations calling for the repeal of the laws. Its president Josh Pallas described the case as "an outrageous" example of "police misstating the facts which have been consequential in the sentences of others.
"The police have offered no justification for this misstatement of facts. They must be held accountable and at the very least, explain how they got this so wrong.
"Climate protesters are being increasingly and disproportionately subjected to punitive legal action by Australian authorities and this has taken that legal action to a new extreme," he said.
Pallas described this period as "some of the darkest times our members have seen for protesters," since CCL started advocating for protest rights in 1963.
"We have fought the slow repression of police and the state in cracking down on protest every step of the way. But the fight is hard when the government is protecting mining and business interests and when the mainstream media side with government and large corporates with vested interests to stifle the right to protest," he said.
"These cases provide yet another example of why everyone should be concerned about increasing repression of public assemblies and protests in NSW and elsewhere around the country. The right to protest and public assembly is an essential democratic right.
"Stifling protest stifles freedom of expression. Enough is enough, the government and the police must respect the right to protest and be accountable for their actions."
Magistrate focused on ambulance in Coco case
The non existent ambulance featured in the first sentencing hearing against Coco.
The police referred Magistrate Alison Hawkins to the "fact" that Coco had prevented an ambulance with lights and sirens indicating an emergency. Coco's barrister did not dispute that the ambulance "may have been" on the bridge but warned the magistrate against drawing implications from that or overblowing its significance.
Magistrate Hawkins disagreed asking why she would be going too far to accept that "impeding an ambulance under lights and sirens might be something that potentially has the potential to cause harm to some other person? Why is that a stretch too far?."
She accepted the existence of the ambulance and the sirens as relevant "facts".
She then applied these facts in her sentencing saying, "You have halted an ambulance under lights and siren. What about the person in there? What about that person and their family? What are they to think of you and your cause?"
Because Hawkins accepted the ambulance as fact, she felt free to accept that inside the ambulance was a very real person whose life was in danger. This was part of the basis for her referring to the protest as a "childish" and "dangerous" stunt.
She then justified her harsh and angry stance on the basis that this "dangerous behaviour… deserves "condemnation from not only the courts but the community" because Coco had not only illegally protested but she had done so in a manner to cause a "significant level of distress to the community".
Because of the seriousness of the situation, Hawkins said she had no other option than to impose a full-time jail sentence.

Protester uses body cam footage to prove innocence
One of the effects of the anti-protest laws is to make it less likely that protesters will plead not guilty. This is because the laws are framed so that, for instance, you are either on a road or off a road. You do not have to be given a direction to move.
If an accused pleads not guilty and is then found guilty, there is a risk that a sentence could be even harsher.
When people plead guilty, there is less likelihood that police version of the facts will be tested in cross-examination. This means that there is more latitude for police to create their own facts — in other words, fabricate evidence.
In another case this week, climate activist Richard Boult was found not guilty of all charges brought by NSW Police for stepping onto a road during a climate protest in Sydney last June.
Boult who is part of the Extinction Rebellion drumming group was charged under NSW road rules with obstructing traffic and causing a traffic hazard arising from his participation in Blockade Australia's call for stronger climate action.
Green Left reported that after attending the protest, he attended a media conference. When he left the conference, police followed him to his car and laid charges alleging he left the footpath and stepped onto the road.
Boult pleaded not guilty, saying his movement from the footpath was at a point in the road designated as a closing point. Significantly, he used body camera evidence that validated his claims. So it was not just his word against the police version of events.
He also rejected a plea deal, which would have dropped one charge but retained another. The court upheld Boult's plea of not guilty and dropped the charges.
Wendy Bacon was previously the professor of journalism at the University of Technology Sydney (UTS) and is supporting the Greens in the NSW election. One of the reasons, she supports the Greens is because they are the only party committed to repealing the protest laws. Wendy Bacon's investigative journalism blog.