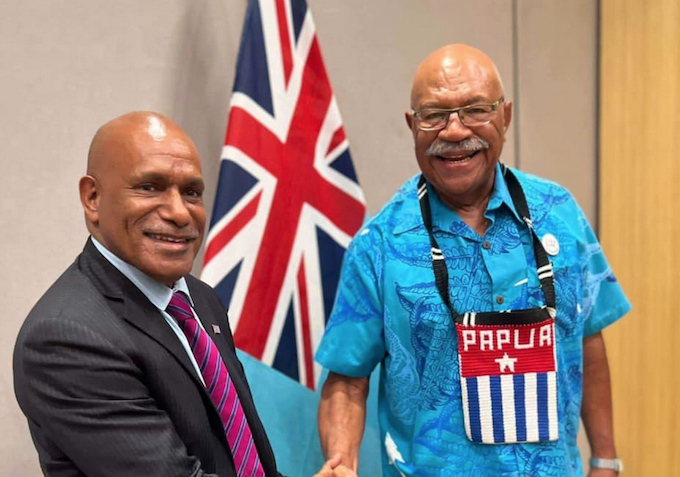 By Kelvin Anthony, RNZ Pacific digital and social media journalist, and Lydia Lewis, RNZ Pacific journalist
Fiji's Prime Minister Sitiveni Rabuka is the first Fijian leader in 16 years to hold a one-on-one meeting with the president of the United Liberation Movement for West Papua (ULMWP), while also confirming his government will support the independence campaigners bid to become full members of the Melanesian Spearhead Group (MSG).
However, "sovereignty issues" will need to be considered, Rabuka told RNZ Pacific.
ULMWP's exiled president Benny Wenda said that "Melanesia is changing" following his meeting with the Fiji prime minister yesterday.
Wenda said Rabuka welcomed him with an "open heart" and listened about the human rights atrocities faced by indigenous Papuans.
He described Rabuka holding the Morning Star independence flag — which is banned by Indonesia — as "overwhelming".
"The people of West Papua are celebrating because after 16 years somebody [from the Fiji government] has stood up for West Papua and held the Morning Star flag with the president of the United Liberation Movement.
"I think that gives us confidence that the issue now is in Melanesia's hands," Wenda said.
International ramifications
Rabuka said the ULMWP understood the international ramifications and objective of having discussions with governments.
The ULMWP have been campaigning to gain full membership with the MSG and currently has observer status.
The bloc includes Fiji, New Caledonia's FLNKS, Papua New Guinea, Solomon Islands and Vanuatu, which is the current chair of the group. Indonesia has associate membership.
The West Papua independence campaigners have submitted its application for membership twice, in 2015 and 2019.
Rabuka said the MSG had precedent for granting full membership to an organisation.
"We had the FLNKS as full members of the MSG before New Caledonia as such became part of the MSG," he said
"Yes, we will support them [ULMWP] because they are Melanesians."
"I am more hopeful [of ULMWP gaining full membership]," he said, adding "I am not taking it for granted. The dynamics may have changed slightly but the principles are the same."
Wenda said the MSG leaders were expected to meet in July and he felt assured after his meeting with Rabuka that Melanesian leaders would respond to their calls.
"I am going back with a good spirit and my people are all celebrating," he said.
Marape: Indonesian control must be respected
But earlier this week at a joint press conference, Rabuka and Papua New Guinea's PM, James Marape, stressed that Indonesia's sovereignty over Papua must be respected.
Marape said while PNG sympathised with the Melanesians of West Papua it "remains part of Indonesia."
"We do not want to offset the balance and tempo," Marape said.
Rabuka added there were also similar cases existing in the Pacific territories.
"We have Micronesian, Melanesian communities in Fiji and their original home countries now respect the sovereignty of Fiji," he said.
"I am sure they [other Pacific nations] have people-to-people direct contact with [communities in Fiji] to enhance their livelihood here and also continue to promote their culture because of their heritage."
He said it was the same for for the indigenous Papuans of Indonesia.
"We must respect the sovereignty issue there because it could also impact on us if we try to deal with them [West Papua and Indonesia] as separate nations within a sovereign nation."
This article is republished under a community partnership agreement with RNZ.