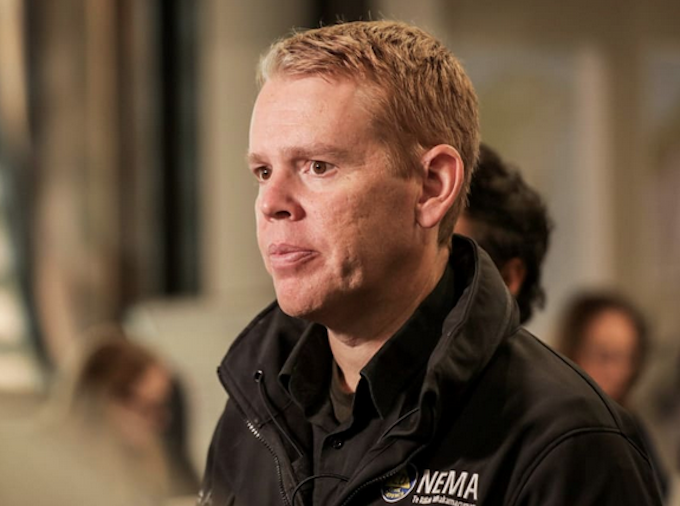 Almost 30,000 homes have no power and major supply chains have been disrupted in Aotearoa New Zealand — and Prime Minister Chris Hipkins is also warning that more fatalities from Cyclone Gabrielle remain possible.
Hipkins said it was now seven days after the cyclone had passed through and the true extent of the devastation and loss was becoming clearer with every passing day.
"Lives have been turned upside down, many people have seen their homes and all their possessions completely destroyed," he told a media briefing in Wellington late yesterday.
Countless others have been displaced, tragically so far 11 people have lost their lives, and more fatalities remain possible."
He said 28,000 homes remained without power.
"Telecommunications have been severely disrupted, fresh water is in short supply in some areas and roads have been badly damaged, limiting access to some areas and causing significant delays in others," he said.
He said supply chains had been disrupted and moving goods around had been "incredibly challenging".
"Crops have been badly damaged, many completely destroyed."
Death toll 11
Earlier yesterday, police confirmed two further deaths relating to the cyclone, bringing the total to 11.
Hipkins today paid tribute to emergency services and first responders, who had done New Zealand proud.
Watch the media briefing
Video: RNZ News
"Many have worked themselves to utter exhaustion. The stress and strain of the last week is clearly starting to show, and particularly in places where power and communications remains disrupted, we know that tensions can be high."
He said nobody should underestimate the psychological toll this disaster was taking on some New Zealanders.
"The past week has pushed many to their limit, even more so given it comes on top of other weather events, the disruption of a global pandemic and too many other significant and disruptive challenges to mention — our resilience is being tested like never before," Hipkins said.
"But as we've repeatedly seen in recent times, adversity brings out the best in Kiwis. We rally together and we support each other.
"We look out for our neighbours, we go the extra mile to protect the vulnerable, we share and we care. "
The Australian emergency responders announced on Friday they were supporting Fire & Emergency NZ with a 27-person impact assessment team and Hipkins said 25 of them were already on the ground in the Hawke's Bay, with two supporting the national co-ordination centre.
He said Aotearoa had also accepted an offer of support from Fiji — 10 personnel from their defence force, four fire authority crew and four national disaster management officials were preparing to leave for New Zealand in the coming days.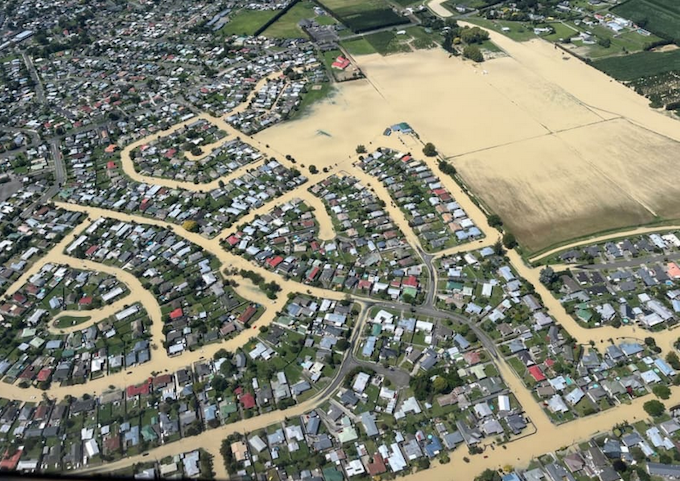 Crucial satellite imagery
He added that the United States and Australia — through the New Zealand Defence Force — had provided crucial satellite imagery products of the affected areas.
"And we're in the final stages of working to accept an offer from the Australian Defence Force who will support the New Zealand Defence Force with a C-130 transport aircraft, air load teams to rig freight on the aircraft and environmental health staff to assist in analysing health risks.
"All of this will be a great help and we thank Fiji and the United States as we thank Australia."
Hipkins said making a monetary donation was the single most helpful thing people can do in the wake of the cyclone to support those disrupted communities, because "that enables the support organisations to [require] what is needed in those communities".
He said there was no doubt that New Zealand had a steep mountain ahead of it.
Tough calls
"Our attention over the past week has been focused on the initial emergency response, rescuing those stranded, restoring lifelines and removing hazards. In some areas that still remains very much the focus, in other areas though, recovery is starting to get underway," Hipkins said.
"As the shape of the damage and the need becomes clearer we'll be able to shape our response accordingly.
"We know that this will come with a big price tag and we will have to once again reprioritise and refocus our efforts and our resources. We will build back better, but we will also need to build back more resilient than before."
He said the country had underinvested in infrastructure for far too long and that had to change.
"If we're going to build back better and if we're going to build back quickly, some tough calls will need to be made, and I'm absolutely committed to doing that."
This article is republished under a community partnership agreement with RNZ.