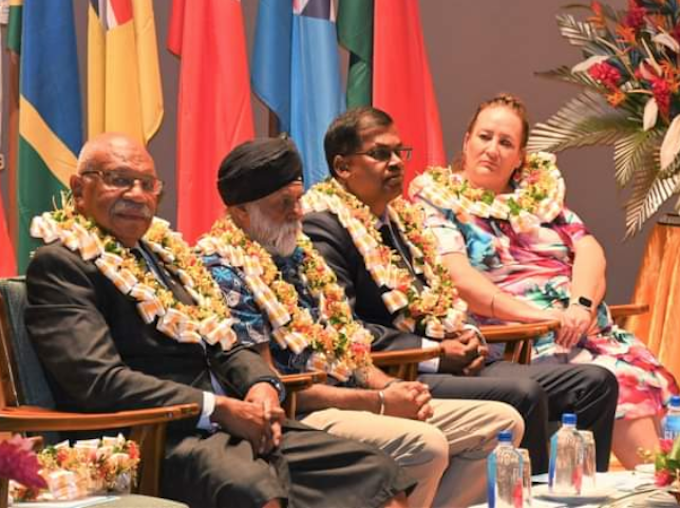 By Geraldine Panapasa in Suva
The University of the South Pacific is expected to receive the first instalment of the promised $10 million part payment of owed grants soon.
Fiji Prime Minister Sitiveni Rabuka said this was a show of the coalition government's commitment to restoring Fiji's outstanding grant contributions since 2019.
It is understood that by June this year, the total grant to be paid to USP would reach $116 million.
Rabuka made the comment during a moving thanksgiving service at USP's Laucala campus this week to mark the return of exiled vice-chancellor and president Professor Pal Ahluwalia to Fiji.
Since 2019, the previous government under FijiFirst remained steadfast in its decision to withhold grant contributions to USP until independent investigations into alleged mismanagement by Professor Ahluwalia were carried out, ultimately leading to the professor and his wife Sandra's deportation from Fiji.
Professor Ahluwalia, who has since been operating in exile from USP's Samoa campus, was offered an invitation by Rabuka to return to Fiji, a move that has gained widespread support from USP students and staff.
"The power of one vote on the floor of Parliament made it possible for me to sit as Prime Minister in Parliament and cabinet, and allowed me and Fiji to say to Pal Ahluwalia to come home, come back," Rabuka said.
'Fiji did it to you'
"I want to apologise to you, very simple. It doesn't matter who did it. As far as the world is concerned, Fiji did it to you," Rabuka said.
"Now, I am Fiji by the power of one vote. We've corrected that. Thank you for agreeing to come back.
"I reiterate the USP students' apology, we were orphaned since you left; now we have our parents back."
The Prime Minister said USP was the best example of regional cooperation, breaking new ground in bringing people together, not only from the Pacific but within Fiji.
In accepting the apology, Professor Ahluwalia said the thanksgiving service was a day to celebrate and expressed his appreciation to the Prime Minister and Deputy PM for their support and commitment to the regional university.
"After 107 weeks of exile, I never thought I would see the day I get to thank my staff and students in person," he said.
"I am overwhelmed by the heart of the university, our students, for standing by me, our staff; how do I thank people who sacrificed without expecting anything in return.
Beacons for education
"Universities have to become beacons for education and to speak truth to power. I am here, I am here to serve you and the nation."
USP pro-chancellor and chair of the USP Council Hilda Heine expressed her gratitude to Rabuka for allowing Professor Ahluwalia to return to Fiji and for providing assurances and support towards the region's premier institution.
She also acknowledged Samoan Prime Minister Fiame Naomi Mata'afa for hosting the vice-chancellor and his family in Samoa since January last year, and Nauru's Deputy Speaker of Parliament and former president Lionel Aingimea and the government of Nauru for hosting the vice-chancellor following his removal from Fiji in February 2021.
Geraldine Panapasa is editor-in-chief of the University of the South Pacific's journalism newspaper and website Wansolwara News. Republished in collaboration with the USP journalism programme.