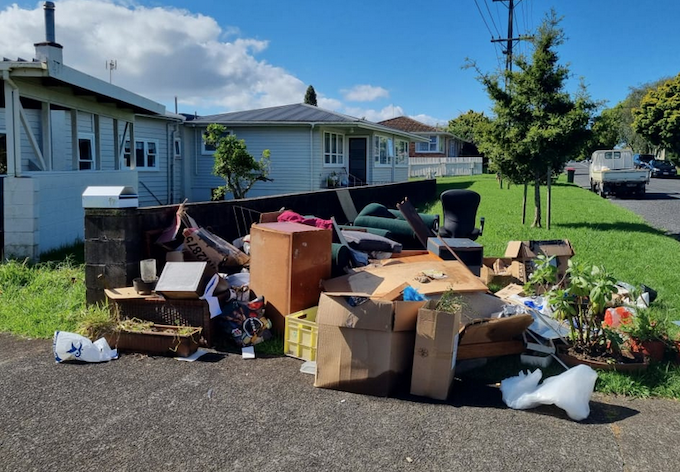 By Ashleigh McCaull, RNZ Te Ao Māori news
A fortnight after the floods in Tāmaki Makaurau and as Aotearoa New Zealand braces for Cyclone Gabriel the reality is setting in for many.
Mother of four Kataraina Toka's Mount Roskill home is yellow-stickered after being damaged by flooding on January 27.
For now, she is living in a two-bedroom hotel room in Onehunga.
"We're getting there. It's hard, it sucks you know being cooped up in somewhere so small with four kids. But better than not having a roof over our heads at all I suppose."
Toka is looking for a new rental home but like many others is struggling.
"If you think it was bad before, it's worse now. It's hard, especially when you know you've lost all your ID because somebody dropped their phone in the water or we've got no car to get around so it's just making it to where we can.
"But we're just grateful for the support that we've got."
Displaced whānau
Māori health provider Waipareira Trust has been helping many whānau in West Tāmaki who have been displaced.
Management lead Jole Thomson said one family in particular stood out.
"Their house was one of the first ones to be red stickered — it was destroyed. Kuia, kaumātua, and they've got care and custody over their mokopuna who has special needs and house concerns.
"They're getting kicked out, basically, of their emergency accommodation."
Other whānau stayed at schools such as Mount Roskill's Wesley Primary School which was turned into an evacuation centre when the floods hit.
But some tamariki haven't been able to return to kura.
Wesley School principal Lou Reddy has noticed the absence of some of his students.
High-risk situation
"We've got six that we know are in that high-risk situation where they lost their car, lost their home, are in a temporary housing situation and we haven't been able to get them here.
"The others, there's 10 that we haven't been able to get a hold of at all."
Thomson said that was a common situation, with some whānau no longer having the resources they need.
"We're working with a number of whānau, helping them pay for things like school uniforms and a lot of that we're supporting, they don't want help. I was watching people trying to dry school shoes so the kids could wear them to school.
"But they'd been destroyed, they had been in raw sewage."
The Ark Project in Mt Roskill, which works to assist vulnerable families, was a massive part of the evacuation effort and organisers estimate it helped more than 5000 people with kai parcels.
Barely anything left
Co-ordinator Peter Leilua said each day they started off with plenty of supplies but by the end there was barely anything left.
The team did not have enough resources to keep providing for whānau, he said.
"That's our biggest push to the government, Ark needs a lot of that support, because in our community and Wesley, Puketāpapa, Mount Roskill, we got hit the most.
Many families were being placed temporary accommodation some distance from their community.
"It's not just around the corner. They're placing them at Greenlane, Onehunga, some are out South or East and that's just too far for them to travel," Leilua said.
Damage from the flooding has extended beyond financial and material loss.
Thomson said whānau have had to throw away taonga or family treasures.
"The photo albums, the whānau heirlooms, the korowai that have been handed down for generations just absolutely destroyed and that's heartbreaking for whānau.
"Ashes, you know whānau not knowing how to manage those sorts of things, the remains of their loved ones," Thomson said.
While whānau such Kataraina Toka's continue to try to rebuild, many know they've got a long journey ahead.
This article is republished under a community partnership agreement with RNZ.