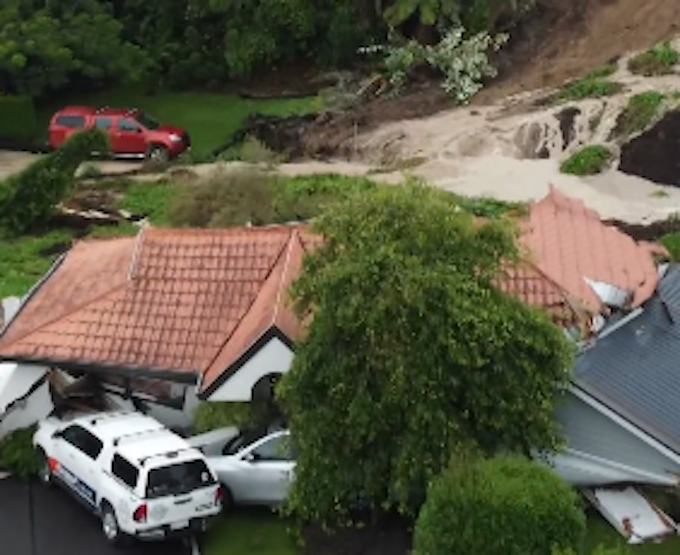 Greenpeace claimed today claimed New Zealand's extreme rain and flooding crisis in the North Island at the weekend as a "climate disaster".
"As our friends, family and neighbours across Auckland and the North Island have been battered by unprecedented rain and flooding, it's a visceral reminder that climate change is upon us right now," the environmental watchdog said in a statement.
"We need to band together as communities through this disaster, then collectively demand more climate action from our politicians," said Greenpeace spokesperson Amanda Larsson.
"Climate change is already impacting us, and people are paying the price. It's not enough for politicians to talk about climate change, they must also act to prevent further climate chaos by cutting climate heating gasses and adapting society to become more climate resilient.
Larsson said the unprecedented rain and flooding that had hit over recent days — a record 249mm fell in 24 hours on Friday causing four deaths — was not only a "terrible sign of things to come" but a visceral reminder that climate change was upon New Zealand right now and a clarion call for more action.
"The science is clear that the vast volume of climate-heating gasses now in our atmosphere due to fossil fuels and industrial agriculture is driving the intensity and frequency of extreme climate events like this," she said.
"We need to see the authorities name this for what it is — a climate disaster, and then act to mitigate by cutting climate heating gasses and to adapt by designing more climate resilience into our society," said Larsson.
Climate rescue plan
In his first week on the job, Greenpeace called on Prime Minister Chris Hipkins to adopt a three-point climate rescue plan which included regulating dairy, electrifying transport and keeping oil and gas in the ground.
"We have seen important acknowledgement from Prime Minister Hipkins and the Emergency Management Minister McAnulty that climate change is a driver," she said.
"Once the immediate risks from the North Island floods have been managed, we need to see meaningful action by this government to actually cut the climate pollution that drives the climate crisis.
She added that while opposition National Party leader Christopher Luxon had acknowledged the catastrophic event by saying 'Climate change is real,' this was a "total disconnect" from his party's plans to reinstate offshore oil and gas drilling.
"These climate floods are a visceral reminder of the need for politicians to take real action to cut climate pollution. Lofty statements and far-off targets are not going to stop the climate crisis.
"We need courageous action to regulate the worst polluters."