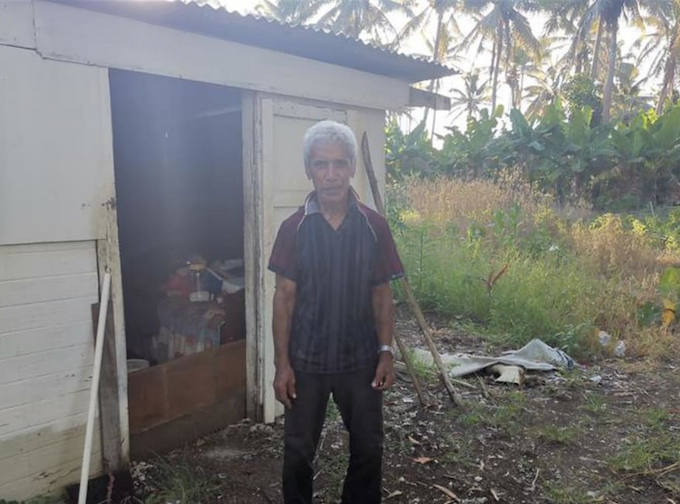 SPECIAL REPORT: By Finau Fonua, RNZ Pacific journalist
On the first anniversary of the Hunga Tonga-Hunga Ha'apai volcanic eruption two men share how they survived when they were unable to escape the tsunami that followed.
On 15 January 2022, the usually quiet seaside village of Kanokupolu was thrown into chaos.
The roar of the Hunga Tonga-Hunga Ha'apai volcano erupting was followed by screams and shouts of people fleeing to safety.
Villagers took to their vehicles to escape, and as they drove away, tsunami waves could be seen approaching the beach.
But not everyone decided to leave — Tevita 'Amaka preferred to risk death, rather than run away.
"I was ready to die, if I were to die, I would die in peace, because I am not afraid of the ocean, the ocean is my home," said 'Amaka, a 60-year-old man who lives alone, less than 200m from the shore.
"I remember so clearly how my children came to take me away but I refused to be forced out of my home and told them to leave me," he added.
Two loud explosions
The eruption generated a sound that could be heard as far away as Alaska. NASA estimated the explosion to be more than 500 times more powerful than the nuclear bomb that destroyed Hiroshima, creating waves that reached up to 90 metres in height.
"There were two loud explosions and then the ash and small rocks started raining down following the ashes were small rocks. I looked up and saw the electric poles swaying from side to side," 'Amaka said.
"I told them that if this is my time then I'll accept it wholeheartedly. They gave up and eventually left . . . the ocean has been a big part of my life so I don't see a reason to be scared."
Then came the tsunami waves, uprooting trees and destroying entire houses. Before the waves hit, 'Amaka took shelter behind a mango tree and waited for his fate. He had spent his whole life living in Kanokupolu and was prepared to die there as well.
But miraculously, the mango tree stood its ground.
According to 'Amaka, it was divine intervention that saved him.
"The tsunami came, taking down the electric poles, trees and a very big container. It destroyed everything except for me, not a single drop of water touched me and that was the work of God."
"I guess God still has plans for me to be here."
As well as 'Amaka's miraculous survival, there were no fatalities in Kanokupolu. Across Tonga only three deaths were recorded, in relation to the eruption, despite the magnitude of the eruption and the following tsunami.
Tonga's 'Aqua man'
Equally miraculous as 'Amaka's survival was the case of Lisala Folau, from the small island of 'Atata.
The 57-year-old grandfather, who relies on a cane to walk, was unable to reach higher ground in time to escape the tsunami and was swept out to sea.
"When I heard the loud bangs, I went outside my house. I thought it was thunder at first, but then I heard people chattering about getting to higher ground," Folau said.
'Atata boasts just one village, with a population of about 70 people. The island's interior consists of high cliffs, which provided protection against the tsunami.
Folau told his family to help get the others to high ground and to return to help him when everyone was safe.
"It was so difficult for me to walk and I couldn't climb up the cliffs, so I told them to get everyone to safety first, and then come back for me."
Folau's brother and nephew returned to help him, but by then the waves had breached the beach and began smashing the village. Realising it was too late, they decided to climb up a mango tree.
Second wave came
"The second wave came, so we decided to climb up the fau tree because we couldn't get away in time.
"The waves were fast and strong, and we had to climb higher as they got bigger.
"When it calmed, we climbed back down and headed for higher ground…"
As Folau, his nephew and brother waded through the flooded island, a huge wave suddenly appeared. He told them to run for it and braced for the wave.
"I reckon it was 8m or more. I couldn't fight back the wave, so I just let it sweep me, hoping it would bring me back. I was forced underwater several times before grabbing on to a branch."
Folau spent the entire night, struggling to stay afloat in the open sea. Luckily for him, volcanic ash rain heated the ocean significantly, keeping him warm.
"I felt the ash falling, and the sea felt so much warmer. My hair was full of ash and rocks."
Struggling to breathe
"The water was very warm so I didn't struggle with the cold, but I was struggling to breathe above water.
"While I was lost, I was too distracted to feel thirsty, exhausted to feel anything. I was too distracted by the thought to survive to live."
Folau ended on a tiny atoll, less than a hectare size. It was almost bare; tsunami waves having stripped away most of the trees.
Unable to get the attention of rescue boats, Folau decided to swim to the nearby shore of Tonga's main island, Tongatapu, which is just under an hour's boat ride away.
He ended up at a beach at the end of Nuku'alofa, exhausted and drained of energy.
"At that point, my body was weak, and I could barely push myself up. I used a piece of wood to walk, I made my self walk towards the main road and waited. A car picked me up and driver was shocked when I told him I was from 'Atata."
Later on, Folau arrived at a relative's home on Tongatapu where his evacuated family was staying. They were overjoyed to see him alive.
"I eventually found my family staying at a relative's house. They were planning my funeral and had told my wife who was in Australia at the time that I was dead. My family stayed up all night singing hymns because I had miraculously survived."
This article is republished under a community partnership agreement with RNZ.