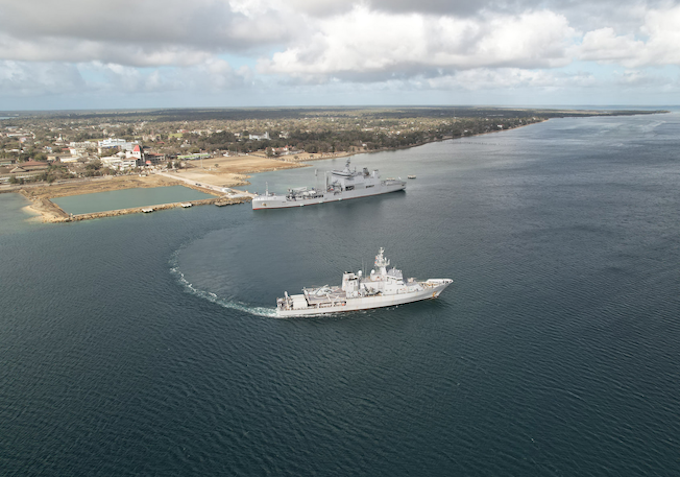 ANALYSIS: By Michael Field in Auckland
Within a day of the massive volcanic eruption that rocked Tonga and severed the archipelago's communications with the rest of the world, a handful of countries vying for influence in the region pledged financial aid.
Hunga Tonga-Hunga Ha'apai, 60 km north of the capital Nuku'alofa, blew up on January 15, sending tsunami waves across the Pacific and shock waves around the world.
The eruption cut the tiny kingdom's only fibre-optic cable, to Fiji, 800 km to the west, leaving its 110,000 residents without internet or voice connections to the world.
A Royal New Zealand Air Force surveillance flight showed that several small islands suffered catastrophic damage, and it has become clear there is extensive damage in Nuku'alofa.
New Zealand has sent two naval ships equipped with desalination equipment and aid materials to Tonga, which is covid-free and has effectively closed its borders. Only fully vaccinated personnel are allowed to enter the country.
Within hours of the eruption, New Zealand Prime Minister Jacinda Ardern announced an immediate grant of NZ$100,000 (US$68,000) and mobilised naval and air forces to rush help to Tonga.
Australia followed, and a day later China pledged $100,000. The US followed shortly thereafter, with all donors making it clear it was the first round of aid.
Heavy debt to Beijing
Siaosi Sovaleni, Tonga's newly elected prime minister, knows his islands have little money and a heavy debt to Beijing. After political riots in 2006 that resulted in the destruction of Nuku'alofa's central business districts, China was the only country willing to help rebuild, but only through a loan, not aid.
Tonga still owes $108 million to the Export-Import Bank of China, equivalent to about 25 percent of its gross domestic product and about $1000 per Tongan.
The debt at times has threatened to bankrupt Tonga, one of the Pacific's poorest countries, but China repeatedly declines to write it off.
Suspicion around Beijing's agenda has grown with the construction of a lavish and large embassy in Nuku'alofa. Surveillance pictures suggest it was undamaged by the tsunami.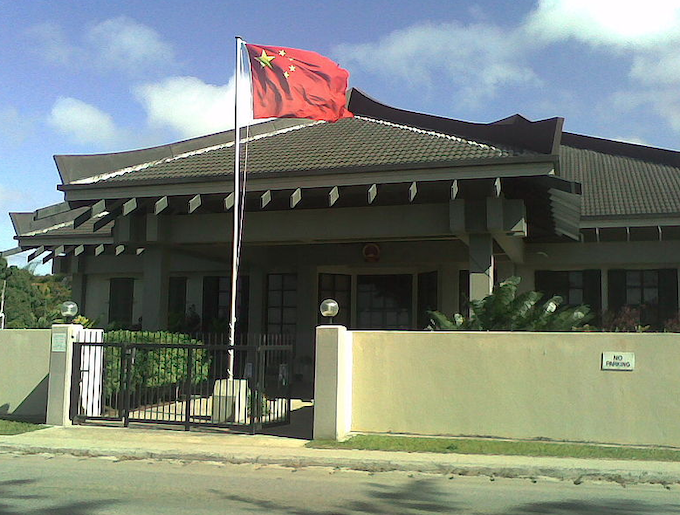 Former Australian Prime Minister Kevin Rudd tweeted that Australia must be first to give Tonga assistance.
"Failing that," he said, "China will be there in spades." He added that large Australian warships should be sent immediately: "It's why we built them."
China's Global Times, the English language mouthpiece of the Chinese Communist Party, published an editorial saying, "Tonga is in need of emergency aid, and China said it is willing to help."
Huawei interests in Pacific
It noted that the volcano had taken out Tonga's submarine cable and refers to attempts by Huawei to operate in the South Pacific.
"It is important to note that in addition to providing necessary supplies, China is capable of helping Pacific island nations with their reconstruction work," the Global Times said.
"In fact, in recent years, Chinese companies such as technology giant Huawei have been actively pursuing infrastructure projects in Pacific island nations, of which the construction of submarine fibre optic cables is an important part."
Huawei had attempted to be involved in cables in Papua New Guinea and the Solomon Islands, but Australia succeeded in blocking the bids.
The Global Times said some Western countries, led by the US, are trying to block such cooperation as they see Pacific island nations "as a place for competing for geopolitical influence and publicly claim to counter China's growing influence in the Pacific".
The tabloid added Pacific island nations did not want to be forced to pick sides between China and the US.
The Nuku'alofa riot occurred on 16 November 2006 when the country was under a royal and noble-dominated regime that essentially ruled out democracy. Following the ascension to the throne of the late King Tupou V, pro-democracy and criminal groups set fire to the capital.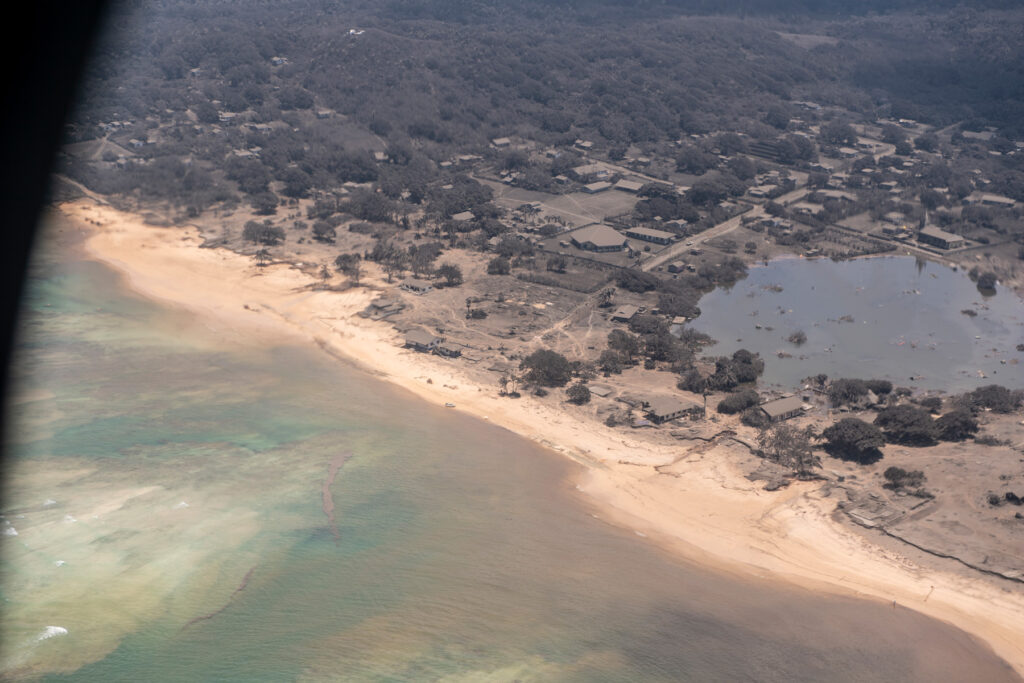 Consequences of 'soft loan'
Then Prime Minister Fred Sevele asked China for $100 million in aid but instead received a soft loan of $112 million to fund the rebuilding of Nuku'alofa, repayable over 20 years.
The consequences of the loan were profound for Tonga, and a subsequent prime minister, the late 'Akilisi Pohiva, used the matter to win elections.
In 2013 Pohiva said the kingdom had debts it could never repay: "Our hands and feet have already been tied," he said.
"We need a government by the people that can work this out with the Chinese government in a way Tongans now and in the future will not suffer catastrophic consequences."
He said he feared the Chinese would take over the running of Tonga.
"If we fail to meet the requirements and conditions set out in the agreement," he said, "we have to pay the cost for our failure to meet the conditions."
Help less flat-footed
Jonathan Pryke, director of the Pacific Islands Programme at Australia's Lowy Institute, said help to Tonga from Australia and New Zealand had been less flat-footed than it was during the recent anti-China riots in the Solomon Islands. Pryke wondered if Tonga was different because of the nature of the crisis.
"While valuable in its own right, the support Australia and New Zealand provide is not entirely altruistic," Pryke said. "This support generates a lot of goodwill and 'soft power' in the region, and gives Australian and New Zealand defence assets the chance to 'get into the field.'"
Pryke said Australia and New Zealand were both eager, now more than ever, in light of the geostrategic competition with China, to show the region that they were its best and most reliable foreign partners.
"With that said, Tongan officials are much wiser now in what support they will accept from China than in 2006, as repayments on that debt continue to be pushed off but will be monumentally costly for the government when they finally do come due."
New Zealand-based security consultant Dr Paul Buchanan of 36th-Parallel.com said he wondered why China was being slow in its reaction. It previously sent a navy hospital ship to Tonga, but not this time.
He noted the cable had only recently gone into Tonga and that two years ago it was damaged by a ship's anchor. While coincidental, the latest severing offers an opportunity for China.
Opportunity for China's signals fleet
"Getting involved in the process of repair/replacement of the branch cables linking Suva to Nuku'alofa… allows [China's] signals fleet to get involved in a way that it has not been able to do before," Dr Buchanan said.
Noting Beijing's unexpectedly large embassy in Tonga, Dr Buchanan said China might act in its own self-interest rather than out of a sense of humanitarianism.
"Perhaps the kingdom knows this and will try to leverage the PRC's slow response in favour of more favorable reconstruction terms," Dr Buchanan said. "But I am not sure that the king and his court play that way.
"New Zealand and Australia seem to have responded as could be expected, but if my read is correct, [China] seems willing to cede [the] diplomatic initiative to the 'traditional' patrons on the issue of immediate humanitarian relief."
Michael Field is an independent New Zealand journalist and co-editor of The Pacific Newsroom. This article was first published by Nikkei Asia and is republished with permission.