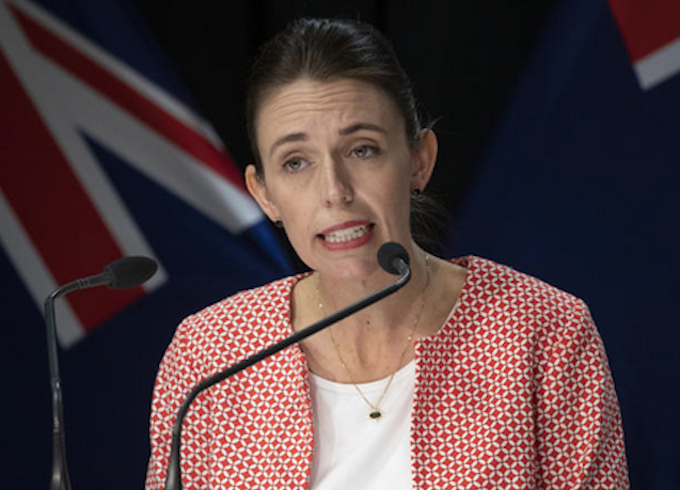 Prime Minister Jacinda Ardern has confirmed that the whole of New Zealand will move into the red light covid-19 setting at midnight tonight in response to the covid-19 pandemic.
Nine covid-19 cases in Nelson yesterday have been confirmed as the omicron variant, Ardern said.
Another household member has since tested positive.
They are one family and recently attended a wedding and other events in Auckland and there is no clear link to the border.
Ardern said there were well over 100 people at these events.
The family was on the same flight as an Air New Zealand flight attendant who tested positive. All members of the family who were eligible have been double vaccinated, Ardern said.
"That means omicron is now circulating in Auckland and possibly the Nelson-Marlborough region, if not elsewhere," Ardern said.
Focus on slowing the spread
Ardern said the focus is on slowing the spread of the omicron variant and the strategy includes rapid tests, contact tracing and isolating cases and contacts.
New Zealand's system has "significant capacity" to work on stamping out outbreaks due to low case numbers, she said.
Watch the NZ government media briefing today. Video: RNZ News
"We know we will see far more cases than we have in the two years to date, but the difference to previous outbreaks is we are vaccinated and we are better prepared."
Ardern encouraged New Zealanders to get their boosters saying it will help limit the spread and limit the likelihood of someone getting sick or needing to go to hospital.
She also encouraged parents and caregivers to seek out information about vaccines for their children.
Already, 20 percent of children aged 5-11 have been vaccinated or are booked to receive their vaccination.
Red light setting
Ardern reminded people the red light settings was not a lockdown.
She said it had restrictions, but business was still open, gathering numbers were reduced and differed depending on whether people were vaccinated or not.
Hospitality was seated and required a single server.
She said schools remained open, with mask wearing for everyone from year 4 upwards.
Ardern said school ventilation systems would be assessed.
Ardern encouraged households to have a "buddy" to help with food, for example, if someone in a household was unwell from covid-19.
The government had been preparing for three stages in its response to omicron, Ardern said.
Phase one includes the period up to 1000 cases a day or less. This is expected to take up to 14 days to arrive, and involves a "stamping-out approach", she said. That includes contact tracing, isolation and testing anyone with symptoms at a community testing station or primary health provider. PCR tests will be used, but rapid antigen tests will also be rolled out to these providers.
In stage one people will need to isolate for 14 days if they are a case or a contact.
Stage two is a transition stage where the system is adjusted to identifying those at greater risk of omicron and where there is the greatest risk of severe illness from omicron.
When asked, Ardern said her wedding would not be going ahead under the red setting.
Ardern said New Zealand was not likely to enter stage three for a few weeks.
Stage three will involve changes to contact tracing. It will include the definition of contacts and isolation requirements and more details will be provided on Wednesday.
"It's important to remember covid is a different foe to what it was at the beginning," Ardern said.
Because of vaccinations, it would be a mild to moderate illness which could be managed at home, she said.
But she said the "team" still needed to do what it could to slow it down, as some people are immuno-compromised and more vulnerable to the virus.
When asked if cabinet had considered funding N95 masks, Ardern said there would be an assessment on mask advice to consider if there needed to be an update.
He said the risk of undetected transmission of the omicron variant in Auckland was considered high, because the Nelson family that had tested positive spent time at a wedding there.
New locations of interest will be listed on the Ministry of Health's website.
There are five Air New Zealand flights that are locations of interest, which include the flights the infected family took, and the flights the flight attendant worked on.
Flight NZ5083 from Auckland to Nelson at 5.20pm on 16 January
NZ5080 Nelson to Auckland at 4pm on 19 January
NZ5077 Auckland to Nelson at 2pm on 19 January
NZ5049 Auckland to New Plymouth at 7.50pm on 19 January
NZ5042 New Plymouth to Auckland at 1.50pm on 20 January
Contacts who have been at a location of interest were legally required to isolate and get tested as per Section 70, Dr Bloomfield said.
The risk of undetected transmission was judged as being high, as it was unclear how they became infected and they attended a wedding, he said.
As of 11pm last night, 150 of 192 people on the Air New Zealand flights had been contacted by health officials.
Attendees at the wedding have attended other venues with high numbers of people, including a funeral, an amusement park, the Sky Tower and domestic airports.
It is expected the number of cases and contacts will grow, Dr Bloomfield said.
Dr Bloomfield said people who needed medical care could receive it, and urged them to not put it off. Hospitals are at 84 percent occupancy, which was typical at this time of year, and ICU occupancy was under 70 percent.
Wage subsidy scheme for sick/isolating workers – Robertson
Deputy Prime Minister and Minister of Finance Grant Robertson said the economic disruption from the omicron variant was expected to be more on the supply side of things — as seen overseas.
He said the initial focus was on those unable to be at work because they were infected or were a close contact isolating.
Support for these people included the Covid-19 Leave Support Scheme, which was paid at the same rate as the Wage Subsidy Scheme.
There would also be a scheme in place for people unable to work from home when waiting on covid-19 test results.
Robertson said New Zealand could afford the financial support the government was providing — and if anything, cannot afford to not provide it.
He said the country's debt is lower than expected in part because of the wider covid-19 action taken in New Zealand.
Robertson said the scenario planning shows there could be 350,00 people self-isolating at once at the mid-point scenario planning, which would be with 25,000 cases.
Samoa announces 48-hour lockdown
In Samoa, RNZ Pacific reports that Prime Minister Fiame Naomi Mata'afa had announced the country would be going into lockdown from last night at 6pm until 6pm on Monday evening.
Only essential services would be allowed but all offices and shops, including all public transport, would be closed. Churches were also closed.
"No vehicles will be allowed on the roads during his time and police will be monitoring," she said.
The prime minister said the decision was to ensure proper measures were in place to avert community transmission.
This article is republished under a community partnership agreement with RNZ.