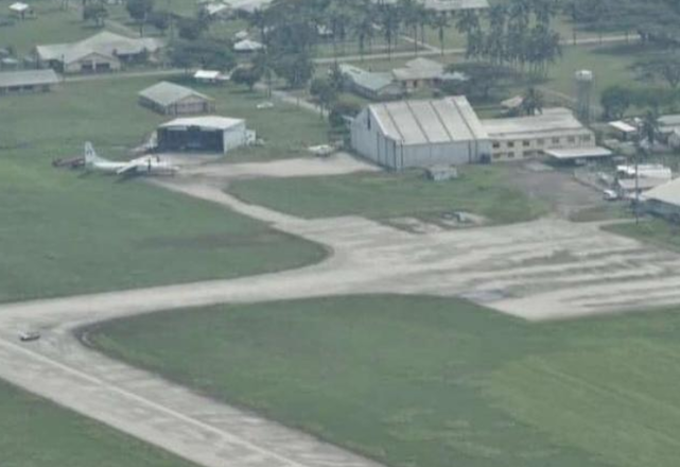 A World Health Organisation representative in Tonga says the international airport has been cleared of volcanic ash which will allow humanitarian aid flights to arrive.
Hundreds of volunteers, workers and Tongan Defence Force personnel have been clearing the debris from the runway by hand.
WHO liaison officer in Tonga Dr Yutaro Setoya, who is in the capital Nuku'alofa on the main island Tongatapu, said there had been a thick layer of ash on the runway preventing planes from landing.
"The runway, I understand, was cleared to be able to be used from outside [the country]. I understand humanitarian flights are coming in," Dr Setoya told RNZ by satellite phone.
A New Zealand Defence Force C-130 Hercules is on standby and will be able to to take off once the all clear has been given, bringing supplies of water, hygiene kits and other goods.
Two Australian Air Force Hercules are also ready to depart.
One of Tonga's main communications providers, Digicel, said it had restored international calls to Tonga via satellite.
Undersea communications cable delay
But until the undersea communications cable is restored its network services will not be fully operational, it said.
It is expected to take at least a month to complete repairs on the cable that carries the bulk of internet and phone communications to Tonga.
Digicel Tonga is giving out free sim cards from Thursday morning, with the company saying it knows how desperate family and friends overseas are to connect with relatives.
Three people are confirmed to have died after Saturday's massive volcanic eruption and tsunami.
Houses on the island of Mango in the Ha'apai group were destroyed, and the majority of structures on Atatā on Tongatapu, about 6km north Nuku'alofa, were all but wiped out by the tsunami.
There has been extensive damage to Fonoifua and Nomuka Islands. Evacuations of residents are underway.
Western parts of the main island of Tongatapu are also badly hit, with dozens of houses destroyed.
New Zealand Defence Force ships HMNZS Wellington and HMNZS Aotearoa are due to arrive in Tonga on Friday, carrying water and other immediate supplies, as well as engineers and helicopters.
'Contactless' aid
Their first task is to offload desperately needed water, but distributing supplies will be complicated by the need to maintain covid-19 protocols.
Tonga is free of the virus, and Tongan and New Zealand officials are still working out how foreign assistance can be done in a contactless way.
A second New Zealand Defence Force P3 Orion surveillance flight was carried out on Wednesday and also included Fiji's southern Lau Islands, at the request of the government of Fiji.
The Tongan government has begun a huge cleanup operation in the capital.
Dr Setoya said Tonga needed access to emergency funding and immediate humanitarian supplies from overseas, but he believed most of the response to the devastating volcanic eruption could be handled domestically.
He said people affected by the volcanic eruption were resilient and strong and were helping others clean up.
"Tongan people are strong and very quick to react," he said.
"People are cleaning ashes from the ground and the roof … hand in hand, cleaning the houses together. So I think there's a good energy in Tonga."
He said Tonga needed rain to wash away the ash.
"Because ash is everywhere and has to be washed away before we get clean water [from roofs] … many people depend on rain water in Tonga."
This article is republished under a community partnership agreement with RNZ.