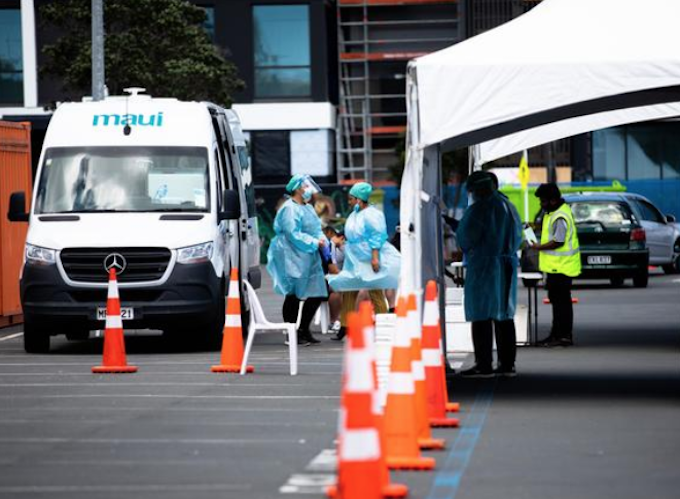 By Katie Todd, RNZ News reporter
A microbiologist has warned more contacts of the omicron-infected MIQ worker in Auckland may test positive, after a household contact showed up as having covid-19 today.
The new infection was reported after 75 isolating close contacts already tested negative — and it comes with people surging to vaccination sites to make the most of paediatric and booster doses.
The Ministry of Health is yet to complete genetic sequencing to determine if it is the ultra-contagious variant.
Microbiologist Associate Professor Siousxie Wiles said it proved the worker was infectious.
"There's a large number of close contacts. Those people are obviously isolating and we may well see some of them now test positive," Dr Wiles said.
However, health officials said they were still trying to track down 10 people who shared bus rides with the worker to ensure they isolated and got tested as well.
Dr Wiles said getting contacts into isolation bought time for more people who were eligible "to go and get boosted".
More than half of the country's eligible adults have got a third shot, with more than 789,000 booster doses administered.
Paediatric vaccines
Today, thousands more children rolled up their sleeve — on top of more than 14,300 during the first day of the paediatric vaccines yesterday.
The momentum was clear at Auckland's vaccination centres, where Northern Regional Health Co-ordination Centre clinical director Dr Anthony Jordan said the majority of parents were keen to do walk-in vaccinations for their children, rather than making bookings.
"We haven't had any queues today and the demand is pretty good. We'd done over 8000 vaccinations by midday — so that's pretty good progress by midday — and we estimate about 2000 of those are 5 to 11 year olds," Dr Jordan said.
However, it has not been all plain sailing for the paediatric vaccine rollout elsewhere in the country.
Charlotte te Riet Scholten-Phillips was one of several people who told RNZ they had visited sites listed as children's vaccination centres online — only to find they were not, or they were not fully set-up.
Te Riet Scholten-Phillips and her and her five-year-old daughter spent hours driving around the Kāpiti Coast yesterday, and even decided they would have to cancel their holiday next week before finally securing a vaccination appointment today, she said.
"I turned up at booking appointments that didn't go through … and [did] all this driving around the whole area trying to find somewhere that would do it."
It was still possible to book online at places te Riet Scholten-Phillips knew did not actually have children's vaccines, and that was a concern for parents taking time off work.
"I've been waiting for the children's vaccine since there was one for adults … finally it was announced on the 17th of December and it would happen in a month and it's frustrating that even having had a long lead-in time, the system still is not working properly."
Working with health boards
The Ministry of Health said it was working with health boards and providers to ensure there was sufficient sites and vaccines available, and it asked people to be patient.
In a statement, National Immunisation Programme Manager Rachel Mackay explained the number of centres would increase over coming weeks as health providers who had been taking a summer break reopened.
"With reports of strong demand for child vaccinations, particularly in Auckland, we thank those who have been waiting at vaccination centres or holding for the 0800 number for their patience," Mackay said.
"It's great to see this uptake and extra resources are being deployed to the busiest sites to reduce queues as much as possible."
Medical director of the Royal New Zealand College of GPs Dr Bryan Betty said just half the total number of vaccine sites were equipped for children's vaccines.
"We've got about 500 clinics and pharmacies across the country that are up and running with the paediatric vaccine. Overall there's about 1000 centres across the country that can provide vaccines," Dr Betty said.
He also expected they would be more widely available soon, as more providers became accredited.
Meanwhile, there are 14 new cases of covid-19 in the New Zealand community today and 30 in MIQ, reports the ministry.
Thirty people are in hospital — including two people in ICU.
Of today's community cases, seven are in Auckland, six in the Lakes District (all in the Rotorua District) and one in Wellington.
Solomon Islands covid cases rise to 32
RNZ Pacific reports that the Solomon Islands Prime Minister, Manasseh Sogavare, has warned the country could expect a rapid spread of covid-19 and deaths.
This comes after 10 people illegally entered Solomon Islands at Pelau in Ontong Java — six of them confirmed positive with covid-19.
One of those infected is a doctor and Sogavare said he was greatly saddened by this distressing news.
A foreign national on a flight from Brisbane has also tested positive.
It takes the Solomons tally of positive cases to 32.
This article is republished under a community partnership agreement with RNZ.