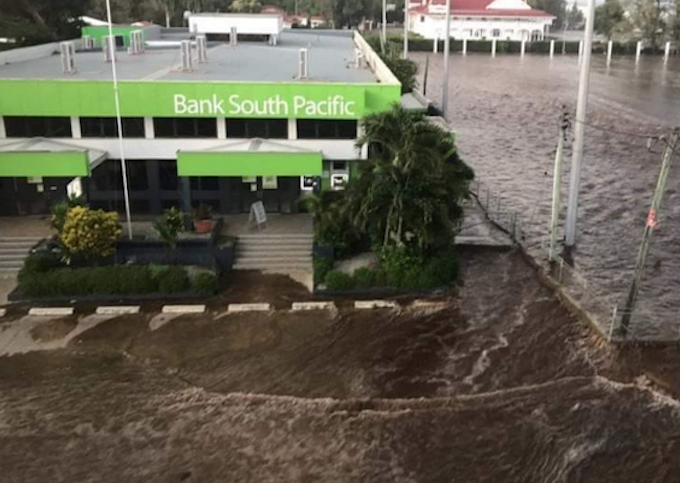 A new tsunami warning is now in force for all of Tonga following this evening's violent eruption of the Hunga-Tonga-Hunga-Ha'apai undersea volcano with tidal waves flooding the shoreline of the capital Nuku'alofa.
There is also a tsunami advisory in place for parts of New Zealand, Samoa, Fiji, Vanuatu and a marine warning for eastern Australia, reports RNZ News.
The eruption came shortly after locals in Tongatapu reported a "deafening" sound of an eruption this afternoon. They also reported stones pouring down on the main island of Tongatapu.
No injuries or deaths have been reported.
Stay safe everyone 🇹🇴 pic.twitter.com/OhrrxJmXAW

— Dr Faka'iloatonga Taumoefolau (@sakakimoana) January 15, 2022
Kaniva News correspondent in Tonga Patimiosi Ngūngūtau shared a photo of sea waves flowing inland.
He described the deafening sound as "weird".
'Rain of small black stones'
"It was a rain of small black stones and black ash," he said.
He said they had evacuated to Liahona in the central south.
Ngūngūtau said ash not only covered vehicle screens but their impact sounded like they could break the screens.

The Hunga-Tonga-Hunga-Ha'apai undersea volcano erupts as captured by satellite. The dust cloud at the end of the video reaches a radius of 500 km. Video: Ventusky
Tonga Geological Services said at 1.45pm this afternoon satellite images captured this morning between showed volcanic eruption continuing, with ash emitted and detected at 7.20am this morning.
Tonga issues tsunami warning after undersea volcano erupts https://t.co/t2rjMNZb9Z

— ABC News (@abcnews) January 15, 2022

"This ash plume was due to an eruption that lasted 10 to 15 minutes and was drifting downwind to the east from Hunga. No further eruption has been detected since then," it said.
"Near shore water turbulence caused by the eruption is expected to have ceased for all shores of Ha'apai and Tongatapu islands. It is advised that the public observe currents before entering the water.
"Owners of rainwater harvesting systems in all Tonga are advised to check for ashfall on your roofs for ash before reconnecting your guttering systems.
"Please clean if ashfall is evident. For locations of residents where the pungent smell of sulphur or ammonia is experienced please use breathing masks if helpful".
BREAKING: The Pacific Island nation of Tonga is tonight the scene of a disaster after a tsunami struck. An underwater volcano erupted, plumes of smoke blacking out the sky and sending powerful waves through villages. https://t.co/wx2NZaxEPi @AlexLewisJourno #7NEWS pic.twitter.com/7Nng0zmT3d

— 7NEWS Australia (@7NewsAustralia) January 15, 2022
Flooded coastal roads
RNZ News reports tidal waves crossed the shoreline in Nuku'alofa and flooded coastal roads and properties.
There is panic and people are worried and uncertain what to do, RNZ Pacific reporters said.
The tsunami advisory for New Zealand's north and east coast of the North Island and the Chatham Islands came around 8.45pm from NEMA (National Emergency Management Agency).
It said people in those areas might experience strong and unusual currents and unpredictable surges at the shore.
People are being urged to stay away from beaches and shore areas until 4am tomorrow.
There was no need to evacuate other areas unless directly advised by local civil defence authorities.
Coastal inundation (flooding of land areas near the shore) is not expected as a result of this event.
TVNZ 1News reports that the second eruption in as many days had sent ash, steam and gas 20 km into the air.
A journalist based in Nukuʻalofa told the channel the situation was "precarious".
"You'll forgive the wobble in my voice because we've had a very frightening hour," she said.
Asia Pacific Report collaborates with Kaniva Tonga.