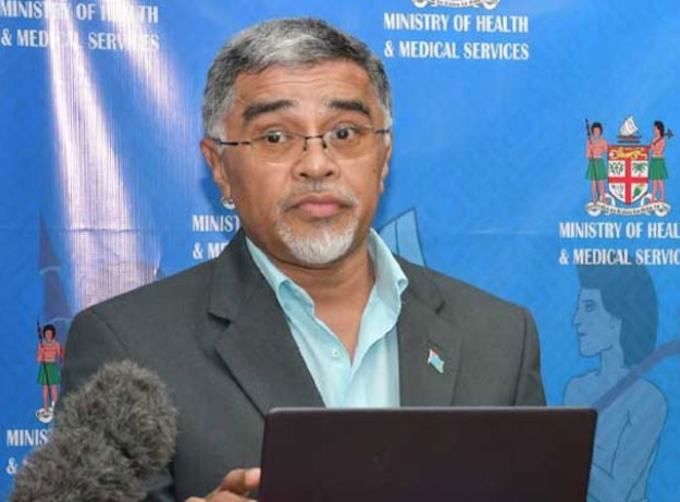 By Josefa Babitu in Suva
Fiji is bracing for a third wave of the covid-19 virus after tests have confirmed the presence of the omicron variant in local communities.
The country's Health Secretary Dr James Fong said today the ministry was prioritising testing of suspected individuals to prevent severe illness and death and to focus on suppression where the risk of transmission was high.
"Omicron is vastly more infectious than delta. As such, in keeping with what we see in other countries, the omicron will become the dominant variant," said Dr Fong.
"As omicron spreads very fast, you should assume you are infected, and self-isolate, if you develop any cold/flu-like symptoms such as runny nose, sneezing, nasal congestion, sore throat, cough, body ache, or fever.
"Gatherings have been observed where covid-safe measures have not been followed, or people have attended while having symptoms. We ask that if you have relaxed in your observance of covid safe measures, that you please resume now.
According to Dr Fong, 580 new cases of both the delta and omicron variant were recorded between Monday and eight o'clock today.
Of the 580 cases recorded since the last update, 146 cases were recorded in the Northern Division, 111 cases were recorded in the Western Division, 303 cases were recorded in the Central Division, and 20 cases in the Eastern Division.
2417 active cases in Fiji
There are currently 2417 active cases of covid-19 in the country.
The Health Ministry has recorded two additional deaths in its latest report, bringing the total death toll to 712 during the pandemic.
However, Dr Fong said the omicron variant was likely to cause milder disease as data from the United Kingdom and South Africa had shown the risk of hospitalisation was reduced by 80 percent and, once in hospital, the risk of severe diseases was reduced by 70 percent when compared to the delta variant.
"As with previous variants, unvaccinated people are at higher risk of severe disease. With more than 92 percent of adults fully vaccinated, we expect that our high vaccination rates, plus the infection-induced immunity from the large number of people who were infected during the last wave, will help to lower the number of people that develop severe disease.
"We continue to see that the majority of individuals testing positive in medical facilities are presenting for non-covid medical problems and found to be positive while undergoing routine screening as all admissions to the hospital are currently tested for covid-19.
"Also, the vast majority of cases turning positive have minimal symptoms and remain stable.
He added that severe outcomes would be expected in some individuals, including those who have been immunised with two doses of the vaccine, especially people with severe underlying medical conditions and people over the age of 50.
'Monitored … in a timely manner'
"We have in place measures that ensure that those vulnerable to severe disease are adequately monitored, tested, retrieved, and effectively managed in a timely manner before their conditions worsen.
"However, we need the cooperation and support of community networks in formal and informal community settings and business settings, working in tandem with the ministry.
The ministry has advised the public to self-isolate at home if they have any of the covid-19 symptoms.
A health care worker must isolate for seven days while everyone else is required to isolate for 10 days.
Meanwhile, Fijians who are eligible to get their booster shot have been advised to do so as the country fights the new variant.
Josefa Babitu is a University of the South Pacific student journalist and contributor to Asia Pacific Report.