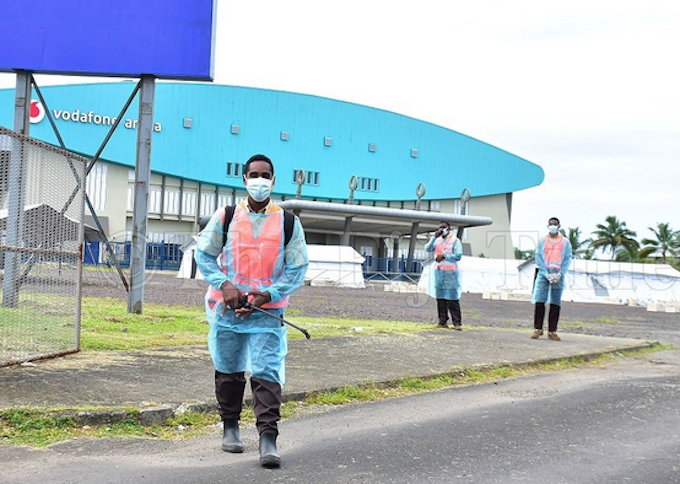 By Talebula Kate in Suva
Fiji's FEMAT field hospital at Laucala Bay in the capital Suva has begun its transition into a covid-19 dedicated hospital as the country's health authorities reported 791 new cases and three deaths in the past day.
Health Secretary Dr James Fong highlighted this in his covid-19 update last night.
Dr Fong said the ministry had set up an emergency number 165 for people with severe covid-19 symptoms to contact if they could not get to a hospital themselves.
"Sadly, we continue to see people with severe COVID-19 dying at home or coming to a medical facility in the late stages of severe illness and dying within a day or two," Dr Fong said.
"Severe COVID-19 is a medical emergency and a delay in receiving appropriate medical treatment may result in a higher risk of death," he said.
Dr Fong said Fijians need to know the severe symptoms of covid-19, which include:
Difficulty breathing;
Persistent pain or pressure in the chest;
Severe headache for a few days;
New confusion, inability to wake or stay awake; and
Pale, gray, or blue-coloured skin, lips or nail beds.
"If you or a loved one have any of these symptoms please go immediately to your nearest medical facility or call 165 if unable to get to a medical facility."
Dr Fong reported there had now been 42 deaths in Fiji due to covid-19.
He announced 791 new cases and three deaths in the last 24-hour period ending at 8am yesterday.
Dr Fong said that 40 of the deaths were recorded during the outbreak that started in April this year.
"We also have recorded 19 covid-19 positive patients who died from the serious medical conditions that they had before they contracted covid-19," Dr Fong said.
He said there had been three more deaths of covid-19 positive patients.
"However, these deaths have been classified as non-covid deaths by their doctors.
"Doctors have determined that their deaths were caused by serious pre-existing medical conditions," Dr Fong said.
At a glance as at July 7, 2021:
37 new recoveries reported since the last update
6,524 active cases in isolation
7,870 cases during the outbreak that started in April 2021
7,940 cases in Fiji since the first case was reported in March 2020, with 1,355 recoveries.
Talebula Kate is a Fiji Times reporter. Republished with permission.