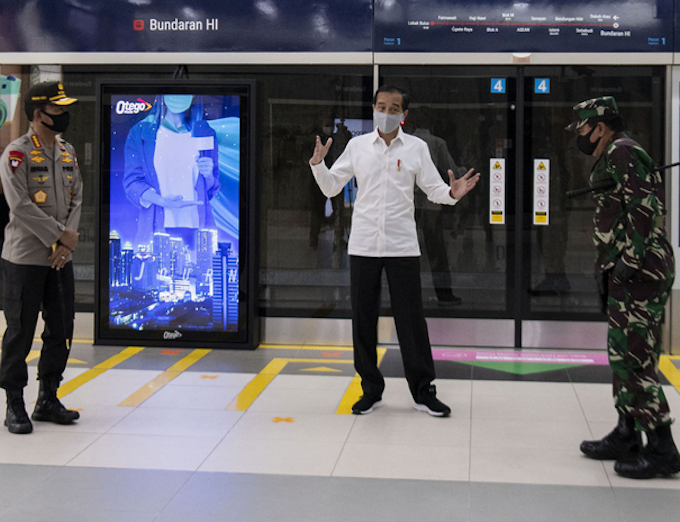 By Marchio Irfan Gorbiano in Jakarta
President Joko "Jokowi" Widodo has announced that the Indonesian Military (TNI) and National Police will be deployed to guard crowded places in preparation for the so-called "new normal".
During a visit to the Hotel Indonesia traffic circle MRT station with TNI commander Air Marshal Hadi Tjahjanto, National Police chief General Idham Azis and Jakarta Governor Anies Baswedan on Tuesday, Jokowi said security forces would help to ensure that residents abided by physical distancing rules.
"Starting today, TNI and police personnel will be deployed in crowded places to make sure society continues to abide by the health protocols," he told a media conference after the visit, adding that the personnel would be deployed in four provinces and 25 regencies and cities.
READ MORE: Health minister issues 'new normal' guidelines for workplaces
Jokowi said the basic reproduction number (R0) of Covid-19 had fallen below one in several provinces, indicating a decline in the transmission rate in those areas, reports The Jakarta Post.
Tjahjanto said there were approximately 1800 places that would be guarded by TNI and police personnel, including shopping malls, traditional markets, tourism spots and other places with high traffic.
"What we will do is ensure that health protocols are carried out with discipline. Firstly, we will ensure that everyone is wearing face masks. Secondly, everyone has to maintain a safe distance. And third, we will prepare places to wash hands or provide hand sanitiser," he said.
Last week, Jakarta Governor Anies Baswedan decided to prolong large-scale social restrictions (PSBB) in the city for the third time.
They will now last until June 4.
Complying with protocols
At the press conference, Baswedan said that the administration's decision to stop or continue PSBB after that date would depend on how well Jakarta people complied with the protocols over the next two weeks.
"These two weeks are the two weeks that will determine whether this will be the last period of PSBB or whether there will be another extension of PSBB," he said.
On Saturday, Health Minister Terawan Agus Putranto issued new health protocols for workplaces to usher in the "new normal".
According to latest count, Indonesia had 24,538 confirmed Covid-19 cases with 1496 deaths as of today.