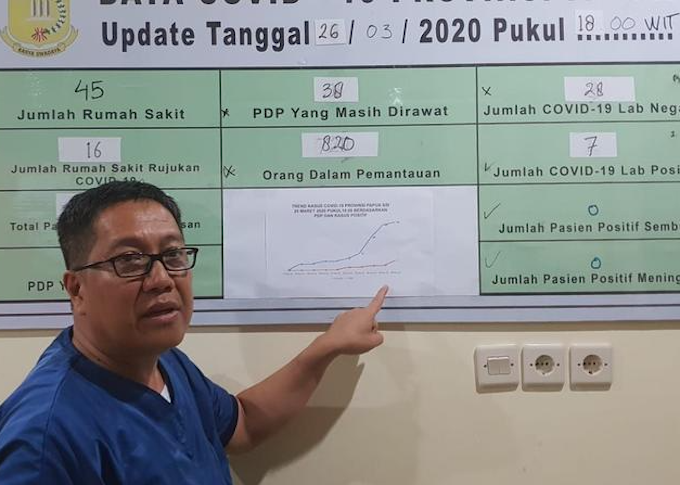 By Gemma Holliani Cahya in Jakarta
When the first covid-19 coronavirus pandemic cases were detected in Indonesia, one doctor at least knew right away that Papua was not ready to handle the highly infectious disease.
"I know this might sound harsh for some people but this is the fact; if you don't want to die, do not come to Papua," says Silwanus Sumule, a doctor who works in the Papua capital of Jayapura, said in a recent phone interview with The Jakarta Post.
Dr Sumule is also the spokesperson for the Papua covid-19 response team and he talked to The Jakarta Post in a recent phone interview.
READ MORE: Remote parts of Pacific prepare for worst as coronavirus looms
There are only seven pulmonologists and 73 ventilators in around 45 hospitals in the Papua province in the region of West Papua, according to an official count.
Papua also has a very limited supply of hazmat suits and only around 10,000 rapid test kits, at least 60,000 short of what is needed, according to Dr Sumule.
"We are not ready but we have to be ready with whatever resources we have because the enemy is already here. […] Even in normal circumstances, we have very limited medical infrastructure and a shortage of workers," he said.
Papua restricted entry into the nation's easternmost region, closing down airports and seaports in an effort to stem the spread of covid-19 shortly after the province recorded its first two confirmed cases on March 22.
Cases increasing
However, the number of cases has continued to increase with the local government struggling to contain the disease partly because of the difficulties tracing new cases with the limited supply of test kits and personal protection equipment (PPE).
As of Sunday, Papua had recorded 141 confirmed cases and six deaths, according to the Health Ministry. All were imported cases brought by people who travelled back from Java and Sulawesi.
"So, please don't come here, do not give us more new imported cases. Let us deal with what we have right now," Dr Sumule said.
In stark contrast, the neighboring province of West Papua has recorded just 16 cases and one death.
However, Dr Sumule said the lower number of recorded infections in West Papua could also be a reflection of a lack of tracing and testing.
West Papua, according to Dr Sumule, did not even have a polymerase chain reaction (PCR) test machine, leaving it heavily dependent on Jakarta to process both rapid and PCR tests.
Papua, on the other hand, has one machine in Jayapura.
Hospitals in cities
Another issue is that all major hospitals in Papua are located in big cities. With its challenging geographical terrain and lack of healthcare facilities, there are serious concerns over how people in the highlands can mitigate the outbreak once the virus reaches them.
Some cases have been found in several of Papua's remote regions, including one confirmed case in Central Mamberamo regency in the Pegunungan Tengah mountain range and one in Wamena, a city in the Baliem Valley.
"That means the virus has advanced to several areas in the highlands, but we will not give up that easy. We will try to focus on tracing contacts of these cases. We have recorded 130 contacts of the case in Mamberamo," Dr Sumule said. "If the virus infected more people in the remote highlands, it would be a serious problem for us."
Around four weeks ago, Freddy Edowai, 32, a civil servant working in Deiyai regency, also located in the Pegunungan Tengah region, traveled some 130 km to Nabire to visit his wife and child.
He could not return to Deiyai because the Nabire administration had enforced a lockdown and closed the roads connecting the regencies. Deiyai and other remote regencies in Papua, such as Paniai, Intan Jaya and Dogiyai, have also carried out similar measures.
"I think closing the roads is our best option to prevent the virus from spreading to rural areas," Edowai said. "People can help authorities by staying at home."
Having grown up in Deiyai, he said the regency had long struggled with access to clean water and basic health care.
Confirmed cases
In Nabire, meanwhile, three confirmed cases have been recorded and authorities are conducting rapid tests on dozens of people under surveillance (ODP).
"We are really working with limited resources. The hazmat suits we have are only enough for the next couple of days," Frans Sayori, the spokesperson for the Nabire covid-19 response team, said recently.
Nabire Regional General Hospital is now a referral hospital for covid-19 that covers at least four other regencies in remote mountain areas.
A number of medical workers have decided to spend their own money to purchase boots, goggles and even raincoats to protect themselves.
"My fellow medical workers asked me to conduct tests on them because they are at higher risk as they are in close contact with confirmed patients and ODPs, but we do not have enough rapid test kits. I have to use them for the ODPs first," Sayori said.
The restrictions on entry into the province have hindered aid distribution in Nabire.
"Some individuals and organisations have told us that they wanted to send help to us, like hazmat suits, but it was hard to reach us," Frans said. "It is understandable to lock down the area. But I hope there will be solutions for aid distribution. Please help us so it can arrive in Nabire."
Mimika cases
Meanwhile, the number of confirmed cases in Mimika regency has gradually surpassed the number recorded in Jayapura city and Jayapura regency, two areas that were hit the hardest at the beginning of the outbreak.
As of Sunday, 41 cases and three deaths had been recorded in Mimika, followed by Jayapura city with 39 cases and three deaths and Jayapura regency with 29 cases and one death, according to the Papua covid-19 response team.
The provincial death toll, however, differed from the Health Ministry's count.
John Giyai, 41, a resident of Mimika's capital Timika, has stayed at home for a month and not seen his family in Asmat, Papua. He has tried his best to maintain personal hygiene and avoid contracting the disease while in self-isolation.
"If I get infected, I think my chances of surviving are very thin because our health facilities are not ready for this," Giyai said.
"Authorities said we have to clean up with clean water, but I know there are many people [in Timika] who do not have access to clean water," he said. "They told us to wear masks, but masks disappeared in early March in Timika."
A lack of information from the local government has left people unaware of the threat posed by covid-19, with Giyai saying he had noticed that some of his neighbors were continuing to hang out in groups.
Papua among most vulnerable
While every region in Indonesia has said it was not ready for the pandemic, Papua is among the most vulnerable provinces.
At 32.8 percent, it has one of the highest rates of stunting in the country, according to the 2018 Basic Health Research (Riskesdas), an indication of micronutrient deficiencies and insufficient hygiene.
Statistics Indonesia data from 2019 also showed that Papua had the highest poverty rate in Indonesia at 27.53 percent.
The covid-19 disease emerged in Papua not long after a deadly outbreak of communal violence occurred late last year, which observers said could worsen the handling of the outbreak.
A recent report by the Institute for Policy Analysis of Conflict (IPAC) found there was still tension and that many native Papuans portrayed the virus as being brought in by non-native migrants and the military, adding to the hostilities and suspicions. I
PAC recommended that the government "support the provincial government in its [COVID-19] lockdown efforts, while ensuring unimpeded delivery of humanitarian supplies".
Jakarta Post articles are republished by the Pacific Media Centre and Pacific Media Watch with permission.