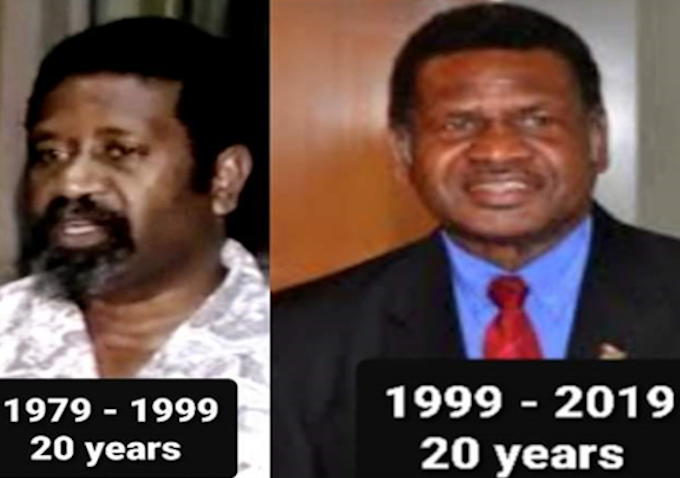 Compiled by Godwin Ligo in Port Vila
The former president of the National United Party (NUP) and one time former Prime Minister, Ham Lini Vanuaroroa, succeeded his brother, the late Father Walter H. Lini, in the year 2000.
Father Walter Lini, Vanuatu's first Prime Minister died in 1999 after his reign as the country's first Prime Minister for two consecutive terms.
Ham Lini remained as a Member of Parliament for Pentecost for 20 years, and served as Prime Minister and State Minister. He ran for Parliament again on 19 March 2020, but did not make it.
READ MORE: Vanuatu Parliament sits today to form coalition government
In a humble message to the people of his constituency, Ham Lini Vanuaroroa recalled his and his brother's footsteps in a political journey added up to 40 years in total between him and his brother.
He spoke to the Vanuatu Daily Post and recounted the four decades of political leadership shared with his brother through challenging and difficult times.
Ham Lini also suggested that instead of forming a coalition government in Parliament today, the MPs should consider forming a government of national unity "where they can really unite for a purpos" and "build people's confidence" in the wake of last week's Cyclone Harold devastation and the crisis for tourism caused by the Covid-19 pandemic.
Thank you message
"As outgoing Member of Parliament I would like to thank the chiefs of North Pentecost and all the voters for continuing to have confidence in my leadership and voting for me since 1999.
"Because of you, I had the opportunity to be in Parliament and in government for the past 20 years. I wish to state that I accept the results of the 2020 general elections and have no regrets for missing out this time.
"May I also take this opportunity to congratulate the incoming members of Parliament for Pentecost — the current Prime Minister Charlot Salwai, Mark Muelsul, Silas Bule and Ephraim Boe.
"I succeeded my brother, the late Father Walter Lini in Parliament in 1999 when he passed away. In 2000, I also succeeded him as president of the National United Party (NUP), a party that he led. I told everyone with emotion at that time not to expect me to be the same as my brother because I am a different person with a different personality and I will never be the same as Father Walter Lini.
"However, I respected his seat and continued to represent his people on North Pentecost with care and pride as MP and in government. In total, we occupied the seat for 44 years.
"What is unique about this seat is the historical significance it holds to the original occupant, the late Father Walter Lini. He was first elected to the legislature in 1975 when universal suffrage was first introduced to the New Hebrides.
"He continued to represent Pentecost in Parliament after independence as mandated by the chiefs for a total of 24 years. My hope is that those of us who occupy this historical seat continue to treat it with respect, humility and responsibility at all times as Father Walter Lini graciously did.
Indigenous leadership
"Leadership in Melanesian indigenous system is a responsibility for life. We both attained the highest chiefly title known as Vuhunana and very much respected our relationships with the chiefly system, the system that nurtures, guides and shapes us as leaders.
"I have been very fortunate for getting endorsement and regular guidance from chiefs on traditional Melanesian values and development issues. Chiefs have been there for me at all times. On two occasions when I indicated stepping down, they did not agree. In 2019, they gave me another mandate to contest the 2020 elections.
"My leadership began after I graduated from Honiara Technical Institute in Solomon Islands with Diploma in Architecture and Building. I started my career in 1974 as an architect, builder and carpenter mainly in the northern islands. With limited number of graduates in the community my leadership was quickly noticed.
"I became a community leader in various programmes, such as leading the famous Huarere String Band, managing the Arato Football Club and leading the young people with technical support for independence.
"In 1984, I was elected councilor in Pentecost Island Council and became president of the Council in 1987. In 1993, I became first president of PENAMA Provincial Council, a position I occupied until 1999 when I was elected to Parliament.
"Historically the National United Party or NUP formed the first coalition government with the Union of Moderate Parties in 1991. Since then NUP has been a partner in almost all coalition governments.
"In 2004, NUP won 10 seats in general elections and commanded the largest party in parliament. I became Deputy Prime Minister and Minister for Internal Affairs. A few months later I became Prime Minister after ousting my predecessor Serge Vohor for unilaterally declaring the establishment of diplomatic relations with Taiwan without the Council of Ministers' decision.
One China policy
"Vanuatu Government later normalised full diplomatic relations with the People's Republic of China in respect to their one China policy.
"During my leadership as Prime Minister I completed the implementation of the Melanesian way of peace making between the Vanuatu government and chiefs in all the islands of Vanuatu, as initially discussed between Father Walter Lini (late) and Jimmy Moli Stevens (late) at the Maliudu Nakamal in 1990, for events relating to the 1980 Santo Rebellion.
"I also made peace with the family and the chiefs of Alexis Ioulu (late) on Tanna and led peace ceremony relating to the death of a Solomon Islands USP student. This led to the Melanesian system of adopting the MSG members states by the six provinces of Vanuatu. As PM I also launched the Year of Traditional Economy and Currency and continued as advocate and practitioner of cultural values which uphold the principles of peace.
"I used the Melanesian way to dialogue with Fiji Interim Government to bring Fiji into the MSG and I officiated the opening of the Melanesian Spearhead Group Secretariat.
"In addition, I signed on behalf of Vanuatu as the only Pacific recipient of the United States Millennium Challenge Fund, the Regional Seasonal Employment scheme, and with President Jacques Chirac the official establishment of Vanuatu Relationship with La Francophonie. The biggest challenge in my leadership was surviving a number of motions of no confidence.
"In 2009 – 2012 I was Minister for Transport and Public Utilities and later became Deputy Prime Minister and Minister of Justice and Social Welfare. In 2012 – 2014 I became Deputy Prime Minister and Minister responsible for Trade, Commerce, Industries and Tourism.
"I led the final phase of Vanuatu accession to full membership of the World Trade Organisation (WTO) and its implementation. I also launched the Vanuatu Intellectual Property Rights (IPR) office and the Vanuatu Tourism Brand.
First climate change minister
"In 2016, I was appointed first Vanuatu Minister of Climate Change, Meteorological Services and Management of Natural Disasters, a position I held until August of 2019. In the latter part of 2019 I was appointed Special Envoy for Natural Disasters.
"In commemorating Lini Day on 21 February 2020, I as Vuhunan Vanuaroroa in Raga chiefly society launched three major projects — Laone Tahigoro or marine conservation and restoration of natural habitat in partnership with the Vanuatu Government; Dr Father Walter Hadye Lini (late) Memorial Museum in partnership with PENAMA Province and the Second Cycle of Doctor Father Walter Hadye Lini (late) Memorial College in partnership with the Anglican Diocese of Vanuatu.
"At the end of March 2020, I launched the implementation of Tohurihuri, a concept initiated by Father Walter Lini (late) immediately after independence. The concept is founded on traditional Melanesian values and systems for self-reliance and independence.
"During my leadership in government, I led a policy direction which included self-discipline, good governance, transparency, anti-corruption and political stability. I believe I had contributed as much as I could to Vanuatu, especially in maintaining Government stability in coalition governments.
"I respected all MPs and built good relationship with them all. As leaders, I believe we have the freedom of choice and we are familiar with our custom law, the Ten Commandments, the Constitution, the Leadership Code and all laws of the land. I felt I had no right to impose disciplinary actions when leaders break the laws or decide to move away from NUP to other political parties.
"I am grateful to all Heads of State for awarding me with Medals of Honour in recognition of my contribution and sacrifice in leadership. I would also like to thank the government of Papua New Guinea for awarding me with 'Star of Melanesia' and to Father Moon for awarding me 'World Peace Award'.
"Finally, I wish to see the People of Vanuatu continue to be self-reliant, confident and enjoy the natural wellbeing.
Another option
"I hope that political parties recognise that coalition government is only one option when no political party secures majority seats in general elections.
"I believe all big and small political groups should consider forming a government of national unity where they can really unite for a purpose. They can find solutions to development needs, build people's confidence and restore dignity and stability for community wellbeing.
"My message to the Electoral Office is to ensure that the Area Council Administrators oversee the electoral process starting from the registration of voters until counting of the votes. I had observed at the polling stations a big number of people sadly turned away from participating in democratic process because they were not properly registered and had no one available to consult on issues of invalid electoral cards.
"Finally, I would like to wish all members of the 12th Legislature of Vanuatu all the best during their term in office".
Vanuatu Daily Post articles are republished with permission.