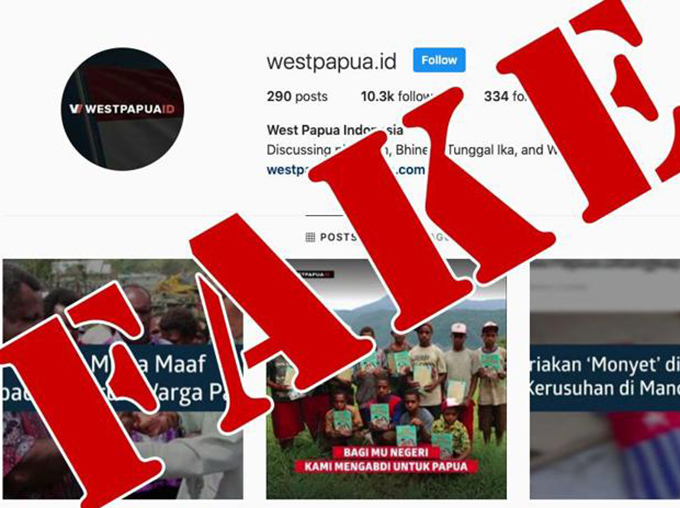 By Dan McGarry in Port Vila
In the wake of a Vanuatu Daily Post investigation into what appeared to be a deliberate attempt to spread fake news targeted at the government of Vanuatu and other supporters of West Papuan independence movement, a BBC investigative journalist has found clear evidence of a concerted campaign to pollute discussions relating to West Papua.
The in-depth report was published on the Bellingcat website. Bellingcat is a ground-breaking investigative website that uses digital sleuthing tools to uncover major stories.
It helped identify the killers in the assassination of Russian dissident Sergei Skripal, and provided definitive evidence that Russia was supplying a mercenary army to prop up the Syrian government war effort.
It also provided critical data suggesting that Russian-backed forces were responsible for downing Malaysian Airlines flight 17, which was hit by an anti-aircraft missile while flying over Ukrainian airspace.
Now, the website has turned its attention to the West Papua conflict and some of the many ways Indonesia is trying to drown out dissent and confuse people sympathetic to the cause of West Papuan freedom.
READ MORE: West Papua internet restored after Wenda, Koman accused of 'provocation'
Using open source investigative tools, BBC journalist Benjamin Strick has uncovered clear evidence pointing to a bot network operating on Twitter, and joined to Instagram and Facebook accounts providing pro-government propaganda.
The logo for one of these accounts bears a striking resemblance to one used on other pages identified in an earlier Daily Post investigation into fake news pages that had been using plagiarised and faked content to undermine the government of Vanuatu.
Facebook quietly took the original pages down after concerns were raised by the Daily Post and others. Within days, however, the same content had reappeared in other pages, one of which featured an almost identical logo.
By using Facebook's "boost" option, which spreads a message in exchange for payment, the fake news posts were able to reach engagement levels rivalling some of this newspaper's top stories.
The Bellingcat investigation uncovered a web of interconnected "bot" accounts, which were used to promote pro-government information in online discussions of the ongoing political struggle.
"While there has been targeted internet disruption in Papua and Indonesia," Strick wrote, "and the banning of counter narrative YouTube content, something that has not been exposed, until now, is an active bot network disseminating pro-government content through major social media platforms.
"The campaign, fuelled by a network of bot accounts on Twitter, expands to Instagram, Facebook and YouTube. The content is spread in Tweets using specific hashtags such as #FreeWestPapua, #WestPapuaGenocide, #WestPapua and #fwpc."
He goes on to outline how he used open source intelligence gathering software to analyse the content of tweets using these hashtags, and determined that the behaviour of dozens of accounts was consistent with the kind of propaganda operation made famous in the Cambridge Analytica scandal.
The findings are consistent with behaviour observed by the Daily Post and others. If it is in fact determined that state actors are behind these accounts, it would raise important questions concerning our national sovereignty and what appears to be an effort to quash the demand for independence within West Papua and online as well.
Dan McGarry is the media director of the Vanuatu Daily Post group.
This article was originally published in the Vanuatu Daily Post. The Pacific Media Centre republishes VDP articles with permission