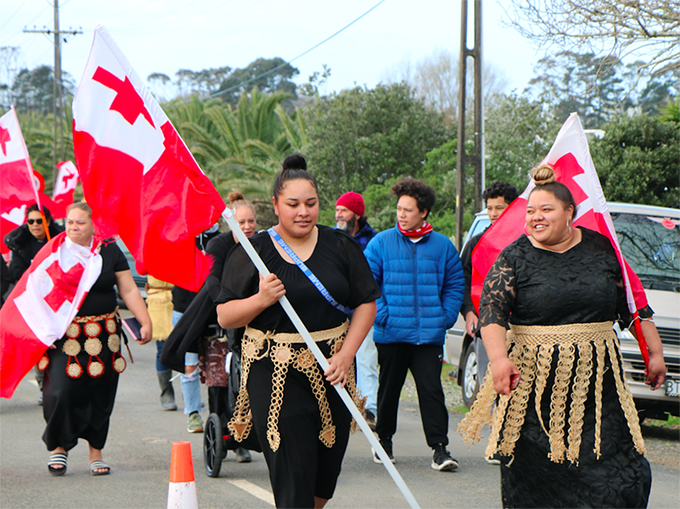 By Charlotte Muru-Lanning in Auckland
A Tongan group visited Ihumātao to show solidarity with the occupation of the land by mana whenua who greeted them with a pōwhiri.
The visit was to encourage more people from the Tongan community to show their support for the occupation, said an organiser, Semisi Vea Sikei.
"We've been to Ihumātao a few times and we were disappointed to see a lack of Pacific Islanders there,"  said Sikei, who is Māori and Tongan.
READ MORE: The call of Ihumātao: Migrant communities standing with Māori
Attendee Makelesi Ngata said that it was important to be there as a group to acknowledge how the Tongan community has benefited from being able to live on Māori land.
"It means a lot to me because we reside here, our parents migrated here from Tonga," she said.
"We're here to show our appreciation."
The struggle also mirrored the struggles of people in Tonga whose sovereignty over land and affairs are under threat from international interests, she said.
"We can feel it as well."
Another organiser, Siosi'ana Mafile'o-Tapueluelu said that the weekend visit was to show unity between the two groups.
"We just want to be there to show our support and to show our love to our Māori brothers and sisters," she said.
It was love shown through Tongan food like taro, chop suey, pineapple pie and keke 'isite, poetry, songs and traditional hymns.
The congregation of around 30 people was dressed in traditional church attire and carried Tongan flags. They were welcomed by Kaumātua with a pōwhiri to the makeshift marae atea at Ihumātao on Sunday.
Charlotte Muru-Lanning is Ngāti Maniapoto and Waikato Tainui. She is based in Auckland, New Zealand. She has a BA in sociology and film and media studies and is currently completing a Postgraduate Diploma in Journalism at Auckland University of Technology