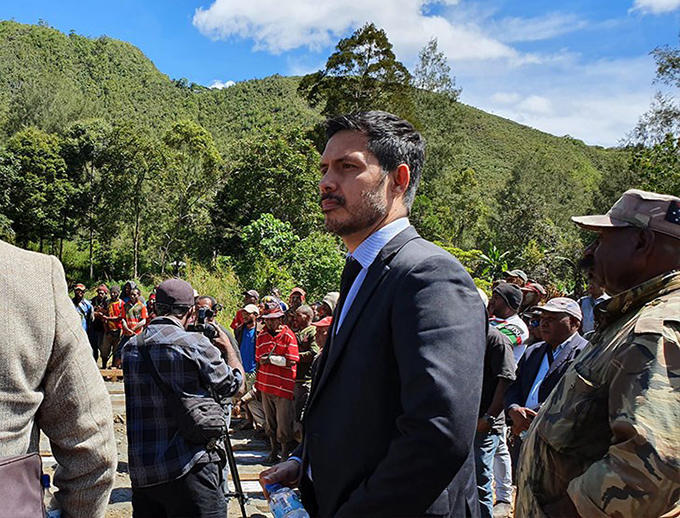 COMMENTARY: By Bryan Kramer in Port Moresby 
Yesterday, I returned from Tari Electorate in Hela Province following a one day trip to assess the situation following the horrific killing of 23 women (two of whom were pregnant) and nine children in the worst payback killing in our country's history.
In my capacity as Minister for Police, I represented the James Marape-led government to be on the ground to pay respects to those killed and prepare and provide a brief to the Prime Minister on the circumstances behind the incident – what, who, when, how and why.
Tribal fights are not new in PNG and in recent years they have become more prevalent in the highlands region; one may argue they have been going on since the beginning of time.
READ MORE: Women who died in PNG's Karida massacre were community 'anchors'
However since that time the rules of engagement have always been that the elderly, women and children have been off limits.
So killing of innocent women and children in tribal conflicts until recently was unheard of. Last week's merciless killings have changed everything. The immediate concern is that it will become the new trend.
I guess the questions people are asking are why did it happen, will it happen again and more importantly what is being done to prevent it from ever happening again?
Why it happened
On the first issue, why it happened:
What people would not be aware of was that last week there were three separate killings in Tagali local level government relating to a tribal conflict that has been going on for almost two decades.
The conflict has been between two tribes, one headed by a man called Oi Kiru, who comes from Pajaka 2 village, and the opposing tribe, led by Libe Koi and his second in charge Ha'gu'ai, who come from Yaganda village.
In June 2019, a key tribesman of Libe was killed. His name was Eganada and he lived in Munima village. Usually, when tribes go to war they solicit the support of surrounding villages they are married into or provide protection to.
In this case, a key ally to Libe was Eaganda, who in June was killed by his own cousin A'gun'ai (a known drug body) over an ongoing dispute between them. It is alleged A'gun'ai killed Eganada and in fear of his life fled to Oi Kiru's village. As the saying goes, the enemy of your enemy is your friend.
However, while in the protection of Oi' Kiru's tribesman, we were told A'gun'ai, with a number of his own tribesman, killed six of Oi Kiru's clansmen including his mother.
They returned to their village and threatened a nearby village called Karita, which A'gun'ai is married into, insisting that Karita village pay them protection money or face a similar attack.
Peace ceremony
On Sunday, July 7, Munima and Karita village got together to stage a peace ceremony, Karita offering 10 pigs and 4,000 kina to A'gun'ai and his clansmen.
Unbeknownst to them, Oi Kiru, learning of his mother's death, raided a village near Munima called Peta, killing three women and three children – they were all shot to death using high powered rifles.
Following the killing at Peta village, on Monday morning around 6am young tribesman attacked Karita Village killing nine women and seven children. Two of the women were pregnant. They were killed after being attacked by the young men with machetes.
Why were women and children attacked at Karita village?
It appears the killing of women and children stemmed from the killing of Oi Kiru's mother by men under the influence of marijuana. What followed was the payback killing of three women and three children at Peta village that triggered the further payback killing of nine women and seven children at Karita village.
On Tuesday, members of Police Mobile Squad and the Defence Force were deployed to the area. Following the recent visits by the governor of Hela Philip Undialu and me, the killings have stopped for now. Reports indicate those involved have fled the province.
The Governor and I visited both Munima and Karita villages to get a first-hand account of what happened and provide an assurance that the Marape-Steven government will bring those responsible to account.
I had intended to stay overnight at Karita village, since that was the last village to have suffered a major loss, however I was advised against it as Munima village would expect the same treatment.
Community leaders
Despite my disappointment in not spending enough time in the villages, the fact that the governor and I were on the ground prompted the community leaders from Munima and Karita not to continue to retaliate.
So what happens now.
Following consultation with Provincial Governor, Provincial Administrator and the Provincial Police Commander, including Acting Deputy Commissioner of Police David Manning, a platoon from the Defence Force and Police Mobile Squad is being stationed at Munima Primary School to provide round-the-clock security, to prevent any further escalation of violence.
High level discussions on a strategic deployment action plan, using drone technology and satellite surveillance, will be used to track and apprehend those on the run. An intelligence unit will also be established to gather information from community.
While a number of plans are being put into action to ensure peace prevails, to prevent such devastating acts of violence in our communities it is important that for the long term that we find a different way of resolving conflict that rejects revenge but encourages resolution through dialogue.
I intend to return to the province in a week's time to get an update.
This article is republished by Asia Pacific Report with permission from Keith Jackson's blog PNG Attitude. It was originally published on Bryan Kramer's Facebook page Kramer Report.