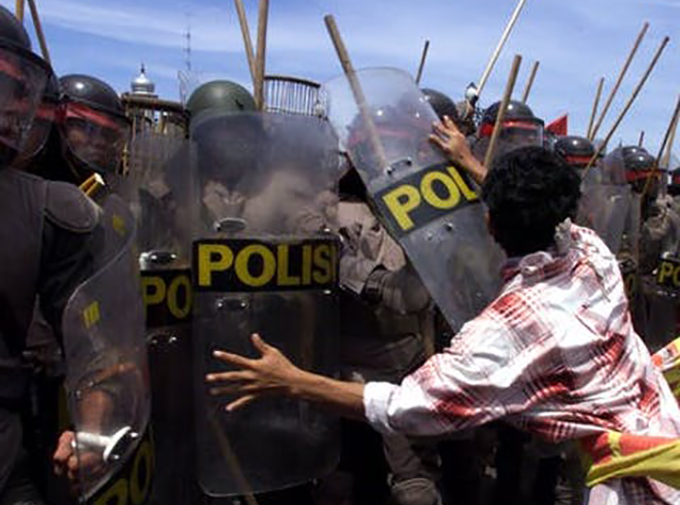 By Marguerite Afra Sapiie in Jakarta
Indonesia's National Police are facing increased pressure as investigations by human rights organisations have found alleged use of torture by Mobile Brigade (Brimob) officers during the recent postelection protests that escalated into riots in Central and West Jakarta.
According to rights group Amnesty International, at least 12 people suffered torture and illtreatment by Brimob personnel during crackdowns on suspected rioters on May 21-23.
In its report released on Tuesday, Amnesty said the alleged use of violence occurred in areas near the Elections Supervisory Agency (Bawaslu) building, the center of the protests, including in Kampung Bali, where reports of police brutality had previously emerged.
READ MORE: Jakarta's postelection riots
The group declined to reveal the alleged victims' identities out of concern of their safety as well as of their families.
"The public has the right to know about what happened on May 21-23", said Amnesty International Indonesia executive director Usman Hamid.
In its findings, which are the result of a month-long verification process and interviews with witnesses, victims and their families, Amnesty claimed some Brimob personnel had tortured at least five people at an empty parking lot in Kampung Bali.
The incident reportedly took place at around 5:30 a.m. on May 23 after a sweep of the area.
Beaten, dragged
Amnesty said that one victim – who was unarmed – was beaten and dragged by around 10 Brimob officers, video footage of which was captured by a witness in a nearby building and uploaded onto social media.
Meanwhile, among the four other victims who were beaten in the same parking lot, one was so badly injured, he had to be taken to the Kramat Jati Police Hospital's emergency unit in East Jakarta and was placed under "strict monitoring by the police", the rights group said.
"This was clearly a crime because the officers used excessive force," Usman said.
Thousands of supporters of losing presidential candidate Prabowo Subianto took to the streets to protest incumbent President Joko "Jokowi" Widodo's reelection victory late last month.
What started as a peaceful rally turned into full-fledged riots that triggered clashes between rioters and security forces, leaving nine dead and injuring hundreds.
After the video of an unarmed man being beaten by Brimob personnel went viral, the police admitted that the footage was real and the incident had taken place.
They confirmed that the man in the video was Andri Bibir, a rioter who had been arrested.
Marguerite Afra Sapiie is a reporter with The Jakarta Post.