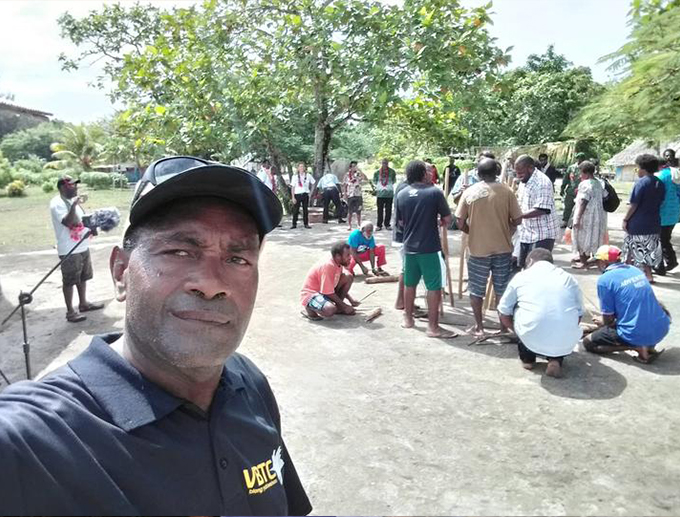 By RNZ Pacific 
Clinging to the top of a swaying coconut tree, Vanuatu journalist Edgar Howard carefully plucks out his phone from his pocket.
He's clambered up there looking for a strong enough signal, so he can file his report to VBTC, the country's public broadcaster in the capital, Port Vila.
That's the way Edgar Howard often files his stories as one of the world's most remote radio and TV correspondents, reporting on news and current affairs from Vanuatu's northernmost islands in Torba province.
LISTEN: Remote Vanuatu journo goes above and beyond to tell stories
With increasing effects of climate change and rising seas, his work has become all the more important.
For 15 years he's travelled between the 13 islands, sometimes motoring in his banana boat in high seas and strong winds for five hours at a time to reach the far-flung communities.
"The government must be informed about what's happening in the province of Torba," he said.
"I think there's a lack of information there and that's why the government does not know how exactly to help those people."
According to him, there are plenty of stories to tell among the province's 8000 people who make a living mostly from copra, coconuts, crabs, lobster and fish.
Self-taught and committed
Howard is self-taught and so committed he funded himself for the first few years until the public broadcaster VBTC took him on as a paid correspondent.
"I start like bottom up. I start with nothing and I build myself up and now I'm working with national TV and radio."
Paying passengers hitch a ride on his boat to help defray the expensive fuel costs.
Howard doesn't have a story in mind when he sets out as he knows there's always something happening.
"Every day I get a story with the local people," he said, explaining that the chief is always his first port of call when arriving on an island.
"He directs me to the people I have to talk to and I make my interview."
Climate change coverage
The effects of climate change on the province's coastal communities are some of the main stories he covers.
"Now they [have to] start to move inland because the place they lived before is covered by the sea.
"We're not used to living in the middle of the bush. It's a big change.
"Some of the historical sites we lost because of climate change, like the oldest places of our grandfathers."
Resulting conflicts over land are also a big issue.
Conflict over land
"Because the land is not now enough, population growth is one issue and makes sometimes conflict with the land, the tribes."
The loss of fish varieties, troubles with crops and ways to ensure fishing is sustainable for future generations are all subjects for his reports.
Howard has a 30-minute TV programme to fill every week which he films, edits and voices himself with a self-recorded stand-up at the start.
The recognition he gets when walking down the street on his occasional trips to Port Vila make him proud.
"They say, woah …Vois Blong Torba!" he laughed, referring to the name of his programme which he sends off on the weekly flight to the capital.
Tree-top reporting
It's a risky business sending some of his reports from the top of a 30-metre-high tree, especially in heavy rain.
"Sometimes the tree is too slippery. I must make sure the phone is in my pocket. I find a branch of the tree to make sure I don't fall and slowly I take the phone out of my pocket and I start to communicate.
"It takes me about 20 minutes up there to finish all my reporting."
The reporting may be difficult, but the effort is worth it, Howard said.
An Australian-funded police post in Sola came about through his reporting.
"I feel so glad because it's good feedback for my job. It's so satisfying and I'm really glad because I feel I have contributed to the project."
This article is published under the Pacific Media Centre's content partnership with Radio New Zealand.