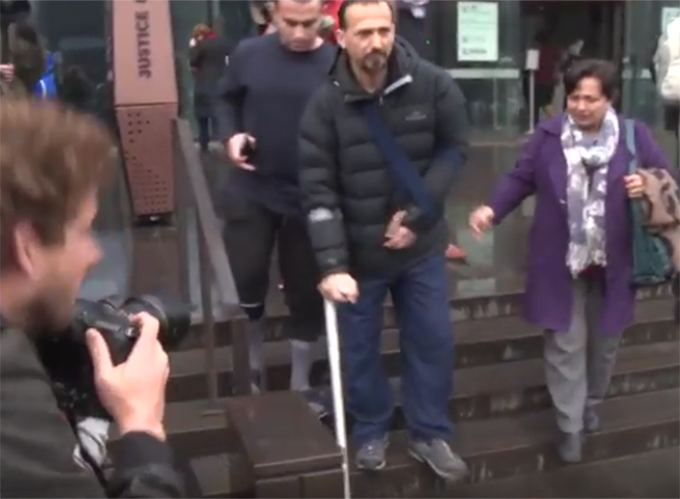 FIRST PERSON: By Katie Todd, of RNZ News, reporting outside the High Court in Christchurch
The latest chapter in the court proceedings of the accused mosque gunman played out in cold, misty weather in Christchurch today.
Reporters and camera crews from around the world lined Lichfield Street from 6.30am, with all eyes and lenses on the High Court, situated on the Justice Precinct's fourth floor.
Today was the third appearance of Brenton Tarrant, who today pleaded not guilty to all 92 charges against him, including murder, attempted murder and one terrorism charge.
READ MORE: Accused gunman appearing in court
As his 9.15am court appearance approached, so too did a steady trickle of people from the Muslim community – some arriving alone and others in clusters, clasping each other's hands.
Some bore physical wounds visible in limps and crutches, while others displayed their emotional wounds in shirts printed with the names of their deceased loved ones.

Anneke Smith was at court in Christchurch today and filed this report. Video: RNZ News
Shutters clicked as the gunman's lawyers, Shane Tait and Jonathan Hudson, dragged suitcases of court documents through entrance A1.
At 9.56am, texts came through that the hearing was over and that he had entered not guilty pleas to all charges.
Frustration and pain
Then came expressions of frustration and pain from the Muslim community, some of whom had just seen their first glimpse of the man, albeit via video-link.
Didar Hossain, who lost his uncle in the attacks, concluded today had been a "difficult day".
"I was totally heartbroken," he said of hearing the not guilty pleas.
Pain turned to anger during a brief scuffle, when a man shouting race-related comments approached shooting survivor Mustafa Boztas and mosque "hero" Abdul Aziz.
The man was swiftly apprehended by Corrections staff and police officers, leaving shocked bystanders in his wake.
But Temal Atacocugu, who was shot nine times in the March 15 attacks, fronted media with a message of strength and solidarity.
"He is the loser and we are the winner," he said.
"We are innocent people but we are strong. We are New Zealand and we are strong."
Lichfield Street is expected to play host to the crowds again in August, when the accused will appear for a case review hearing.
His trial is due to start on May 4 next year.
This article is published under the Pacific Media Centre's content partnership with Radio New Zealand.