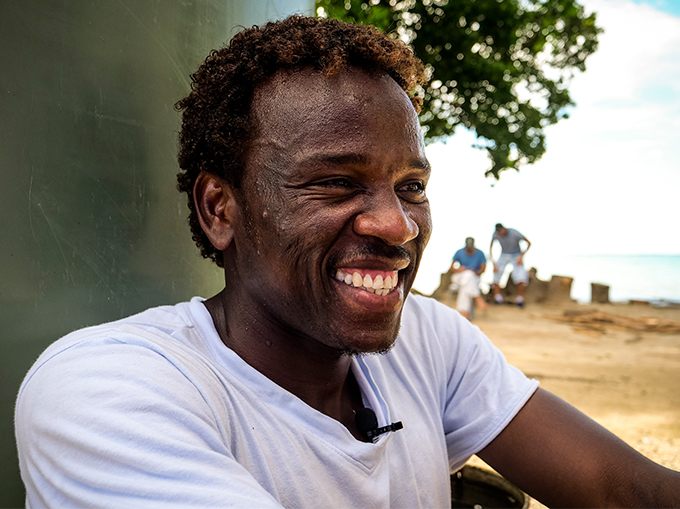 By RNZ Pacific
A Manus Island refugee granted asylum in Switzerland will continue to fight for the freedom of refugees Australia detains in Papua New Guinea and Nauru.
Abdul Aziz Muhamat, 25, fled Sudan in 2013 but was detained for travelling by boat to Australia to seek asylum.
During almost six years in detention on the PNG island, Muhamat was an outspoken critic of the regime that imprisoned him and thousands of other refugees indefinitely without trial.
READ MORE: Manus Island police chief calls for state action over suicidal refugees
He regularly provided comment and interviews to journalists from around the world and was the subject of The Messenger podcast.
In February, Muhamat was given a special visa to travel to Switzerland to receive an international award for human rights defenders.
From Geneva on Saturday, he posted a video on social media to announce his claim for asylum had been accepted.
WATCH VIDEO: Abdul Aziz Muhamat announces his claim for asylum has been accepted
"Thanks for the Swiss for granting my asylum today. They gave me lots of energy and that energy will make me concentrate on what is happening on Manus Island, and also will make me fight harder than the way that I used to fight before.
"Now I have the tools and I have everything it takes for me to fight for the freedom of each and everyone.
"And the fight has just started. I have no idea how long this fight will take but I can assure you this fight will never be completed until the last person will leave the island of Manus or Nauru."
About a thousand refugees are still unable to leave the two Pacific countries.
This article is published under the Pacific Media Centre's content partnership with Radio New Zealand.