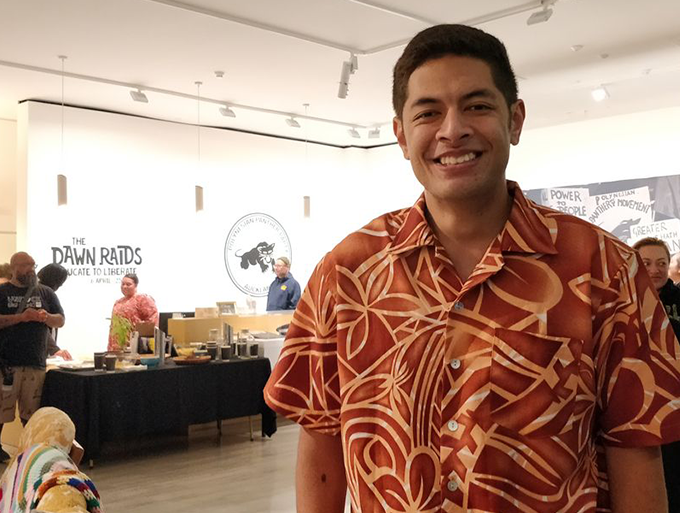 By Irra Lee of Te Waha Nui

Pacific stories spanning generations emerged through film and poetry at a South Auckland art exhibition about the Dawn Raids.
The Educate to Liberate exhibit at the Fresh Gallery Ōtara, which ran from early April until last week, featured photographs, artwork and Polynesian Panther memorabilia from the 1970s Dawn Raid era.
Filmmaker Robert George, alongside curator Pauline Smith, offered people affected by the raids a chance to tell their stories.
READ MORE: Dawn Raids – Pasifika 'liberated' to talk about painful past
The Dawn Raids saw police and immigration officials target the homes of Polynesian immigrants in the early hours of the morning in a government crackdown on alleged overstaying.
Reverend Alec Toleafoa of the Polynesian Panthers said the exhibition's first showing in Invercargill last year saw people coming forward with "really powerful and really amazing" stories.
"What I've seen [the exhibition] do is bring out people's own experiences of the Dawn Raids.
"Often, when those stories emerge, it's the first time they've ever been told.
'Telling often healing'
"The people who tell them often find the telling of it very healing."
The Polynesian Panthers formed in 1971 and fought racism against Pacific people through political activism.
A week into the exhibition, the next generation of Pasifika also raised their voices through spoken word poetry.
Youth organisation, Action Education and South Auckland Poets Collective hosted an open mic evening at the gallery, where 60 people attended.
Spoken word artist Eric Soakai, 21, said he was inspired to write his poem after he learnt about the racial injustices against Pacific Islanders during the Dawn Raids.
Soakai said his poem They Will Remember Our Names — an "an ode to those who disrupt spaces" — started from a place of anger before it became a piece celebrating Polynesian people's resolve.
"To perform it in a space that honours those who held it down in a political sense… it really brought a warmth to my heart," he said.
Southside poem
Sixteen-year-old Aigagalefili Fepulea'i-Tapua'i, a fellow spoken word artist, said she wrote her poem 275 Love Letters to Southside — which reflected on what it meant to live in South Auckland — after she learnt about the Dawn Raids at school.
"I think the Dawn Raids had a very dramatic effect on all of the Pacific Islander community.
"I feel like it's something that the newer generation or my generation take for granted when it comes to the Polynesian Panthers and how hard they fought for rights that we have now," she said.
Despite this progress, Fepulea'i-Tapua'i's said there was still work to be done to make sure Pacific viewpoints were represented in issues that affected them. She said spoken word poetry provided a good medium to encourage that voice.
"We're always hearing that Islanders weren't smart enough to be able to tell their own stories."
"If kids are hearing that all the time, they'll start to believe it and they'll start to limit themselves. So, I think it all starts with encouraging our youth."
Irra Lee is a final year Bachelor of Communication Studies student journalist and is editor of Te Waha Nui.

Spoken word poetry at the Dawn Raids exhibition. Video: Irra Lee/Te Waha Nui