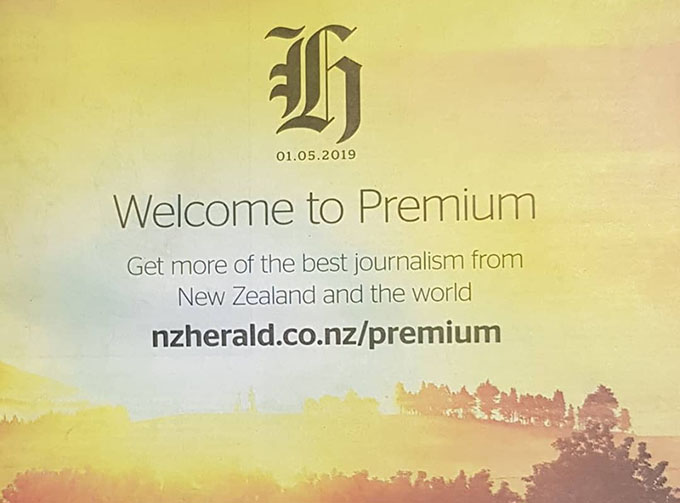 REVIEW: By Adrian Blackburn
After something of a love/hate relationship with The New Zealand Herald since I joined as a cadet reporter in 1957, I have decided to show some love by taking up this week a one-year $199 subscription to the paper's new premium digital content offer.
This is in the context of a keen newshound who had made the Herald site for more than 15 years his alternative to a paid sub, with just the occasional purchase of a Saturday print Herald.
Good sign in terms of efficiency: the nzherald.co.nz website immediately (within seconds) enabled me to read the full David Fisher piece on the French beacon built on the Chathams which I had already open on my laptop.
READ MORE: NZ Herald launches premium paywall – how will it impact on other media?
When minutes later I spotted David's piece spruiked on his FB page I thought I might have found a workaround for those unprepared to pay, but the same conditions (roughly only first 100 words free) still applied.
Earlier I confirmed that the new syndication agreements Granny has signed with the New York Times, Financial Times, The Times (UK) and the Harvard Business Review are not (as I suspected) in the too-good-to-be-true category of offering full digital access to their websites.
The Herald will just select some content to publish as it has done for years with existing agreements with the Daily Telegraph (UK), Washington Post and South China Morning Post (SCMP). Fair enough.
Put in context
Just to put the Herald's Premium payment in context, you can get
Much of the Financial Times digitally for $NZ6.45 p.w. (or $11.25 for the lot),
Full Tele for GBP2 after a month free
The Harvard Business Review $NZ23 per month
The Washington Post US$45 per year (some free articles) but a separate payment for the archive
NY Times a few free articles, then US$1 p.w. (special offer, normally $3).
For Anglophiles the availability of 200 years of news archives of The Times makes its GBP5 per month (after a month free trial) look pretty inviting.
And the SCMP (now apparently owned by the Alibaba online sales empire) seems to offer full free access, including 20 years of archives.
I'll be interested to see if the Herald experience persuades me to renew in a year's time. As renewals roll over automatically I'll need to be vigilant to cancel in good time.
Adrian Blackburn is lifelong journalist and writer. Staff writer on many publications, including The NZ Herald, Sydney Morning Herald, BBC World Service, Beaverbrook Newspapers, NZ Listener and NZ Woman's Weekly. Author of The Shoestring Pirates (Hodder and Stoughton, 1974) a history of pirate Radio Hauraki. This brief commentary was originally a Facebook posting on Kiwi Journalists Association and is republished here with permission.