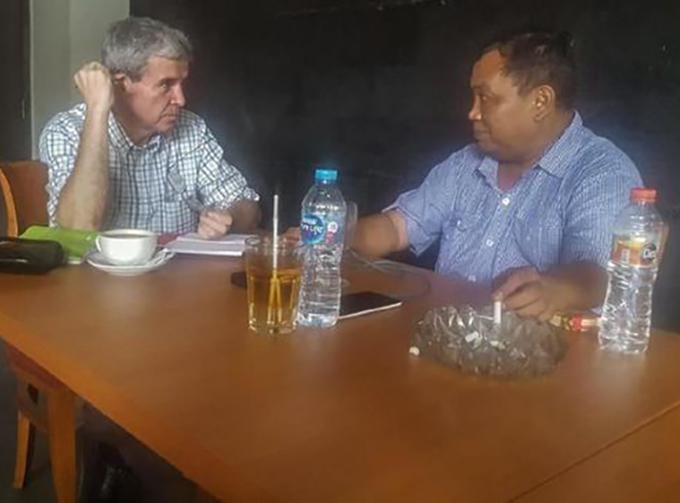 Pacific Media Watch Newsdesk
The party backing a presidential challenger in today's Indonesian general election claims it is reporting an independent US journalist to police over accusations of spreading "lies or fake news".
CNN Indonesia reports the deputy chairperson of Prabowo Subianto's Greater Indonesia Movement Party (Gerindra), Arief Poyuono, will report journalist Allan Nairn over the accusations.
The alleged fake news referred to by Poyuono is an article by Nairn revealing Prabowo's strategy to weaken his political opponents if he is elected as president in the presidential election.
READ MORE: Indonesians await 'quick count' after country's biggest election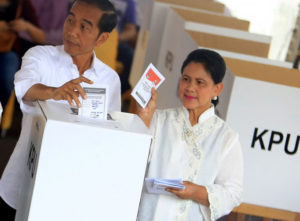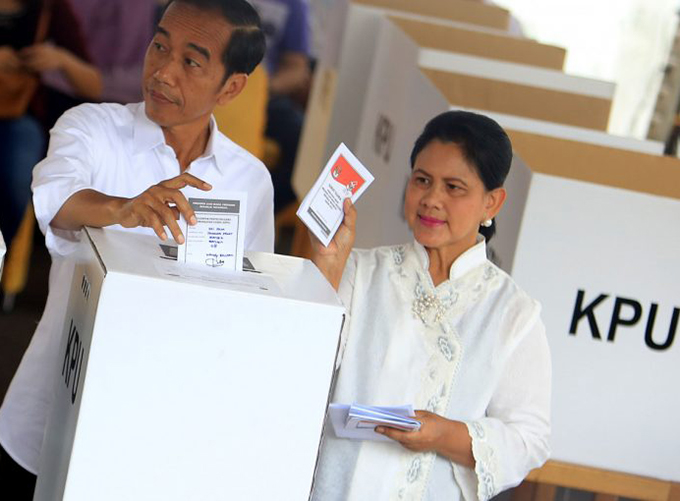 Nairn published the report on his blog titled "Minutes of a Closed Meeting Between Prabowo Subianto and His Team" (Notulensi Rapat Tertutup Prabowo Subianto dan Tim).
"We will make the report tomorrow. We will also ask the police to arrest Allan Nairn who is currently in Indonesia. Because he has produced fake news in Indonesia", Poyuono told CNN Indonesia.
In his report, Nairn- a highly respected journalist writing on Indonesian affairs – said that on December 21 last year Prabowo held a closed meeting at his private residence on Jl Jalan Kertanegara Number 4 in South Jakarta that took place between 9pm and 11.15 pm.
Nairn said that the meeting — which was attended by people in Prabowo's inner circle including Gerindra deputy chairperson and Fadli Zon and Poyuono — discussed concrete steps to deal with strategic issues such as the Prabowo presidential ticket supporting an Islamic caliphate and political grudges against Gerindra.
List of names
In relation to the caliphate issue, the meeting decided to appoint retired TNI (Indonesian military) Major General Arifin Seman to draft a list of names that would be suitable as the new head of the National Intelligence Agency (BIN).
"A massive internal reshuffle inside BIN will be directed towards an attack on political opponents and to paralyse the HTI [the banned extremist Islamic group Hizbut Tahrir Indonesia], the FPI [the hardline Islamic Defenders Front], JAD [the banned terrorist group Jamaah Ansharut Daulah] and equivalent groups," wrote Nairn in the report.
"BIN's other task will be to weaken [Prabowo's] coalition parties to increase Gerindra's domination in the administration: the PKS [the Islamic based Justice and Prosperity Party] and the Democrat Party will have their wings clipped completely through various old and new corruption cases," read the report.
In relation to political grudges, Nairn's report said that Fadli Zon and PKS politician and current deputy House of Representatives Speaker Fahri Hamzah would be tasked with selecting the next Attorney-General.
"The new Attorney-General's principle task will be to convict as many political opponents as possible from the PDI-Perjuangan [President Joko "Jokowi" Widodo's ruling Indonesian Democratic Party of Struggle], NasDem [the National Democrats], the Golkar Party, the PKB [National Awakening Party] and the PPP [the United Development Party]," wrote Nairn in the report.
Nairn claims to have obtained the information about the meeting from an intelligence source. Poyuono on the other hand, who is cited as having attended the meeting, says that Nairn's report is nothing more than a hoax or fake news.
Poyuono conceded that he was once interviewed by Nairn on March 20, 2019. During the interview, Poyuono said Nairn asked many questions, one of which was about the December 21 meeting at Kertanegara.
'No meeting'
"He asked me 'did I take part or not?". I said no, because there was indeed no meeting on December 21. If there had been a meeting [on that date] I would most certainly have taken part because I am a [party] leader and close to Prabowo," said Poyuono.
Poyuono said that Nairn is a "made to order" journalist who has been tasked with destroying Prabowo in the lead up to the presidential and legislative elections. Poyuono even claimed to have data which corroborates the accusation that Nairn is a journalist who is paid to write specific reports.
He presented CNN Indonesia with evidence of this in the form of a money transfer receipt of around US$2 million paid into Nairn's DBS Bank account in Singapore. Poyuono said that the money was part of a payment made to Nairn to slander and build a black campaign against Prabowo and the TNI.
"He has indeed been tasked by people who have placed an order with him. By our political opponents. People still remember when during the Jakarta Pilkada [gubernatorial election in 2017] he said the TNI was planning a coup d'etat, it turned out to be a hoax. The Pilkada proceeded smoothly and peacefully," said Poyuono.
Nairn himself denies Poyuono's accusations. On his Twitter account @AllanNairn14, Nairn said Prabowo's team had sent the press a fake Singapore bank receipt to the press containing the alleged transfer of US$2 million.
"I think that this is an indirect confirmation by Prabowo that the report is accurate and he is trying hard to discredit it," wrote Nairn.
Translated by James Balowski of Indoleft News. The original title of the article was "Gerindra Polisikan Allan Nairn Soal Dokumen Siasat Prabowo".