Fifty Kowhai Intermediate School children sing the waiata at the remembrance service in Eden Park rugby stadium in Auckland today. Video: Del Abcede/PMC

By Amy Williams and of Brooke Jenner of RNZ News
All Black Sonny Bill Williams has challenged hundreds of people at Auckland's memorial service for those who died in the Christchurch mosque attack two weeks ago to reach out to Muslims in their community.
The people gathered at the Eden Park rugby stadium for the city's service this afternoon.
Among them, hundreds of Muslims from across the city huddled into a prayer room at Eden Park to pray and reflect on the atrocity and the aftermath.
READ MORE: NZ stands together – 'evil must not take root'
The Auckland service began with a call to prayer shortly after 1.30pm. In a sermon, Sheikh Muhamed Shaakir Ismail said terrorism had no race and creed and he called on New Zealanders of all different cultures to get to know each other better.
"We need to learn about each other from each other, not from the media and what people may think," he said.
"Our mosques, synagogues, churches maraes and religious centres should be funded so that people can come in and learn more about the religion and the people."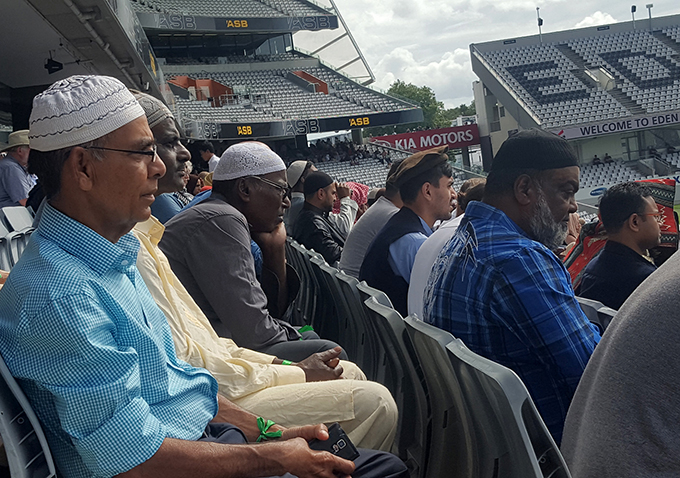 Following prayers, they joined the crowd gathered in Eden Park's south stand.
Mayor speaks of forgiveness
Mayor Phil Goff told the crowd the forgiveness shown by Farid Ahmed, a victim of the mosque attack who spoke in Christchurch this morning, took his breath away.
He said people had gathered to reaffirm their commitment to multi-faith and multi-cultural society.
People came from all over Auckland to stand together with the Muslim community, wearing colourful headscarves and green ribbons on their wrists in a show of solidarity.
After prayers, a group of over 50 children from Kingsland's Kowhai Intermediate started the remembrance service with a waiata.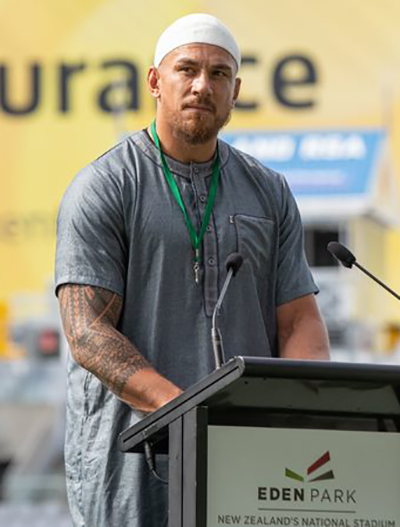 All Black Sonny Bill Williams said while he was saddened by how little people had known about Islam before the tragedy. However, he was heartened by the compassion and empathy that had been shown since.
"We cannot and will not allow such acts to deter us from loving one another," he said. "And just like in the last couple of weeks, New Zealanders, I want to say let's keep leading the way."
"Let's keep being that light in stormy waters for the rest of the world to see how it's done."
National Muslim Association president Ikhlaq Kashkari asked people to continue to show the love and kindness expressed over the past two weeks in the coming months.
New Zealand music icon Dave Dobbyn closed the service with his anthem, "Welcome Home", leaving Auckland with its heart wide open.
This article is republished under the Pacific Media Centre's content partnership with Radio New Zealand.