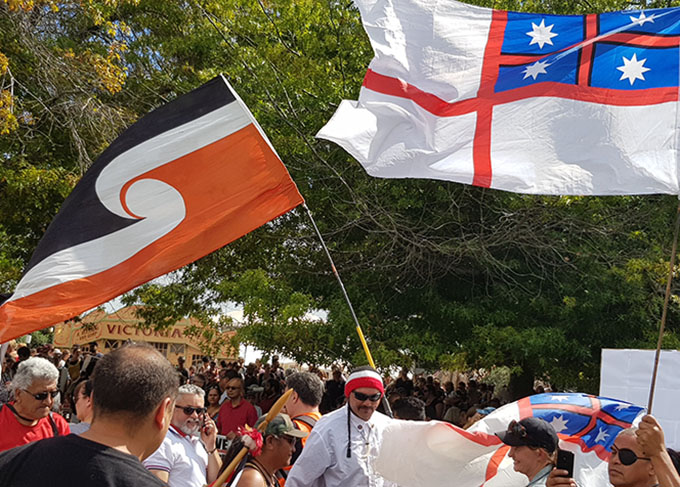 Pacific Media Centre Newsdesk
Thousands flocked to the "Love Aotearoa Hate Racism" rally at Aotea Square in central Auckland today in solidarity with the Muslim community in the wake of the terrorist attack on two mosques in Christchurch just over a week ago.
The colourful and vibrant rally vowed to "maintain unity" and spokespeople said this was another example of the "real New Zealand", a land of compassion and love.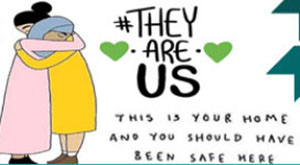 One speaker described the "nameless" terrorist, a white Australian who killed 50 Muslim worshippers at Friday prayers on March 15 and will appear in the High Court on April 5, as a "cockroach" who had failed to divide New Zealanders.
Speakers included Ibrar Sheikh, secretary of the Federation of Islamic Associations of NZ, Ian Rintoul from Refugee Action Coalition Sydney, Green Party co-leader Marama Davidson, Mike Treen from Global Peace and Justice Aotearoa, and Māori activist Joe Trinder, co-founder of the organisers, Love Aotearoa Hate Racism (LAHR).

A speaker at the Aotea solidarity rally in Auckland today. Video: Cafe Pacific
"LAHR believes that, while the shooting at the mosques was the deed of one gunman, the attack is the tragic consequence of Aotearoa's failure to address racism within its midst," said Joe Carolan, co-founder of LAHR.
"In contrast to the picture of 'a peaceful, harmonious, tolerant' society painted over the past week, Aotearoa for too long has seen the scapegoating of migrants and refugees, with mainstream politicians blaming immigration for our housing and economic crisis.
"This has given confidence to fascist elements here and overseas, culminating in last week's tragic and harrowing outcome."
LAHR is a coalition of unions, community, and migrant groups, which was formed last July in response to attempts by the far right to peddle Islamophobic, anti-migrant, anti-refugee politics in New Zealand.