Rahul Bhattarai talks to eNCA News of South Africa live from New Zealand. Video: eNCA News
Pacific Media Watch Newsdesk
Former Pacific Media Watch project reporter Rahul Bhattarai has talked to the South African independent news service eNews Channel Africa News about last Friday's mosque massacre in New Zealand.
The Johannesburg host talked to him by Skype for an update on "how New Zealand is coping" in the wake of the attack by a white supremacist gunman on worshippers at two mosques in Christchurch a week ago today, leaving 50 people dead.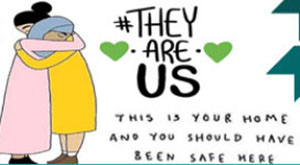 eNews Channel Africa has been a big media hit in South Africa and currently broadcasts live on DStv 403.
The channel made history when it launched on June 1, 2008, becoming South Africa's first 24-hour news service.
Since then, it has dominated the market.
Live reports, breaking news, sport, weather, entertainment, financial and business updates all form part of its offering, along with a host of topical current affairs shows.
eNCA has bureaus across South Africa and also has correspondents covering Zimbabwe, Ghana, and Tanzania, the US and Europe.