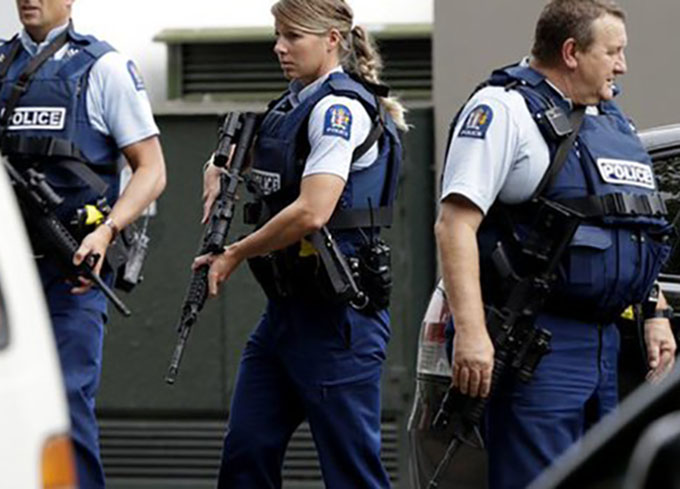 By RNZ
Prime Minister Jacinda Ardern has confirmed that at least 40 people have died in the terrorist attack on two mosques in the southern New Zealand city of Christchurch today, and offered a moving statement to those affected.
Police later gave the death toll as 50 with a further 50 people wounded in the attacks.
In a press conference from Parliament about 7.25pm, Ardern said it was now clear that this could only be described as a terrorist attack and New Zealand's threat level had been raised from low to high.
READ MORE: David Fisher analysis: Christchurch massacre – what did we miss and who missed it?
"It is with extreme sadness that I tell you that as of 7pm tonight we believe that 40 people have lost their lives," she said.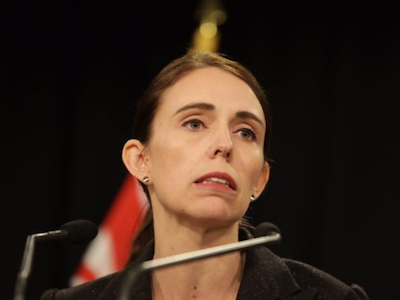 "Ten people have lost their lives in this act of extreme violence at Linwood mosque … a further 30 have lost their lives at the Deans Avenue Mosque.
"It does appear to have been well planned. Two explosive devices attached to suspects' vehicles have been found and they have been disarmed."
She said of the four suspects originally arrested, three were connected to the attack and at least one had stated he was Australian-born. His nationality was something Australian Prime Minister Scott Morrison also confirmed.
'Place of safety'
Prime Minister Ardern shared a message with the families and communities of the victims:
"Our thoughts and our prayers are with those who have been impacted today. Christchurch was the home of these victims. For many, New Zealand was not the place they were born, in fact for many New Zealand was their choice.
"It was the place they committed themselves to, where they were raising their families, where they were part of communities that they loved and who loved them. It was a place that many came to for its safety, a place where they were free to practice their culture and their religion.
"For those of you who are watching at home tonight and questioning how this could have happened here, we, New Zealand, we are not a target because we are a safe harbour for those who hate, we were not chosen for this violence because we condone racism, because we are an enclave for extremism, we were chosen for the fact we represent none of these things. Because we represent diversity, kindness, compassion, a home for those who share our values, refuge for those who need it.
"And those values, I can assure you, will not and cannot be shaken by this attack. We are a proud nation of more than 200 ethnicities, 160 languages and amongst that diversity we share common values and the one that we place the currency on right now and tonight is our compassion and the support for the community of those directly affected by this tragedy
"Secondly, the strongest possible condemnation of the ideology for those who did this … we utterly reject and condemn you."
Armed police deployed
Armed New Zealand police had earlier been deployed after shots were fired at the two mosques where hundreds of people were praying near Hagley Park in Christchurch this afternoon.
Prime Minister Ardern earlier described the shootings as one of New Zealand's "darkest days".
Key points:
There were two shooting attacks – at the Masjid Al Noor Mosque next to Hagley Park, and at the Linwood Masjid Mosque in the suburb of Linwood. The two mosques are about a 10 minute drive.
An eyewitness inside the Masjid Al Noor Mosque said he heard shots fired and said at least four people were lying on the ground and "there was blood everywhere".
An eyewitness said a man wearing a helmet and glasses and a military style jacket opened fire inside the mosque with an automatic weapon.
About 300 people were inside the mosque for afternoon prayers.
Police said the "risk environment remains extremely high".
The manager of the An-Nur Early Childhood centre in Wigram earlier said police gave some parents an update that said there were two gunmen and at least one was on the loose.
People in central Christchurch have been urged to stay indoors and report any suspicious behaviour immediately to 111.
All Christchurch schools, Christchurch Hospital and Christchurch City Council buildings were put on lockdown.
This article is republished under the Pacific Media Centre's content partnership with Radio New Zealand.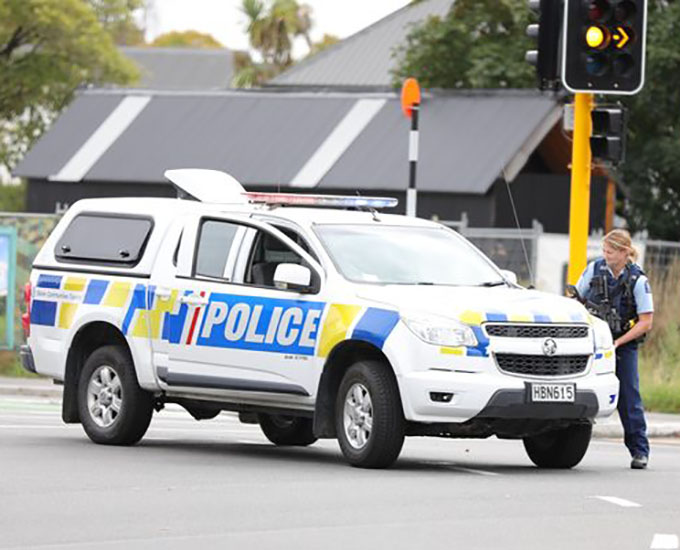 An eyewitness on Strickland Street, Christchurch, saw one of the suspects being apprehended by police. She said police deliberately rammed the car. Video: RNZ

Footage of the arrest of one of the mosque attackers in Christchurch today. Video: Al Jazeera