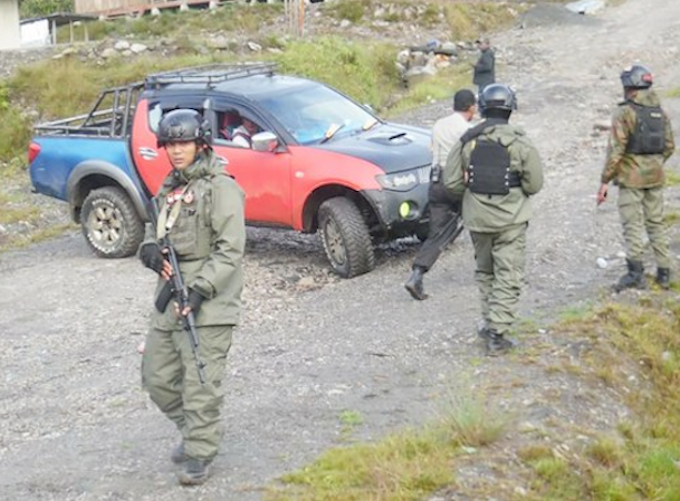 By Victor Mambor in Jayapura
Calm has yet to return to Nduga regency in Indonesia's Papua province where pro-independence rebels killed 19 construction workers in December, forcing residents to flee to escape clashes between the insurgents and government security forces.
Soldiers and police launched an operation code-named "Operasi Nemangkawi" to capture those allegedly responsible in the killings of workers who were building the Trans-Papua Highway.
Regional military spokesman Colonel Muhamad Aidi said no arrests have been made so far.
READ MORE: UN experts condemns human rights abuses, impunity and racism in West Papua
"We have been focusing on restoring security, protecting citizens and displaced people," Aidi said.
Meanwhile, fears abound that more violence could erupt.
"We are afraid to return to our village because there are still soldiers and police," Usman Lokbere, an Nduga resident who fled to Wamena, the main town in Jayawijaya regency, said.
In addition to efforts to capture the suspected killers, the military sent 600 soldiers to Nduga last week to resume the construction of bridges as part of the highway that stretches more than 4300 km from Sorong, the largest city in West Papua province, to Merauke regency, and is scheduled to be completed in 2019.
Provide security
"The TNI (Indonesian Armed Forces) personnel are currently on their way to Timika, then to Nduga," said Osman Marbun, head of the Jayapura National Road Development Center (BBPJN).
The soldiers, based in the capital of South Sulawesi province, will provide security while working on the construction project, according to a military official.
"The 600 TNI personnel will be deployed around the Trans-Papua road, between Wamena and Mumugu," regional military chief Major-General Yosua Pandit Sembiring said.
The West Papua National Liberation Army (TPNPB), armed wing of the Free Papua Movement (OPM), claimed responsibility for the killings, alleging that the people they killed were soldiers from the military's engineering detachment, and not civilian workers.
Three TNI soldiers were also killed in a further clash with West Papuan militants in the Nduga regency on Thursday, reports The Jakarta Post.
Construction on parts of the highway has been stalled for months, but President Joko Widodo has vowed to finish the project as part of his promise to develop the resource-rich area.
Military criticised
Papuan House of Representatives member Laurens Kadepa criticised the military's move, saying sending reinforcements was not a solution and would only add to the climate of fear.
"Indonesia is being watched closely by the international community, global church councils and even the United Nations due to the ongoing violence in Papua, but the central government still maintains the practice of violence," he said.
"The spotlight (on Indonesia) should have prompted the government to reform security measures in Papua," he said.
Human rights activist Peneas Lokbere said sending hundreds of soldiers contradicted claims by authorities that security had been restored in Nduga and that residents had returned to their villages.
"If indeed the situation in Nduga is peaceful, why is the TNI sending reinforcements? That will only prolong people's trauma," he said.
Nduga resident Raga Kogoya called the decision to send more troops unfair.
"We are only a few, why must we continue to be subjected to security operations," Raga Kogoya said.
Providing food
Daniel Kogoya, spokesman for the Nduga Regency Regional Secretariat, said the local government remains focused on providing food and health care to residents who were uprooted from their homes by the violence.
"Many people are still displaced. They have little food to eat and their health is deteriorating," Daniel Kogoya said. "Displaced children have been unable to attend classes while exams are approaching."
Papua is one of the archipelago's poorest regions despite its rich natural resources. It declared independence from Dutch colonial rule on December 1, 1961, but that was rejected by the Netherlands and later by Indonesia.
In 1963, Indonesian forces invaded the region and annexed it, and six years later held a controversial referendum in which, according to human rights groups, security forces selected slightly more than 1000 people to agree to the region's formal absorption into the archipelagic nation.
By Victor Mambor is editor of Tabloid Jubi and this report by him for Benar News is republished by the Pacific Media Centre with permission.