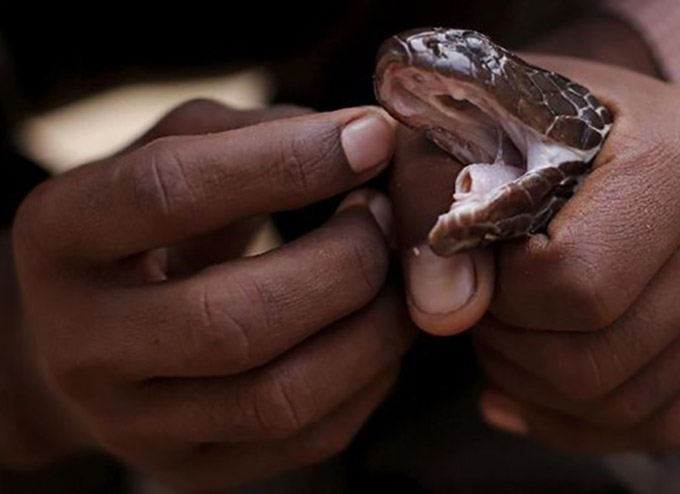 Pacific Media Watch Newsdesk
Papua Regional Police public information head Assistant Superintendent Suryadi Diaz is asking all parties not to dramatise or make a big issue out of the use of a snake during an interrogation by police.
The statement was made in response to calls by United Nations human rights experts for an investigation into the use of the snake.
"The problem's already been resolved, so there's no need to make a big deal out of it anymore," Diaz told CNN Indonesia.
READ MORE: Papuan campaigners welcome UN call to Indonesia to end torture
Diaz said the investigation conducted by the Papua Regional Police Professionalism and Security Affairs Division (Propam) into the case had already been completed.
"Propam has already dealt with the case, so it's resolved," he said.
Nevertheless, Diaz did not explain the results of the investigation or what sanctions would be given to the officers involved.
Speaking to journalists earlier, however, Diaz said there were several sanctions that could be applied including a written reprehend, a maximum one-year postponement of education, a postponement in regular wage increases, a postponement of one promotional period or a transfer and demotion.
Heaviest sanction
In addition to this, the heaviest sanction that can be given to officers who violate discipline is to be released from their posts or be assigned to a specific location for a maximum of 21 days.
Several UN human rights experts have urged Indonesia to investigate allegations of violence by the police and military in Papua related to the use of the snake during an interrogation.
"We urge the Indonesian government to take firm measures to prevent the excessive use of force by police and military officials involved in law enforcement in Papua," read a statement by the UN experts.
"We are also deeply concerned about what appears to be a culture of impunity and general lack of investigations into allegations of human rights violations in Papua," they said in the statement.
The experts, who are made up of UN special rapporteurs, also said that Papuans had been treated in "cruel, inhuman and degrading" ways.
Jayawijaya District Police Chief Deputy Senior Commissioner Tonny Ananda Swadaya claimed that it was the police officers' own initiative to conduct the interrogation into the theft using a python.
According to Swadaya, however, it was just trick used during the interrogation so that the perpetrator would confess to their crimes. He also asserted that the snake used to frighten the suspect was a pet snake that was not poisonous and tame.
"This ended up going viral on social media, it's been blown out of proportion in other parts of the country. Here [in Papua] the public is supportive. A tame snake, non-poisonous, it didn't bite [the suspect] and after being given the snake, the thief admitted to the crime," said Swadaya .
Translated by James Balowski of Indoleft News. The original title of the article was "Polda Papua Tolak Usul Ahli PBB soal Interogasi Pakai Ular".